Wireless Wonders: 7 Wireless Speakers Reviewed Yamaha MusicCast WX-030
Yamaha MusicCast WX-030
PRICE
$250
AT A GLANCE
Plus
Powerful sound
Intuitive, graphic app
Minus
Setup not totally intuitive
Slim music-service selection
THE VERDICT
Though a bit more challenging to set up than some, the WX-030 is well built and sounds good.
The MusicCast WX-030 is the entry portal to a much larger wireless audio ecosystem that Yamaha unveiled over the past year, consisting of A/V receivers, soundbars, and powered bookshelf speakers. All products operate independently, but you can extend the experience to any other MusicCast-enabled device on the network.
At nearly 10 inches wide and 4.5 inches deep, the WX-030 has a larger footprint than the other speakers tested here. It also has substantial build quality, with an angled cabinet and a threaded mounting hole for on-wall installations. It uses a 3.5-inch woofer and a 1.125-inch tweeter, powered by a 30-watt amp and coupled with a passive radiator to supplement bass. Like other MusicCast products, the WX-030 is hi-res capable, supporting WAV, FLAC, and ALAC files up to 96/24, and it also has AirPlay and Bluetooth streaming capabilities. Additionally, it acts as a Bluetooth transmitter (to accommodate wireless headphones, for example). Yamaha's supported music services include Spotify, Pandora, SiriusXM, and Rhapsody, but that's it. Two WX-030s can be stereo paired.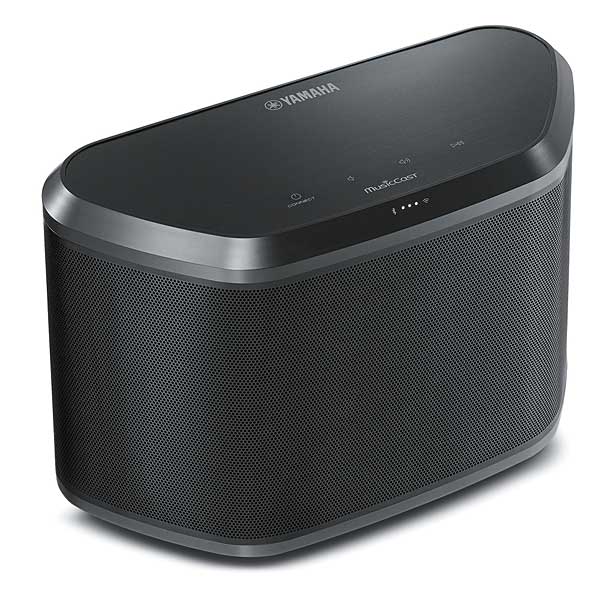 Setup of the WX-030s turned out to be a bit challenging compared with the other speakers. I was able to get one speaker up and running and then link it to a second for multiroom playback, but the process wasn't straightforward. Creating a stereo pair involved searching through the Yamaha support forum for instructions and then going through a fairly elaborate pairing process. Once paired, however, it was smooth sailing going forward with the WX-030s.
Listening to the Beach House track on the WX-030 provided an immediate sense of how capable a compact speaker it is. It didn't sound like a single speaker at all; instead, it cast a large and very believable soundstage. The WX-030's presentation was balanced, with good clarity on vocals, and it could play impressively loud without sounding strained.
Listening to the McGuire track in stereo, I noticed that the imaging was both wide and deep, with the sound well exceeding the physical boundaries of the speakers. Bass in particular was impressive with this track, coming across as strong and well defined—I could physically feel it.
Once things were set up, Yamaha's MusicCast app was fairly intuitive. I liked the "room" graphics you can apply to the GUI and found it easy to jump between controlling room settings and auditioning the limited music services. As an iPhone user and Apple Music subscriber, I appreciated that the WX-030 supports Airplay. Unfortunately, Airplay with MusicCast works only for a single speaker at a time; to use Apple Music for multiple rooms, I had to switch to Bluetooth streaming instead.
Specs
3.5 in woofer, 1.125 in tweeter, passive radiator
Inputs: Ethernet, Bluetooth, AirPlay
Dimensions (WxHxD, Inches): 9.625 x 6.125 x 4.5
Weight (Pounds): 4.9
Related: What You Need to Know About Wireless Multiroom Music Systems