Retro Elegance: Klipsch Three Wireless Music System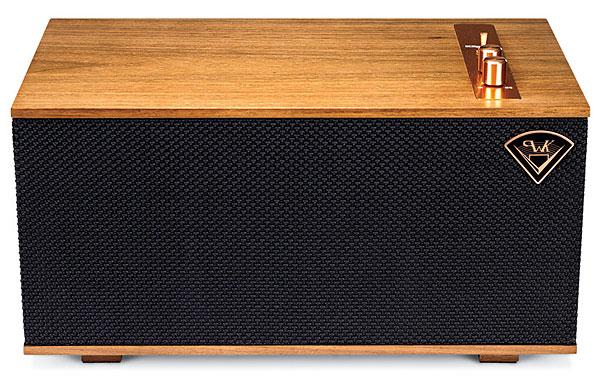 PRICE
$400
AT A GLANCE
Plus
Impeccable fit and finish
Streaming via Wi-Fi and Bluetooth
Excellent sound
Solid bass
Remote control
Minus
App could be more intuitive
Wish there was a display window
THE VERDICT
The Three melds retro style with modern sound in a beautifully crafted tabletop stereo.
I'm not gonna lie. When I first saw a press photo of the Three, I was immediately taken with its elegant retro styling—the wraparound grille, the walnut top…those copper control knobs. I wanted one.
Evoking what Klipsch calls the "mid-century" design legacy of its late founder Paul W. Klipsch, the Three boasts impeccably finished walnut panels, a knit grille, and a copper strip with two knobs—one for volume, the other for source selection—plus something you don't expect to see on modern gear: a toggle switch. Positively retro. Behind the classic façade is a stereo pair of 2.25-inch drivers that flank a 5.25-inch woofer. Klipsch has also incorporated two 5.25-inch passive radiators—one on each end of the enclosure—to boost bass output.
The Three may look retro, but it's anything but. When you're not streaming over Wi-Fi (with hi-res support up to 192-kHz/24-bit) or Bluetooth (with upgraded sound via aptX if your source supports it), you can use its RCA, minijack, or USB Audio (Type B) inputs to hook up a CD player, iPod, PC…or turntable. In keeping with the vintage vibe, you can transform those RCA jacks into a phono input via a back-panel switch that activates the built-in preamp. There's also a screw terminal for the turntable's ground wire.
One of five LEDs on the control panel will turn bright white to let you know which source is selected. Not that you're going to be hovering over the speaker to see which LED is lit: Everything is controlled through the Klipsch Stream app, which uses the DTS Play-Fi platform to stream internet radio and a number of services, including Amazon Music, iHeart Radio, Napster, Pandora, SiriusXM, Spotify Connect (Premium subscription only), and Tidal, which supports 16-bit lossless streaming with a HiFi subscription. You can also stream music from your personal library as long as your PC (or server) and the app are connected to the same Wi-Fi network.
The beauty of the Play-Fi platform is that it supports lossless audio and makes it easy to set up a whole- house music system by mixing and matching wireless products from more than 20 brands. The Three is one of six Play-Fi models Klipsch offers.
A Time to Stream
I was stoked when two Klipsch boxes arrived on my front porch—having two speakers would allow me to check out the app's multiroom chops. Wasting no time, I unboxed the speakers and set one up in my living room and one in my basement office. Would these retro beauties perform as elegantly as they looked?
Without consulting the sparse, multilingual owner's manual (hey, I'm male), I downloaded the Klipsch Stream app on my phone and followed the prompts. In a matter of minutes, both speakers and the app were connected to my Wi-Fi network. Piece of cake. For added flexibility, I also installed the app on my iPad.
The app does everything it needs to but is pretty basic. Surprisingly, it doesn't include song titles when you're streaming Internet Radio. With two speakers, I was able to create a group with one source feeding one or both speakers and control volume in unison or independently. Or, I could play a different source on each speaker. I ran through a variety of machinations—streaming Bluetooth to one speaker, while listening to Tidal on the other, and so on. Klipsch says you can create up to four inde- pendent zones with one source feeding up to 16 speakers and have up to eight people with different devices streaming different songs to different speakers at the same time. Now that's a party.
I auditioned a wide variety of music from different sources over a few weeks, mostly with the app set to Critical Listening Mode, which "creates a pure, unaltered digital audio path to any single Play-Fi speaker for the best possible sound quality." I liked what I heard and noticed a distinct improvement in sound quality after a few days of use, which I attributed to speaker break-in.
The Three can play surprisingly loud and puts out plenty of bass. It had no trouble filling my 13 x 25-foot living room, but with bass-heavy pop tracks, I had to throttle back the volume to avoid distortion. With some music, the treble was a bit sizzly and the bottom end a little boomy, but that was the exception, not the rule. Overall, my experience was positive, and the more I listened, the more I liked the Three.
As just one of many examples, I was impressed by how clean, full, and detailed Suzanne Vega's 1987 hit "Luka" (Solitude Standing) sounded on one of my favorite internet stations, Radio Swiss Pop. The Three conveyed the breathy quality of Vega's vocals with just the right amount of ambience. While the song was playing, I switched to Tidal (HiFi version) and searched for "Luka" so I could compare the sound, which turned out to be noticeably brighter on Tidal—maybe too bright.
Streaming a series of 192/24 wav files from my music library was perhaps the most revealing—from the ambience of a live jazz performance to the delicate sound of a children's choir. Remarkable for a speaker of this size. Klipsch has created a beautifully crafted tabletop stereo that does an excellent job of melding retro style with modern sound. I think Paul W. Klipsch would approve.