McIntosh RS100 Wireless Speaker Review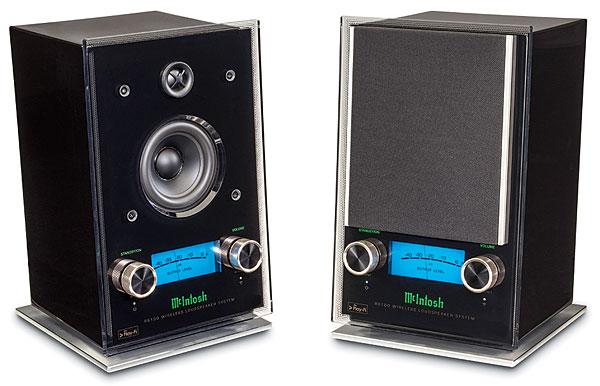 PRICE
$1,000 ea
AT A GLANCE
Plus
Classic McIntosh styling
DTS Play-Fi compatibility
Excellent sound quality
Minus
Quirky Play-Fi app
Grille isn't acoustically transparent
No Bluetooth
Pricey
THE VERDICT
It's hardly cheap, but McIntosh's wireless speaker will satisfy your inner audiophile in more ways than one.
My UPS delivery guy—after having me sign for a pair of McIntosh RS100 wireless speakers, whose brand labeling was plainly evident—couldn't resist commenting before walking off with a wink and a smile: "Have fun with those!"
He was in on the secret, a member of that club of audiophiles or savvy-enough tech consumers who understand that McIntosh isn't just any old audio brand. The company was founded in Maryland in 1949 by Frank McIntosh, a broadcast industry consultant seeking a decent audio amplifier to sell to his clients. He hired engineer Gordon Gow, and together they created the 15W-1 and 50W-1—respectively, 15- and 50-watt vacuum-tube monoblocks that sold for $149.50 and $249.50. The firm moved to Binghamton, New York, in 1951, and the McIntosh/Gow team went on to last through decades of products and a few notable milestones, among them the powering of the Woodstock music festival in 1969 and the Grateful Dead's 28,800-watt Wall of Sound in 1974. Gow eventually took the presidency when Frank McIntosh retired in 1977.
For more than 30 years, McIntosh built the brand's legend by inviting audiophiles to attend touring audio clinics to bench-test their own amplifiers against the company's. All the while, McIntosh gear—which came to include other electronics, source components, and speakers—featured not only superb sonics but also rock-solid build quality and distinctive industrial design: a chrome finish for open-chassis tube amps (polished stainless steel today) and, for amps having a faceplate, a black glass front panel with a green backlit McIntosh logo and, of course, the classic "McIntosh Blue" power meter.
After several changes of ownership dating from the early 1990s, McIntosh has landed in the hands of what used to be Italy's Fine Sounds group and is now simply the McIntosh Group out of New York, with sister brands that include Audio Research, Sonus faber, Wadia, and Sumiko. But through it all, McIntosh itself has remained a distinctly American operation and success story out of Binghamton, where it still manufactures. It can be argued that, prior to the esoteric high-end audio boom of the 1970s and '80s that spawned the likes of Audio Research and Wadia, McIntosh was the high-end audio industry, and the brand that budding audiophiles like me dreamed about. So it's an understatement to say that I was excited to undertake my first review of a McIntosh product, one offering up the iconic blue meter and classic backlit design—even if, at a not inconsiderable $1,000 each, the RS100 is the least expensive McIntosh product to do so.
The RS100 is McIntosh's nod to today's digital lifestyle: a powered tabletop speaker featuring DTS's Play-Fi wireless technology. As an "open standard" answer to the proprietary, app-driven, multiroom audio systems popularized first by Sonos and now by a slew of competitors, Play-Fi has been embraced (that is to say, licensed) by several traditional audio manufacturers seeking to get in this game without having to reinvent the wireless wheel. The most notable benefit of Play-Fi—besides allowing you to purchase wireless speakers or soundbars at a wide range of performance levels and prices from different brands—is that the Wi-Fi-based system is compatible with high-resolution audio files above the 44.1-kilohertz/16-bit CD-quality threshold. You can also mate any two Play-Fi speakers for stereo—hence, the pair of RS100s that showed up at my doorstep.
Powered up with its logo and meter illuminated, the RS100 makes an impression. It's a rectangular column that's 12.75 inches tall x 8.25 wide, finished in high-gloss black wood. A substantial and solid piece, it weighs in at 15 pounds and passes the knuckle-rap test with a satisfying thunk. The box sits suspended above a brushed-aluminum plinth, and its front and rear fascia are canted back slightly, a design element that likely improves sound projection while contributing to the cool styling. The floating front panel, thick Lucite here rather than glass, sports a pair of traditional McIntosh knurled knobs—machined aluminum (cold to the touch) rather than painted plastic. Both have push/turn functionality, with the left knob used for powering up or down the speaker with a push or selecting the input with a turn. The right-hand knob controls volume or can be pressed to mute/unmute the sound. There is a pinpoint LED below each knob that changes color to denote different conditions, with one indicating power status and input selection, the other showing Wi-Fi status to assist with setup and verify network connection.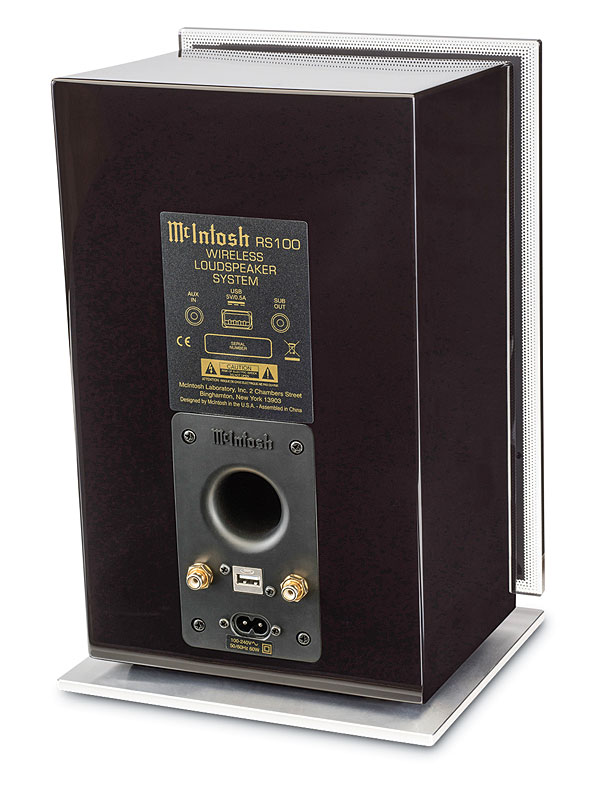 Around back, along with the port for the bass-reflex cabinet, there are two RCA connectors—one an Aux input for connecting a monaural signal source (it's a mono speaker), the other a subwoofer output. On its own, the RS100 is rated to 55 hertz (though with no –3-decibel point specified). Test-tone sweeps in my setup, with no nearby boundary reinforcement, audibly dropped off between 50 and 60 Hz to prove this out. (See "Test Bench" for our quasi-anechoic measured response.) There's a USB port on the rear (for service use) that can also make a wired network connection to the speaker in lieu of the integrated Wi-Fi; it requires a USB-to-Ethernet adapter that is not supplied. This USB port won't accept audio files from a stick drive for playback, however. And unlike some other Play-Fi devices, there's no Bluetooth receiver for a quick push from a phone of services that aren't Play-Fi supported. Also, there's no remote control, as it's assumed you'll be using the Play-Fi app. The only thing that comes in the box besides the speaker and front grille is the detachable power cord.
The grille, with its stylish aluminum side strips and black cloth, is magnetically attached and easily removed to reveal a 4-inch polypropylene woofer and a 0.75-inch titanium dome tweeter protected by plastic ribs. The system crosses over at 2,500 Hz and is driven by 60 total watts. I noticed that the grille design, which uses a fairly dense plastic structural mesh behind the cloth, has an effect on the sound, slightly marring delicate details in the highs and subjecting the vocal range to a very subtle veiling. However, removing the grille pretty much destroyed the speaker's aesthetic, so my subjective listening comments are all made based on the sound with the grille on, as were our frequency response measurements (per usual procedure). As you'll read, the speaker(s) still sounded terrific, but a grille effect of that magnitude was a bit disappointing here. At my request, Audio Technical Editor Mark Peterson measured response with and without, and we thus determined that most of the narrow single dip you see in our trace around 5,000 Hz is directly attributable to the grille.
Setup
This was my first extended go-around at home with Play-Fi. Setting up a Play-Fi speaker involves downloading the iOS or Android app used universally by all manufacturers and following the prompts. You boot up your Play-Fi device, select it temporarily in your Wi-Fi menu, and then assign it to your network with your password before naming it (e.g., Bedroom or Living Room) and letting it go through any required product software updates. At that point, it appears on a device selection menu among other Play-Fi speakers on the network, and you can choose music from one of several sources: the library on your phone or tablet running the app, a media server on a network-connected computer (I used Plex software on my MacBook), or one of the integrated music-streaming services. There are currently 11 services offered plus an internet radio app, with most of the majors represented, among them Pandora, Spotify (via Spotify's paid service and the Spotify Connect app), Tidal, Amazon Music, Sirius XM, and iHeart Radio.
My setup didn't go entirely smoothly: Afterward, both of my two factory-fresh RS100 samples, positioned in two different rooms, would play only the left-channel information of a stereo music signal. This was something I detected fairly quickly with music and then verified with left- and right-only test tones from my streaming library. Despite being a mono speaker, the RS100 should have combined and played both channels. I was able to successfully assign either speaker the right-channel duties when mating it with the other in a stereo pair, but this certainly put a negative spin on the idea of using a single unit as a dedicated zone player.
Our McIntosh contact assured me that this was not normal behavior, but the company had no explanation or prior experience with this error. Eventually, they sent me a third unit, on which they had performed the initial update at the factory and had verified that both channels would play simultaneously. This is what I used for my single-speaker listening tests.