SVS Prime Wireless Pro Powered Speakers Review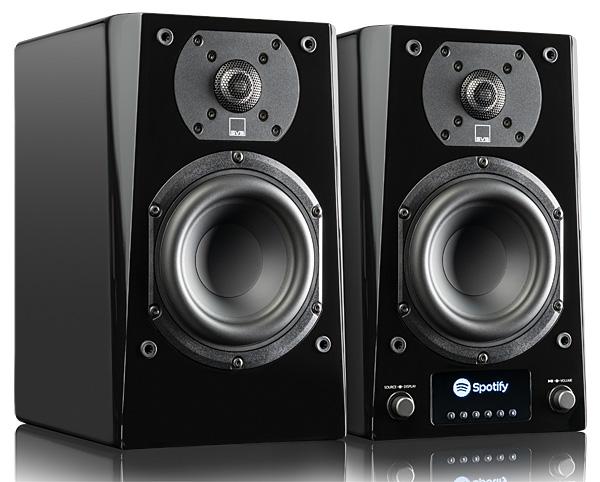 PRICE
$900/pair
AT A GLANCE
Plus
Impressive low-end extension and dynamics
Good array of inputs including HDMI/eARC for TV sound
Subwoofer output lends expandability
Minus
The active speaker must be the right channel
Low-end balance may prove a bit strong for near-wall placement in some rooms
No systemic EQ
No file format data display
THE VERDICT
Outstanding sound quality in a compact, wireless-streaming speaker pair.
I haven't yet decided what to call the new genus of streaming-on-board powered stereo speakers. Streakers? Speamers? Whatever you call them, active DSP speakers, with amps, digital converters and crossovers, and of course, streaming capabilities built right in, are officially now a thing. SVS has recently upgraded its original example, the Prime Wireless, to Pro status with larger cabinets and woofers for enhanced bass extension, the addition of an eARC-compatible HDMI input, a new IR remote controller, enhanced front-panel display, and improved streaming via Wi-Fi, Apple Airplay 2 and Chromecast. But in this newly hot product category, features and specs alone won't bear away the bell; let's see what kind of game the Prime Wireless Pros bring to the field.
At heart, the SVS' are an active two-way monitor, with separate 50-watts Class D amplifiers for each woofer and tweeter. Digital-to-analog conversion for all signals including incoming analog ones, and DSP processing—which includes the crossover function—is 24-bit/192 kHz. Eliminating the speaker-level crossovers (a notorious power-sink and nonlinearity gumption trap) is one of the prime virtues of powered speakers that use a digital crossover (some designs still use passive crossovers).
However, the Prime Wireless Pros house all the electronical doin's in one cabinet, which is fixed as the right-channel member. This sends discrete, amplified-and-crossed-over woofer and tweeter output to its passive, left-channel fraternal twin via an included, roughly 9-foot-long mini-4-pin cable.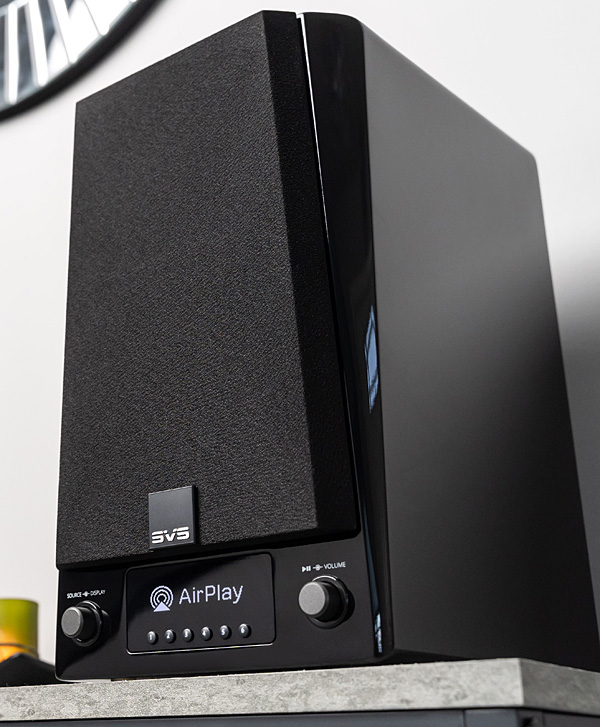 An obvious limitation of this scheme is that if your other gear is set up to the left of your loudspeakers as mine is, you may need longer cabling for external sources. For the rare case of speakers separated by more than a few yards, SVS has 15- and 20-foot speaker-to-speaker interlinks available. (Another is that if you're left-handed, as I am, the isolation of physical controls to only the right-hand speaker is just one more sharp elbow from a right-handed world. Did you know scissors are handed? Try using a regular pair in your left hand…)
Drilling down to the details, the Prime Wireless Pros are relatively conventional-looking, and conventionally handsome stand-mount/bookshelf two-ways, with a 5.25-inch polypro mid/woofer and 1-inch aluminum-dome tweeter in each rear-ported vented enclosure. The right-side unit's bottom front houses a roughly 1.5x3-inch monochrome OLED display that shows scrolling data including input, music service, artist and song title, and volume/mute status and level. Below the display are six lighted pushbuttons, for setting and selecting presets, which we'll get to.
Around back, the right-hand speaker supplies all the above-mentioned inputs, a pair of pushbuttons to invoke Wi-Fi and Bluetooth setup states, and a "for service only" USB port (that can also be used to power an external device); the passive left speaker has only the 4-pin port for the speaker-speaker interconnect). A bit disappointingly, there's no USB input, which is a favored hookup for wired-streaming hi-rez files. There is a USB-A port (the slim rectangle) but it's marked "Service." There's also a pair of Ethernet ports for wired networking that allow for daisy-chaining. Lastly, the single RCA subwoofer output is said to automatically engage an 80 Hz high-pass sub-crossover filter to the Prime Wireless Pros whenever a subwoofer is connected.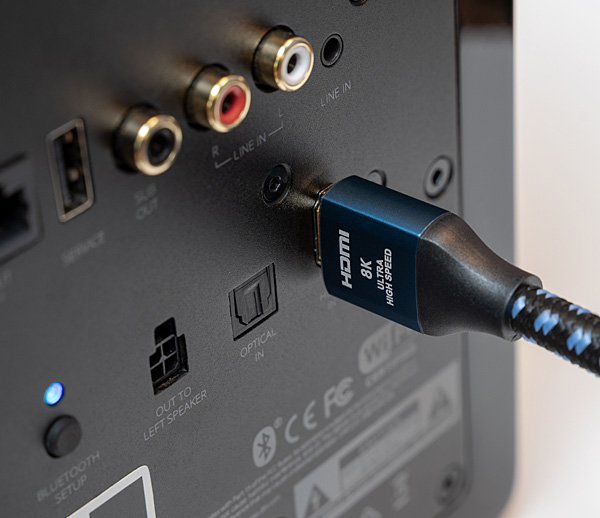 Visually, the Prime Wireless Pros look like lots of other small two-way speakers, clearly meant for stand-mount use. Good looking in an unpretentious way, I judged them considerably more businesslike without their frankly rather meh fabric and plastic-post grilles in place, and I did all my listening without them. Our pair came in a very nicely done black-gloss lacquer; white is also available.
Setup & Listening
I placed the SVS on my usual, heavy, 34-inch stands, located where countless stand-mount speakers, including my everyday three-ways, have worked successfully over the years. My initial setup required nothing more than plugging in the single supplied power cord to the right-channel unit, adding the supplied 4-pin interlink between the pair, and running the wireless-setup routine as instructed by the quick setup guide packed with the speakers—a fuller manual is available online. This requires the use of an Android or iOS smartphone or tablet, running the free Play-Fi app from third-party DTS to introduce the Prime Wireless Pros to your home Wi-Fi network. Thus, without some smart device or other, you'd be restricted to hard-wired digital or analog sources.
Once the speakers are netted up, you don't necessarily need Play-Fi, though you can continue to use it as your streaming hub if you wish. And, significantly, it enables hi-rez streaming from HR-capable streaming services like Tidal and Qobuz. (Play-Fi is a straightforward, very serviceable app that does quite a bit, but a full review of its abilities and performance is outside the province of this report.) That said, I have both Tidal and Qobuz apps on my iPad, and both showed the SVS' as available, directly, once the Prime Wireless Pros had been linked to my Wi-Fi by the Play-Fi app. And for some of my auditions, I flowed streams via Roon, which also immediately found the Prime Wireless Pros as a Roon-ready endpoint, which means they were restricted to Apple AirPlay 2 or ChromeCast connection, of which I mostly used the former.