Sonos Roam Portable Wireless Speaker Review
PRICE
$169 (Shadow Black or Lunar White)
AT A GLANCE
Plus
Rich, warm, sound
Impressive bass
Bluetooth, Wi-Fi, and AirPlay 2
IP67 water- and dust-proof
Minus
Lacks treble clarity at high volumes
Pricey for a portable speaker
THE VERDICT
If portability and sound quality are important to you, the Sonos Roam smart speaker is an outstanding choice.
When a company known for inventing the multiroom speaker announces a new fully portable model, we sit up and take notice. The new Sonos Roam ($169) is an ultra-compact, IP67 water- and dust-proof smart speaker that weighs less than one pound and links with your phone or tablet via Bluetooth 5.0. But that's not the whole story. The Roam can also connect with your home Sonos ecosystem, automatically making the switch between Bluetooth and Wi-Fi as you come and go.
The very clever Roam can be charged via its USB-C port or wirelessly docked on a Qi charger. (An optional Sonos wireless charging dock with magnetic connection is available for $50.) It sets up quickly with the Sonos app, which makes it easy to adjust EQ and playback features including loudness compensation and Trueplay automatic sound tuning. The waterproof Roam can be submerged in 3 feet of water for up to 30 minutes, although it will sound much better above water than below.
Given that the Roam is a portable speaker, having Trueplay onboard is a huge plus. Trueplay adapts the output of Sonos speakers for their surroundings by using a built-in microphone to periodically adjust the EQ. The Roam sounded just as good in my large living room as it did in my smaller listening room and, more notably, outdoors.
The Toblerone-shaped Roam may be small and light, but it packs a punch, with separate Class-H amplifiers used to power the oval racetrack mid-woofer and tweeter. You get up to 10 hours of continuous playback, and the speaker will hold a charge up to 10 days when in stand-by mode. There's also a fast-charge feature that powers the Roam to 50 percent capacity after two hours of charging. The USB charging port is located on the speaker's base next to the power switch and one of the rubberized ends contains basic touch controls: volume, play/pause, and microphone mute.
Amazon Alexa and Google Assistant are available on the Roam, with a far-field microphone array picking up voice commands even from quite a distance away. Both assistants are only available while on Wi-Fi, not Bluetooth, and a light indicates when the microphone is active and listening. The Roam can be grouped with other Alexa speakers through the Amazon app, but not with other Google speakers through that ecosystem. One caveat: The battery gets drained more quickly with Google Assistant engaged even if the microphone is muted, but because that only works on Wi-Fi, it's not a big drawback since you can always plug in at home.
The Sonos app features over 100 streaming music services, including Apple Music, Amazon Music, Tidal, Qobuz, and Spotify. It's a pleasure to use, especially if you already have other Sonos devices in your system, and supports Apple AirPlay 2, letting you group non-AirPlay products with AirPlay-compatible ones. Other Roam capabilities enable you to use a second speaker to create a stereo pair, or to use Sound Swap—a feature making its debut with the Roam—to quickly transfer music playback from one device to another.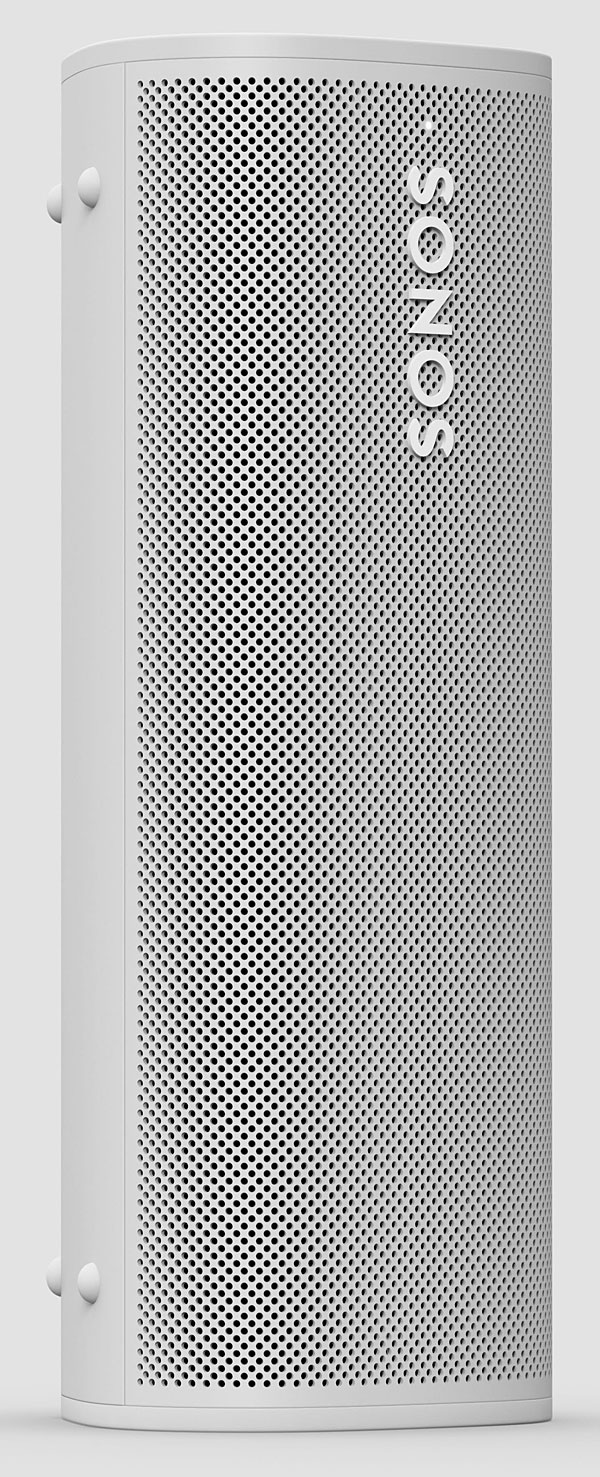 Performance
As with many other portable speakers, playback on the Roam is single-channel. There is no sense of stereo separation or imaging, but what Sonos does with that mono signal is worth chatting about.
I queued up "Anywhere Away From Here" with Rag'n'Bone Man and P!nk, and the detuned piano and small-room reverb on the vocals were very well-suited for the small Roam. Rory Graham's gruff voice was conveyed with a nice balance of mid-range rasp and deeper resonance. The Roam really shined when the bass kicked in on the second half of the verse, with the racetrack woofer producing an impressive amount of low-end considering the speaker's size. P!nk's vocals sounded natural and accurate, with more presence than Graham's. I anticipated a thin, bright sound, but the Roam leans to the warm side, with a slight extreme high-end roll-off. For example, when both singers joined together in the bridge, their falsetto voices had a clean and airy quality instead of sounding edgy.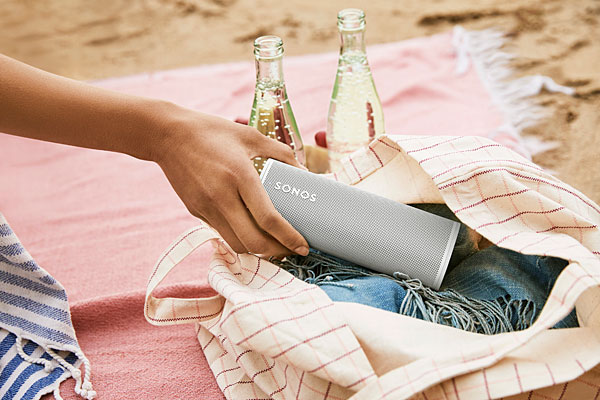 The Roam's detailed mid-range and impressive bass were evident on "Destroyer" by Of Monsters and Men. I heard clear separation between the lead vocal and subtle background harmonies, and when a wall of sound kicked in during the chorus, the Roam handled the deep bass while leaving plenty of space for Nanna's vocals. When I pushed the Roam's limits, it was able to handle a fairly loud playback volume, though it did get harsh at the highest levels.
An upbeat acoustic guitar that kicks off the song "supposed to" by Blü Eyes showcased the Roam's accurate, natural sound, and that quality also extended to the doubled vocals. Listening to this track, it was clear that the sound The Roam delivered was much bigger than expected for a speaker of its small size.
Conclusion
Sonos has a reputation for creating innovative products and the Roam is yet another notch in its smart speaker belt. It may be small, but it's one of the best-sounding portable models I've yet heard. Add in its Wi-Fi and AirPlay 2 capability, Trueplay tuning, and rugged design, and the Roam is the one smart speaker you'll want to take with you.