Riva WAND Wireless Music System Review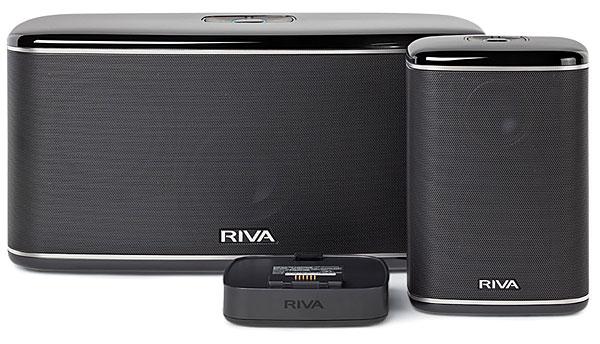 PRICE
Festival, $499; Arena, $249
AT A GLANCE
Plus
Excellent build and sound quality
Chromecast, AirPlay, Bluetooth built-in
Away mode and optional battery for portability
Minus
Chromecast multiroom interface
THE VERDICT
Riva Audio continues a tradition of excellent sound quality with the WAND series, the company's first wireless multiroom speakers.
I first met Riva Audio founder Rikki Farr and chief engineer (now also president) Don North in the fall of 2014 when they marched into Sound & Vision's New York City conference room to demo their first product, a Bluetooth speaker called the Turbo X. North was a youthful, glasses-wearing geek who had just enough of the right credentials and tech swagger to suggest he really knew what he was doing. And Farr was a bigger-than-life, avuncular Brit who claimed to have rubbed shoulders with or produced concerts for pretty much every one of my '70s-era rock heroes, including some of the biggest names in music: Led Zeppelin, Pink Floyd, the Who, John Lennon, yada yada yada. Farr was ridiculously likable, though I figured he might be full of it—a modern-day P.T. Barnum, more showman than substance. Boy, was I wrong. He was indeed heavily involved in those very heady times in British rock, and had even helped organize the famous 1970 Isle of Wight Festival, which, with 600,000 attendees, was bigger than Woodstock. On Riva's website, you can see a clip of the young Farr angrily chastising the festival's unruly crowd.
Riva's promotion of Farr's rockbiz background would just be slick marketing if there weren't a real love of music behind it and some truly good ears to go with the engineering. Back in 2014, it didn't take me long to see that Riva's commitment to genuinely good sound at good prices for the broadest possible audience had some chops. Our meeting room is a horrendous place to listen to even a phone conference, much less music—a long, reverberant space with windows lining one side and a giant, slick wooden table to bounce the sound off. But the Turbo X sounded good enough in there that we eventually connected it to my phone and spent a long while listening to favorites from my personal library; I kept wanting to hear how this or that song would sound. That's the mark of a good audio product—one that captures enough of the essence to get you excited about the music.
Room Tunes
The Turbo X scored high marks with reviewers, and it was followed by a more compact and similarly wellregarded Bluetooth speaker, the S. Riva's new WAND series, the subject of this review, is the company's first attempt at a Wi-Fi-based wireless multiroom system. (The acronym stands for Wireless Audio Network Design.) I've been pretty vocal about my belief that it's only a matter of time before even serious audiophiles will be listening on one of the app-controlled systems first brought into vogue by Sonos and now being pursued by all manner of competitors. It just comes down to (1) the quality of the wireless signal and the (typically self-powered) speakers, and (2) the system's simplicity and ease of use.
For WAND, Riva looked at all of the possibilities and ultimately decided not to build a proprietary operating system from scratch (à la Sonos, Bluesound, Bose's Soundtouch, Yamaha's MusicCast, or Denon's HEOS), instead opting for Google's Chromecast for multiroom operation. Fair enough: Chromecast has been gaining popularity among manufacturers, and it's compatible with hi-res audio signals. Most of the primary music- and news-streaming apps (including Pandora, Spotify Premium, Tidal, and Tune-In) are now Chromecast compatible. This means you just pick up your phone, punch up your Spotify or Tidal app the way you normally would if you were listening on headphones, and then simply hit the Cast button found right inside the app to select any Chromecast speaker on the network. The Google Home app is used to introduce the WAND or other Chromecast speakers to your network for the first time and set up your multiroom groups, but it's not required for daily use with your favorite Chromecast-enabled music services.
But wait—there's more! Riva's vision of technological agnosticism and ease of use gives you other wireless options, including Wi-Fi-based AirPlay (for Mac and iOS users) and Bluetooth. Yet another special feature to help you make the connection is an Away mode, engaged via a switch on the back of each speaker, which allows you to assign your WAND speakers to their own ad hoc Wi-Fi network. So, for example, if you're not in a Wi-Fi hotspot, you can set several WAND speakers to the Away mode and stream music from your phone to one of the speakers (designated as the primary), and the stream will play on all of the other nearby WAND speakers. Add Riva's optional battery pack (see below), and you can set up a network in the great outdoors where no AC power is available.
Sounding Out
The initial WAND offerings include the flagship Festival and the more compact (and optionally portable) Arena. The Festival ($499) is a beast, weighing in at 14.2 pounds and measuring roughly 14.5 x 8 x 7 inches. Its heft comes from the combination of an actual wood cabinet hidden behind its wraparound grille and plastic trim, as well as from an impressive mix of six active drivers and four passive radiators encircling the box. Facing forward are a 4-inch anodized aluminum cone woofer and a 0.79-inch (20 mm) ferrofluid-cooled silk dome tweeter, plus two 4-inch rubber-coated steel passive radiators; matching passives also fire from the rear. Meanwhile, side-firing baffles on the left and right each house a similar woofer/tweeter array as the front. This arrangement, with effectively full-frequency coverage on three sides, is central to Riva's proprietary Trillium technology, first introduced in the Turbo X. It uses some unspecified formula of channel mixing to create three separate output channels and to project, in Riva's words, "virtual left and right speakers outside the enclosure," while also keeping vocals locked to the speaker via the center drivers.
I should note here that this isn't the heavily processed, phasey kind of effect that has often been used to spread an unnaturally wide stage in cheap soundbars. Rather, it's a more subtle and holistic treatment that better allows these narrow speakers to project two distinct channels and create some semblance of real stereo despite the proximity of the drivers—all while maintaining honest timbre and (as described) avoiding dynamic compression. As you'll read, it's not entirely transparent. But when you consider that so many other wireless speakers are mono only, the ability of Riva's models to reproduce two channels separately with some polite spatial assistance turns out to be a good thing, as is your ability to designate the speaker for either right- or left-only duties to create a stereo pair (which I'll say more about later). Placing bassaugmenting passive radiators on symmetrical, opposing baffles wherever possible is also a Trillium hallmark: It cancels out some vibrational forces and is said to result in more and cleaner output. Six separate channels of Class D amplification in the Festival amount to a combined total of 200 watts (nominal RMS) divided among the active drivers.
The Arena ($249) is a stocky column with rounded corners. From a distance, it could be mistaken for Sonos's entry-level speaker, the Play:1—though at 5 x 7 x 5 inches, it's marginally wider and taller. The left-, center-, and right-facing baffles each contain a single 2.36inch (60mm) full-range anodized aluminum cone active driver and a 2.6-inch (66mm) rubber-coated steel passive radiator, with each active element driven by its own amp (totaling a combined 50 watts RMS for the whole speaker). A bonus for the Arena is the aforementioned 20-hour rechargeable battery pack ($99), which snaps onto the bottom (the combined weight of speaker and battery is about 4 pounds). I used one sporadically on one of my Arena samples, and though I never timed its battery life, it seemed to work as promised and drove the speaker to substantial volume.
Industrial design and fitand-finish on both models are impressive, featuring high-gloss plastic top and bottom panels with rounded corners sandwiching the sturdy metal grille (gray for white models, matching black for black models). Connections on the rear include a USB port for attaching a drive or charging a mobile device; a 3.5mm analog Aux input; and—on the Festival only—a Toslink optical input suitable to feed a TV's optical out to the speaker. Both speakers accept a wide range of digital file types—including MP3, ALAC, FLAC, WMA, and PCM/WAV—and they handle hi-res up to 192 kilohertz/24 bits. Screw insets on the back (two for the Festival, one for the Arena) allow for wall or stand mounting. A central button on the top of each speaker, with a four-way click-ring around it, provides control of track movement, volume, input selection, and various pairing functions, though you'll be using a touchscreen app on your device to work the speaker most of the time. Google Assistant voice control is available if you have a Google Home speaker in your network to provide the microphone access (I do not). (Amazon Alexa compliance is not currently planned for the WAND series, though RIVA says it's developing a new line of Alexa-enabled speakers.)
Setup and Use
Riva sent me one Festival and two Arenas to allow me to test a threezone system, as well as to try the Arena in a stereo pair. I initially went for simple AirPlay connections, which involved nothing more than a quick visit to the Wi-Fi settings on my iPhone. After that, any of the speakers was available to stream to via the phone, my iPad, or my MacBook, though it was strictly one speaker or another, as AirPlay offered no multiroom capabilities at the time of my evaluation. AirPlay 2, which should be out by the end of the year, does offer multiroom, though the full extent of that capability (with regard to supporting single or multiple, simultaneous streams to different devices) was not clear at the time of my audition. Riva anticipates that the WAND series will be upgradable via firmware for AirPlay 2. My experience with AirPlay generally, which held true for the WAND speakers, is that it's typically a zippy and reliable connection, though it's limited to CD-quality 44.1-kHz/16-bit signals.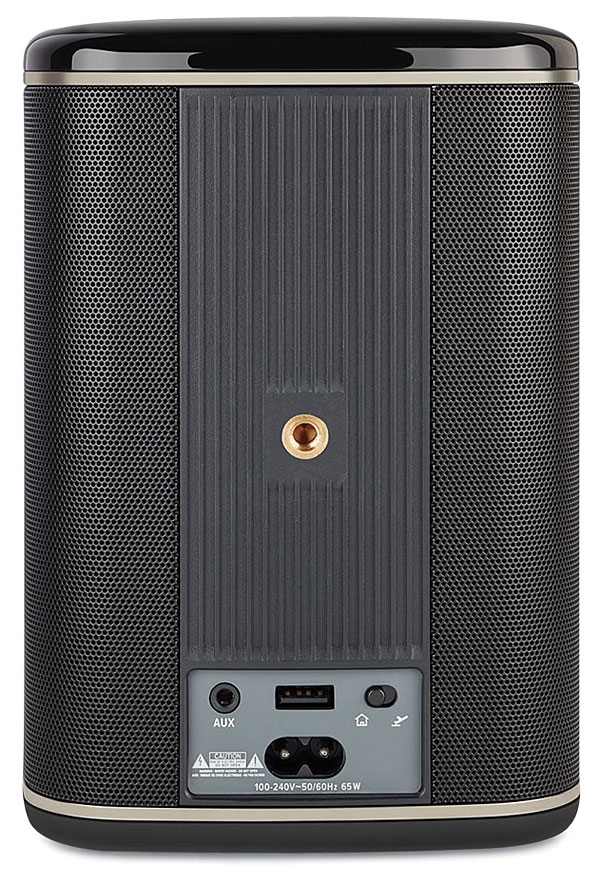 Setting up Chromecast connections takes an extra step or two, but the Google Home app (for iOS or Android) walks you through the process of joining the speakers to the network and naming them. A word of warning here: Chromecast speakers, as well as those for the Play-Fi system I've tested previously in my home, like a good, strong Wi-Fi signal if they're to exhibit reliable behavior. The Google Home app tells you when it considers your network weak, as it initially did for mine. I live in a relatively small home, but it has plaster walls, and the router is at the opposite end and one floor up from my basement listening studio. I had no real issues with setup, but when I paired my two Arenas for stereo listening, one of them kept dropping out. I solved the issue by setting up an inexpensive Wi-Fi range extender midway between the router and speaker locations and connecting the speakers to the new network.
Once all your speakers are in network, you'll see them as individually assignable devices in the Google Home app, and you'll be able to create separate groups in any combinations. In my case, I ended up with seven different selections to accommodate all the possibilities in my three-speaker system—among them, the three individual speakers plus groups for all the various combinations, including a wholehouse "All Speakers" group. It can look a little intimidating with all these options queued up in a long scroll in the speaker selection area of the Google Home app or listed in your Tidal or Spotify app when you hit the Cast button. In reality, though, you are most often selecting an individual speaker in the room you're in, and you likely won't feel the need to create groups for every speaker combination.