2020 Top Picks of the Year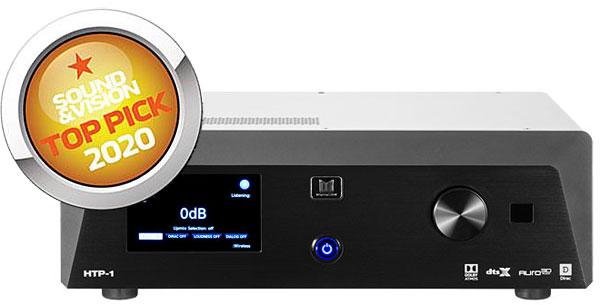 The best thing I can say about 2020 is that it's
over
. You'd think a year that was challenging on so many fronts might result in a drought of interesting A/V gear, but that was not the case for 2020. Logistical issues slowed shipment of certain products, but most eventually arrived. When they did,
Sound & Vision
's reviewing team eagerly went to work.
What are the trends to take away from 2020? With people spending lots of time (too much!) at home, 2020 was the year video streaming broke out in a big way. Following on the heels of Disney+ and Apple TV+, both of which launched in late 2019, new services such as HBO Max and Peacock emerged to give Netflix, Amazon Prime, Hulu, and others competition. Add in VOD and Premium VOD—a new category created in response to the shuttering of theaters, and there was an embarrassment of streaming riches.
As streaming overflowed, disc-based viewing waned—digital sales surpassed Blu-ray/DVD sales for the first time in the U.S. in 2020. This reality is reflected in the lack of any new disc players in this year's Top Picks list. Streaming at minimum requires a TV to watch with (we're not advocates of viewing movies on phones), and, fortunately, prices for top, feature-packed Ultra HDTVs became more accessible. The LG "Gallery" OLED that won this year's Top Pick of the Year award in the TV category, for example, lists for $3,500—$700 less than the flagship LG model that was a Top Picks finalist in 2019. And the Sony XBR-65A8H OLED that we reviewed in 2020 is priced at $2,800, or $1,000 less than the Sony model that won our TV TPOY award in 2019. And then there's Hisense's 65H8G, an $800 LCD Ultra HDTV offering solid performance that snagged our 2020 Top Value of the Year award.
While HDMI 2.1 was only just starting to pop up in products during 2019, we saw both TVs and A/V receivers arrive with full 2.1 functionality in 2020. The advantage to having products with this latest version of the HDMI connection standard is it allows for pass-through of 8K video and also supports features made possible by next-gen Xbox and PlayStation consoles such as 4K/120Hz video and modes designed to reduce image lag and enable more fluid and realistic-looking graphics during gameplay.
Much also happened on the audio front in 2020. We saw the arrival of a significantly more affordable 16-channel surround preamp-processor with pro-level customization and a full menu of immersive audio format support (hello Monoprice's Monolith HTP-1, our 2020 Overall Top Pick of the Year winner). We also reviewed several products with Dirac Live, a sophisticated type of room correction processing, and one—the Monolith HTP-1—with Dirac Live Bass Control integration, an add-on feature that provides bass management for multiple subwoofers. There were also plenty of Atmos-ready speaker systems, along with more soundbar systems designed to deliver immersive audio on a more modest scale, and at more modest prices.
While the list that follows represents Sound & Vision's Top Picks for 2020, it also includes products reviewed in our December 2020/January 2021 and February/March 2021 print issues. Prices are subject to change from the MSRP listed when the review was originally printed, so check online to see the latest deals.—Al Griffin