Best Speakers of 2023 (So Far)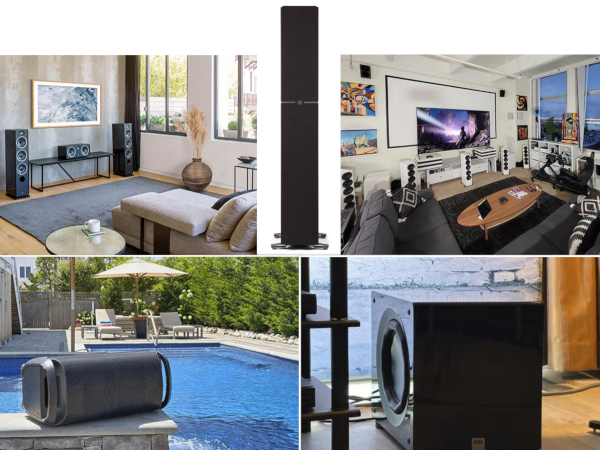 I hate to be the bearer of bad news, but if you don't have good speakers, you don't have a good sound system. Period. The speakers you use (or choose) have a disproportionate impact on how your music sounds — more so than the source, amp and preamp, or any other component or accessory in the audio chain. Simply put, your speakers define the character of the sound, which is why they are so important and why we've compiled capsule reviews of our Top Picks in speakers so far this year. With prices that range from $250 for a simple smart speaker to more than $9,000 for a topnotch home theater ensemble and lots of interesting choices in between, there is something for everyone.
Top Home Theater Speaker Systems
RSL W25E In-Wall Speaker System: $2,020 (as tested)
When speakers designed specifically for mounting in a wall or ceiling first appeared on the market 30 or so years ago, they were ridiculed by audiophiles. So-called "architectural speakers" could never match the sound produced by freestanding speakers, they scoffed. But over time, in-wall/ceiling speaker designs improved to the point where the best of the lot can sound every bit as good as traditional stand-alone speakers and do so at prices that are quite reasonable. Case in point is the W25E in-wall speaker system from Rogersound Labs (a.k.a. RSL).
The 5.1 setup we reviewed mated four W25E in-walls with a timbre-matched freestanding CG25 center speaker and standalone Speedwoofer 12s. The W25E speakers used in the front left/right and rear surround positions feature the company's patented Compression Guide enclosure for reduced cabinet resonance and an MTM (midrange-tweeter-midrange) driver arrangement in which the tweeter is offset; the layout, which also places the drivers on an angled baffle, is designed to improve vertical and horizontal dispersion to achieve a smoother response at the listening position. Guess what? It works.
To make the switch from cumbersome wall-mounted speakers to in-wall speakers that sit flush in the wall, long-time reviewer David Vaughn broke out his toolbox and installed the RSL system in his den. He was immediately impressed by what he heard, first with music and then with movie soundtracks. Imaging was precise and, with movies, the speakers "excelled at creating a solid wall of sound that emanated from the front of the room." The system also won over his wife for its inconspicuous presence. Audiophiles who think it's impossible to get credible sound from in-wall speakers that all but disappear will be shocked when they hear what RSL's W25E speakers can do.
AT A GLANCE
Plus
Clean output
Edgeless magnetic grille
Angled baffle design improves imaging
Minus
Installation requires insulation behind the speaker
Full Review Here (posted 6/22/23)
Sonos 7.1.4 Atmos Speaker System: $2,471
The Sonos Era 300 is a
mighty impressive speaker
on its own but we wanted to see what level of home theater goodness could be achieved if we mated a pair of the little 300s with a Sonos Sub (Gen 3) and the outstanding
Arc soundbar
. Could this four-piece system deliver a full-on Dolby Atmos experience to rival a top performing eight-speaker Atmos setup?
Indeed it can!
Rob Sabin, former editor of Sound & Vision and a veteran reviewer with deep hands-on knowledge of Sonos products, didn't mince words, describing the Atmos movie-watching experience as "full-ticket awesome." Swapping in the Era 300s for a pair of Sonos Play 1 speakers that date back to 2014 was a night-and-day moment: "The first thing I noticed was the obvious completion of the front-to-back Atmos dome, a truly coherent bubble from which sounds or instruments were finally able to emerge along any plane ranging from slightly behind my sweet spot on the couch to the top of the front stage above the TV." Jurassic World: Fallen Kingdom was one of many standouts with "dinosaurs roaring, squealing, and stampeding through the space from front to back" and its tense score extending to the middle of the ceiling.
The system also did a superb job of adding realism to sports broadcasts, upconverting 5.1 soundtracks to Atmos splendor, and bringing music to life in an expansive way that transcends stereo recordings — all with a solid foundation thanks to the Sonos Sub. And, of course, on top of the mesmerizing listening experience you gain access to what is arguably the best wireless multiroom platform on the planet with its easy-to-use app and wide range of music streaming options. Sonos calls it the "Ultimate Immersive Set with Arc." We call it a knockout.
AT A GLANCE
Plus
Outstanding full-dome Atmos movie effects
Superb spatial audio music reproduction
Plays loud without distortion
Minus
Expensive
No spatial audio streaming from the Sonos Tidal app
Full Review Here (posted 7/12/23)
Arendal 1723 S Speaker System: $7,996 (as tested)
If you haven't heard of Arendal you're not alone. The brand hails from Norway where it's been producing and selling speakers in Europe for more than a decade. We assembled a 5.1 home theater setup comprising four models from the well-crafted 1723 series: Pairs of Tower S and Bookshelf S speakers, a Center S, and the app-controllable Subwoofer 2S, which mates two 14-inch drivers with a 1,200-watt amplifier in a fairly imposing sealed enclosure. Everything is THX Ultra Certified for reference-level volumes in rooms up to 3,000 cubic feet with a 12-foot listening distance. A testament to the confidence it has in its products, Arendal offers a 60-day in-home trial and a generous 10-year warranty on everything but electronics, which is 5 years.
The system performed admirably with movies and music, producing sound that was balanced and neutral. As reviewer Jim Wilson put it, "The speakers are indifferent to volume and comport themselves when pushed, yet they are just as revealing when played with restraint. I heard nuances in familiar songs that aren't anywhere near as evident with other speakers. I'm not kidding, I literally experienced details I didn't know were there. I could listen to these speakers all day every day, there is absolutely no fatigue or strain." And the Subwoofer 2S, which earned a Top Pick in its own right, shrugged off the brutal opening sequence of Edge of Tomorrow — a torture test known to destroy lesser subs — producing powerfully deep, articulate bass. In a word, performance from top to bottom was impressive.
AT A GLANCE)
Plus
Impeccable build quality
Small in size, large in sound
Stylish design, superb engineering
Minus
Pricey
Subwoofer app a bit finicky
Full Review Here (posted 3/8/23)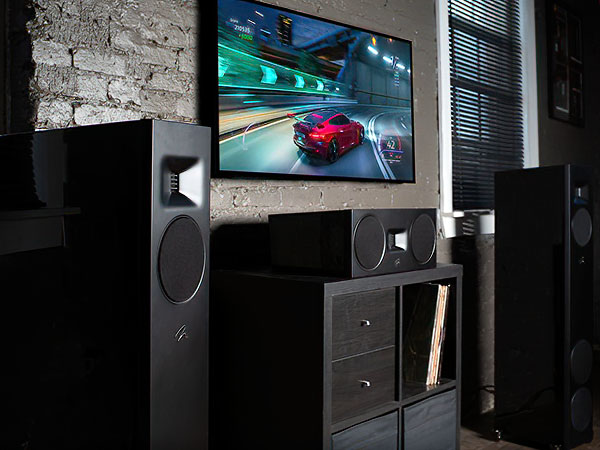 MartinLogan Motion Home Theater Speakers and BalancedForce Subwoofer: $9,194 (as tested)
When MartinLogan introduced the Motion Series more than a decade ago, the line represented a new direction for a brand that had built its reputation around the magnificent sounding electrostatic speakers it had been producing since 1983. The company embraced a traditional box speaker design with one important exception: instead of a standard dome tweeter, it used an innovative
Folded Motion
tweeter — a rectangular thin-film diaphragm that's folded like an accordion and suspended in a magnetic field. The tweeter, which offers many of the same performance benefits of electrostatic technology but in a smaller package, remains a cornerstone of the Motion Series, now in its fourth generation, and sounds as sweet as ever.
The 5.1 home theater ensemble we reviewed mated two Motion F20 towers with a Motion C10 center, two stand-mounted Motion B10 bookshelf/surround speakers, and a BalancedForce 210 subwoofer — all beautifully appointed and built with exceptional care. Once the system was set up and the requisite subwoofer adjustments made, reviewer Jim Wilson settled in for an extended movie-watching session that included the World War II chaos of Fury, old-school-western-style mayhem courtesy of Open Range, and the all-natural prehistoric sounds of 10,000 BC.
Though the action and corresponding audio in these three films is very different, the Motion speakers conveyed the wide ranging sounds with authenticity. Voices, in particular, were a standout. As Wilson put it, "One of the most telling aspects of a speaker is whether or not it can accurately replicate the human voice." The system passed this test with ease. The speakers also acquitted themselves honorably with music, leaving Wilson impressed with their ability to blend exquisite detail with razor-sharp imaging and rich bass. If you're a serious audiophile looking for a new thrill, MartinLogan's updated Motion Series speakers will do the trick.
AT A GLANCE
Plus
Incredible mids and highs
Elegant appearance
Exceptional build quality
Minus
Not inexpensive
Perfect Bass Kit not included with sub
MAP (Manufacturers Advertised Pricing) enforced
Full Review Here (posted 6/8/23)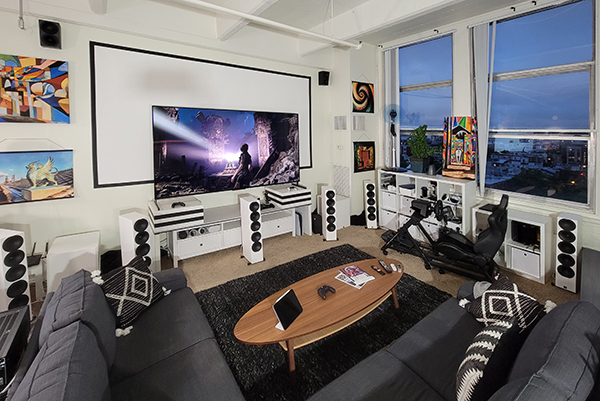 Arendal 1961 9.4.4 Speaker System: $14,490 (as tested)
We were so impressed with the Arendal
1723 series
home theater speaker system that we decided to up the ante to see how the Norweigan brand would fare in the high-flying, immersive world of Dolby Atmos. Drawing this time from the company's 1961 series, we assembled an over-the-top (some might say ridiculous) 9.4.4 system comprising
nine
2.5-way 1961 Tower speakers arranged around the room ($1,799/pair), four wall-mounted 1961 Height speakers ($799/pair), and four 16-Hz-capable 1961 Subwoofer 1V subs ($1,199 each), each of which mates a 12.2-inch woofer with 550 watts of raw power in a ported cabinet. About those nine towers: the thinking was to put-together a no-compromise speaker system, full-range at its core, with one of the towers acting as the center channel — an atypical setup for sure, but one that happened to work in the main living area of Mark Henninger's spacious loft (see photo). Crazy? Indeed. But also mind-blowing in performance — and price.
Powering the whole shebang with perhaps the most powerful A/V receiver on the planet — Denon's 15.4-channel AVR-A1H — Henninger reveled in an auditory experience he likened to "staring at a hologram — clean, precise and thrillingly lifelike." Settling in with Pomme Fritz, an EP put out by the English electronic group Orb in 1994, he wrote: "I found the speakers not merely producing sound, but crafting an electronic orchestra in my room. The audible nuances in the tracks circled around my head, creating an audiosphere as enveloping as it was entrancing." The 9.4.4 listening experience was every bit as riveting whether watching John Wick: Volume 4 or playing Tomb Raider on an Xbox Series X.
Apart from their amazing performance, the towers will work in a variety of more typical (and less costly) configurations and look great in almost any room thanks to a minimalist aesthetic. Add to that Arendal's 60-day in-home trial and generous 10-year warranty on everything but electronics, and you have a winning combination.
AT A GLANCE
Plus
Powerful, accurate sound
Relatively compact
Attractive
10-year warranty
Minus
Subwoofer lacks an app
Only available in black or white
Full Review Here (posted 7/26/23)