Sonos Era 300 Spatial Speaker Review: The Music
PRICE
$449
AT A GLANCE
Plus
Excellent stereo and spatial audio
Works as a standalone, in stereo pair
Use as rear surrounds with Sonos soundbars
Good 'smarts with Alexa, Sonos Voice
Bluetooth compatible
Impressive industrial design

Minus
No compatibility with Atmos tracks on Tidal
Does not work with Sony 360 Reality on Amazon
Sensitive to speaker placement
THE VERDICT
The Sonos Era 300 successfully brings high quality spatial audio to life in a compact, standalone package.
The Sonos Era 300 is the latest in a new generation of Atmos-compliant 'spatial audio' speakers that bring a more immersive listening experience without the hardware and installation grief inherent with discrete surround systems. At $449 (in black or white), it costs more than its competition though, in typical Sonos fashion, it is engineered to a fare-thee-well and represents a considerable achievement.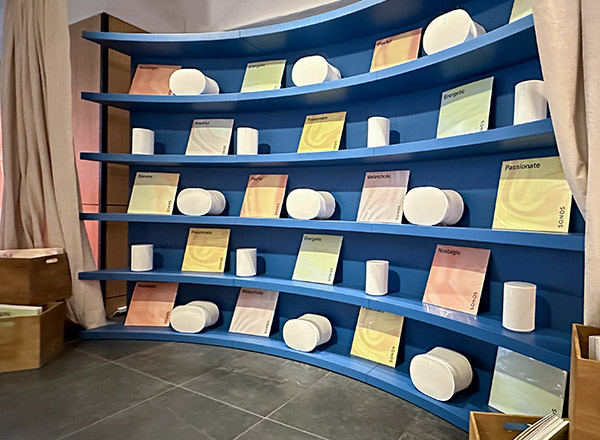 One of the Era 300's strengths, of course, is that it's a Sonos—so it fits into a long-admired multiroom ecosystem. It's also flexible, employable as a standalone stereo speaker or in a stereo pair, with or without the Sonos Sub for low-bass support. Or, you can mate a pair with the Sonos Beam (Gen 2) or Arc Atmos soundbar as rear channels.
I use the Arc in my family room, so watch for my upcoming report on the full 5.1.4 Atmos home theater. For this Quick Take, I listened to the Era 300 as a single speaker and in a stereo pair, with and without the Sub, to get a feel for its music prowess.
Resembling an oval cylinder that's been cinched corset-like around its midsection, the Era 300 is a distinctive package measuring 10.24 x 7.28 x 6.3 inches (WHD) and weighing 10 pounds. There are grilles on the front and also fully surrounding the angled rear baffle.
Its six drivers include a single mid-tweeter on the front, another firing up from the top for height effects, and a pair of side-firing mid tweeters left and right, each mated with an oval woofer. Horns and custom waveguides are employed to improve dispersion or directionality.
Of course, control is most easily executed from the excellent Sonos app, but there are also basic touch controls on the front-top of the Era 300. They include three easily discerned buttons for Play/Pause, Previous Track and Next Track. I particularly liked the recessed ridge behind these that functioned for Volume Up/Down but also featured Vol +/- endpoints for more granular control.
There's a touch point behind that to turn voice control on or off, but also a small rocker on the backside that physically disconnects the mic array for added comfort. The mics obviously need to be on for the critical TruePlay tuning that optimizes the speaker for your environment. Bluetooth pairing is accomplished with a small pushbutton on the back.
The system plays stereo tracks from any Sonos-compatible music service, however, Atmos is only supported on Apple Music or Amazon Music Unlimited; Sonos won't say when or if Tidal Atmos compatibility is coming. I used Apple Music for my audition, which sends Atmos as lossless ALAC files at a slightly-better-than-CD 48 kHz. The Era 300 also offers up AirPlay 2 and Bluetooth, and control via Alexa or the new Sonos Voice assistant. There's an optional Line-In adapter for connecting a turntable.
Era 300 By Its Lonesome
I started with a single Era 300 on an ear-height speaker stand centered in my basement studio space about 12 feet from the my listening position. CD-quality stereo from my Tidal "Reference" playlist exhibited the now familiar "Sonos sound," characterized by clean, unveiled midrange; a revealing but forgiving high end that lets you hear into the music but ultimately lacks the very last word in detail; and a full-sounding bottom that doesn't go to great depths but nonetheless won't cheat by exaggerating upper bass that could pass into boom or bloat.
I was surprised that bass measured relatively flat to about 40 Hz; goosing the Bass EQ added a welcome 5 dB or so in the 60-to-100 Hz range. Overall, the speaker was nicely dynamic, hitting a peak of 94 dB at max volume. The DSP limiting offered good control, though it was not without some strain on loud passages. No matter—pulling volume back to the three-quarter mark was plenty loud to let the speaker breath and keep things straight on busy, high energy pop tracks like Sheryl Crow's "What I Can Do For You," or Maroon 5's "Sunday Morning."
Vocals were big thanks to the upfiring driver, which still worked with derived information even on 2-channel content. But soundstage width and depth were both a bit constricted from the single speaker despite Trueplay tuning and the Era 300's attempts to reflect off the sidewalls of my relatively narrow space. As with any direct/reflecting loudspeaker, staging will be highly dependent on the room boundaries and acoustics.
Atmos tracks added another level of, well, spaciousness—widening the soundstage somewhat and adding both depth and height. Most older tracks remixed for Atmos were simply made taller and more dimensional, though I got excellent height effects from others. "We Don't Talk About Bruno" from Disney's Encanto threw some point-counterpoint voicing nicely above the horizon, and The Doors "Riders On The Storm," whose remix very pointedly places the thunderstorm effect in the height channels, communicated a convincing though width-limited local downpour.
Era 300 In a Pair…and With Sub
Although it doubles the system cost to just under $900, any reservation I had about the single Era 300 was fully placated by a pair of them stationed up front. The system now peaked in the same mid 90-db range with the volume set to only three-quarters, and with total cleanliness and control from the digital amps. The staging went from that of a struggling soloist trying to fill the hall on its own to the room-filling presence of a full ensemble.
The image now went edge-to-edge, and with Atmos tracks, utterly filled the room up and out toward my seat. Classic jazz tracks remixed for Atmos, such as "Have You Met Miss Jones" by the Oscar Peterson Trio, became more adept at recreating the acoustics of the recording space.
Tossing in the Sub (Gen 3), a $799 option, takes the system price to $1,799, but brings the sonics up another serious notch. It pulled the audible low-end limit down to a solid 30 Hz, and boosted output by more than 10 dB from 100-125 Hz and 6 dB from 40-60 Hz. Queen's "Bohemian Rhapsody," a challenge for any system, was now six minutes of pure Atmos fun, with the soaring operatic backup vocals tossed about the front of the room, and with good handling of dynamic swells and the hard rock crescendo.
On Diana Krall's "Like Someone In Love," the opening upright bass notes were now tuneful, tight, and deep, while Krall's enormous, breathy vocal stretched toward the ceiling thanks to the Atmos mix.
Conclusion
One of the things that surprised me during this review is how much I enjoyed exploring the emerging wealth of spatial music out there, and what a respectable companion I found the Era 300 on that journey.
As a standalone speaker it is an impressive warrior that does more with both stereo and Atmos tracks than anyone would expect. But it is in a stereo pair, supported by the Sub, that it leaves the realm of over-achieving lifestyle speaker and transforms into a highly competent, full-range audiophile music system that delivers the magic of spatial audio without the need for an AV receiver, a bunch of speakers, and unsightly, snaking speaker cables.
I almost hate to take the easy pun here, but I do believe there's a new Era of music-listening settling upon us.
Specs
Drivers: Mid-tweeter (4, unspecified), oval woofer (2, unspecified)
Amplifier: Class D x 6, power unspecified
Weight (lbs): 9.85
Dimensions (inches, WHD): 10.24 x 6.3 x 7.28 inch