Simaudio Moon 280D Streaming DAC Review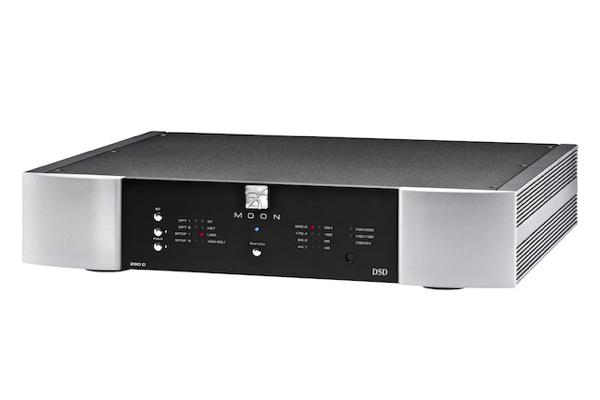 PRICE
$3,000
AT A GLANCE
Plus
Outstanding performance and build quality
Wireless multiroom streaming-capable
Roon Ready and AirPlay 2-compatible
Minus
Lacks front panel display
No HDMI input
THE VERDICT
Simaudio's Moon 280D is a bit light on features when compared with its wireless network music streamer/DAC competition, but it offers exceptional build quality and audiophile-grade sound.
Simaudio, an audio manufacturer located in Quebec, Canada is well-known for both the build quality of its products and the whopping ten-year warranty it offers. Many of the company's wares are decidedly high-end—the 230-pound Moon 888 monoblock amplifier ($118,888 per pair), which is rated to output a massive 888 watts at 8 ohms and double that down to 1,776 watts at 4 ohms, for example. In this review, however, we're sizing up Simaudio's Moon 280D DAC, which features its MiND 2 (Moon intelligent Network Device) wireless-capable music streaming module. With a $3,000 price tag, the 280D falls squarely within the mid-level price tier for the streaming DAC category. Given the intense competition in that space, I was curious to see what, if anything, would cause the 280D to stand out from the pack.
Features
The Moon 280D is not a completely new product for the company. It was first introduced in 2015 and has been continually updated, with the MiND 2 module added in 2018. The most recent updates bring Spotify Connect and Apple AirPlay 2 support. A fully asynchronous DAC, the Moon 280D's ESS Technology Sabre ES9018K2M chipset is capable of processing PCM signals up to 32-bit/384kHz (including DXD) and native DSD64, double DSD (DSD128), and quad DSD (DSD256) signals, which are supported only through the USB and network (LAN/Ethernet or Wi-Fi) inputs. The 280D also fully unfolds Master Quality Authenticated (MQA) files arriving via its network inputs.
Signals streamed over a wired or wireless connection from local UPnP servers and internet-based music services are handled by the MiND 2 module, which is controlled via the Moon MiND 2 iOS or Android controller app. A separate module in the Moon 280D handles aptX Bluetooth wireless streaming.
The MiND 2 module is Roon Ready and supports Tidal, Deezer, Qobuz, and internet radio streaming, while Spotify is supported via its native app and the Spotify Connect function. Apple AirPlay 2 allows other music services to be streamed via their native apps. Lastly, the MiND 2 module permits synchronized multi-room playback on multiple MiND 2-equipped devices, with zones grouped together or run separately. On the analog side, the Moon 280D features fully balanced differential circuitry and four-layer printed circuit boards with pure copper tracings. Careful attention has been paid to the 280D's circuitry layout. For example, the clock has been closely positioned to the DAC chipset, while separate voltage regulators are used for the digital and analog sections.

The Moon 280D's front panel consists of a 1/4-inch-thick aluminum plate flanked by a pair of side "cheeks." Color options include black, silver, or two-tone (e.g., a black center piece with silver cheeks). Simaudio's treble clef logo is positioned in the middle, above a blue LED power indicator and a standby button. On the left side are buttons for Bluetooth activation and input selection, along with a group of red LED indicators that show the active input, while the right side holds a second group of red LED indicators showing PCM sampling and DSD data rates.
There's no front-panel display, as Simaudio feels the listener will typically be sitting a good distance away and have album art and track information available via the Moon MiND controller app. There's also no volume control, though both features can be found on Simaudio's upper-level streamers, including the 280D's big brother, the $5,900 Moon 390 network streamer/preamplifier.

The Moon 280D's rear panel features a generous selection of digital inputs: one AES-EBU, two each coaxial and optical digital, and one USB-type-B for a direct computer connection. Analog outputs include stereo RCA and balanced XLR. Videophiles and gamers will note the absence of HDMI ports, which is a feature reserved for Simaudio's more expensive components.
Rounding out the rear panel are a Wi-Fi antenna connector, buttons to restore the 280D's factory settings and force a manual software update, and an Ethernet port. There's also an RS-232 port for integration with advanced home control systems, proprietary SimLink controller ports for automatic syncing with other Moon components, IR in/out ports, and an IEC power connector and master on/off switch.
A stylish plastic remote control operates both the 280D and other Moon components and includes buttons to change inputs, mute volume, and select standby mode. Also in the box was a 1/8-inch mini-jack terminated SimLink cable, a Wi-Fi antenna for the MiND 2 streaming module, a printed owner's manual, and a voucher for a free DSD music file sampler from the Native DSD website.