Pioneer Elite N-50 Network Audio Player
Price
$699
At A Glance
Plus: USB DAC built in • AirPlay, optional Bluetooth
Minus: Small font on display • No headphone output
The Verdict
This is a great-sounding way to add network audio features, especially the crucial USB DAC, to an existing system.
Have you watched in dismay as new features have left your old surround receiver or stereo preamp in the dust? Would you like to hang on to your old buddy but give it a new coat of paint? The Pioneer Elite N-50 bids to do just that, bringing a USB DAC, optional wireless connectivity, and other computer audio-related features into a rack-size component. It brings your existing equipment up to date for the second decade of the 21st century.
As an Elite model, the N-50 is sturdily built and quietly good looking. It comes in a 16-pound "armored" chassis. Inside there are twin power transformers that keep the digital and analog circuits separate, preventing the former from polluting the latter.
On the front of the N-50 is a 2.5-inch color display. Unlike an audio/video receiver, it has no onscreen display—possibly inconvenient if you're used to burrowing through menus with the support of your television. Input selection and track/station navigation operate by front panel, a rudimentary remote, or the ControlApp for iOS and Android. The front panel has a full-size USB-A input for your iPhone, iPad, or iPod touch if you're not wirelessly inclined.
On the back panel, a USB-B input accesses the USB DAC, a critical feature that empowers you to plug in a PC or Mac and obtain better sound quality from music files by bypassing the computer's soundcard. You can plug the N-50 into your system using the stereo analog outputs or the digital coaxial/optical outputs. It also accepts digital coaxial/optical inputs, allowing the player to serve as a DAC for a disc player or other source. Conspicuous in its absence is a headphone output, reducing the usefulness of the USB DAC, though you might still use the headphone-out on a connected receiver or preamp. (A $499 step-down model, the Elite N-30, lacks the USB DAC and digital ins/outs.)
The USB DAC and digital jacks support full 24-bit/192 kilohertz resolution content, though processing is executed in the 32-bit domain. A "pure" switching option delivers the signal without extra processing. Supported lossy, lossless, and uncompressed file formats include AAC, AIFF, Apple Lossless, FLAC, MP3, OGG, WAV, and WMA (but not DSD). PC users will likely need to install a USB audio driver to implement the 192-kilohertz sampling rate.
The N-50 has both Apple AirPlay and Bluetooth capability, though the latter requires the AS-BT200 adapter ($99). It also supports the DLNA standard, bringing access to Internet radio and music files stored on a computer. If your N-50 is not within reach of an Ethernet connection, the player supports Wi-Fi using the AS-WL300 adapter ($129).
I installed both the USB audio driver in my music laptop and the firmware update Pioneer recommended in the N-50 and took the product out for a spin. The system included a Pioneer Elite VSX-53 A/V receiver, Paradigm Reference Studio 20 v.4 speakers, Lenovo Win 7 laptop and desktop PCs running Foobar and JRiver, and a flock of iOS devices. To rely solely on the N-50's DAC, I set the receiver to its analog direct setting.

The player took 20 seconds to boot up and display the Pioneer logo, then another 25 seconds to display the last selected input, though turning on Network Standby in the menu improves the boot time and also allows the unit to be powered up via Airplay; otherwise it needs to be powered up prior. AirPlay worked with both an iPad 2 and a 2G iPod touch. Of course, this implemention of AirPlay in a network player didn't allow the source device to control volume as it would when built into an AVR. Bluetooth worked as advertised, requiring only the usual pairing process with the source device, which took seconds. The wired iOS-compatible USB connection also quickly interfaced with all of my iPod nanos (2G, 5G, 6G).
Through the computer-compatible USB DAC, David Bowie's The Next Day was sounding good—layered and rich, very un-digital to ears weaned on CDs. There were glitches, though, despite my using the latest USB driver, and I never tracked down the source.
Using Ethernet-connected DLNA, the player served up Internet radio, detected all computers in my network, and played music. However, reading the display from across the room was a challenge, making it even harder to navigate the slow punch-through-folders interface. Album art cut off part of the text display—shortening, for example, the Radio Symphony Orchestra of Zagreb to "Radio Symphony Or" (sic).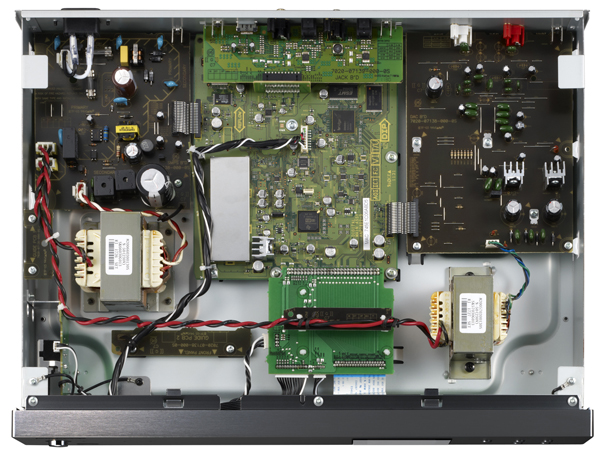 FLAC files pulled out of my desktop multimedia PC via DLNA were converted from pristine lossless perfection to MP3 at 320 kilobits per second (possibly a quirk of the PC audio server software). But an uncompressed 16/44.1 WAV file of Carlos Kleiber and the Vienna Philharmonic playing Beethoven's Fifth did come through in its native resolution, and it sounded as good as the CD would under ideal conditions, with Pioneer's DAC imparting a dark, rich, even vinyl-like character to the mid-res source. Even MP3s sounded better than expected, as the Bach Guild's Big Haydn Box played late into the night.
If your primary audio rig is a home theater system, do you need this or any other component-size network audio player? If you're already contemplating an upgrade to your audio/video receiver, the answer is no—you can get all these features in a good AVR. In fact, for just $430, Pioneer's entry-level VSX-823-K receiver has most of the same features, plus a few (Pandora, MHL, HTC Connect) and minus the USB DAC. To get the USB DAC, you'd have to pay more than a thousand bucks—say, $1,100 for the Elite SC-61 receiver.
But if you think your existing receiver is doing a good job, and want to add wireless connectivity, interface with iOS or Android mobile devices, and improve the sound of computer audio with a USB DAC—an especially critical need for those investing in high-res music files—the Pioneer Elite N-50 makes a great-sounding option.