Apple TV 4K 3rd Generation Review: Smaller, Faster, Cheaper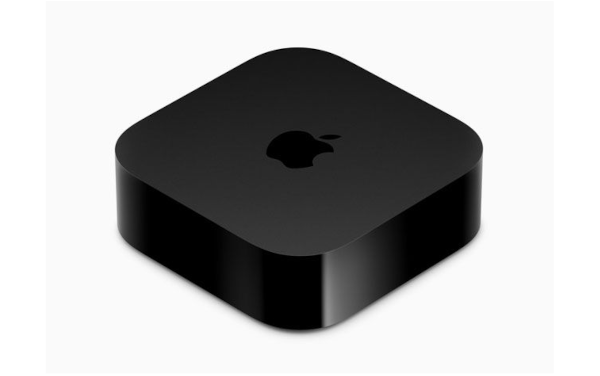 PRICE
$129 (64GB) / $149 (128GB)
AT A GLANCE
Plus
Lower price than any recent Apple TVs
Excellent sound and picture quality
Now supports HDR10+
Agnostic "Watch Next" suggestions
Supports Dolby Atmos for movies and music
Minus
Scrub fast-forward and rewind can be squirrelly
Limited Siri Commands
Netflix integration remains minimal
THE VERDICT
The Apple TV 4K 3rd generation is a must-have for anyone with an iPhone or other Apple device. It still has great sound and picture quality, but the processor is faster and it supports HDR 10+. If you are invested in the Apple ecosystem, the Apple TV 4K should be the streamer you use. Also, if you have a Samsung TV that supports HDR10+, you might want to think about getting the new model.
The latest Apple TV 4K is the company's most compelling and feature-rich streaming box yet. It performs better and has more features than its predecessors while costing less — $129 for the 64GB version. It's a top choice for movie lovers, fans of live sports, and even casual gamers. There are some areas where competing streamers like Roku and Chromecast beat it (did you hear that, Siri?). But overall, it's an appealing premium option among 4K streamers because of how easy it is to use and how smoothly it works, so let's dive right into why else you might want to get one.
This new Apple TV 4K has upgrades that make it more future-proof and move Apple closer to its goal of being carbon neutral by 2030. The A15 Bionic chip has a passive thermal design, so there is no fan inside (making it noticeably smaller). The CPU is 50 percent faster, and the GPU offers a 30 percent increase in performance. When compared to the 2nd generation Apple TV 4K, you'll sense more seamless operation.

Matching the frame rate to the content better helps create a cinematic feel and sharp action on screen. With high frame rate (60 frames per second) high dynamic range (HDR) content, fast-moving action and sports play smoothly. I received the new Apple TV 4K in time to test it on a World Series game on the Fox Sports App and it was as clear as I've ever seen. Of course, baseball is not the fastest sport, but batting and running were lifelike and smooth. The colors were deep and clear, and the blacks didn't fade into muddled darkness.
Notably, Quick Media Switching (QMS) is coming in 2023. With QMS, the Apple TV instantly switches to frame rates that match the content, but it will only work with TVs that support the feature, like LG's 2023 TV lineup.
Apple TV 4K and an iPhone
The Apple TV works with the iPhone in many ways. If you already have an Apple TV and want to upgrade it, turning on One Home Screen lets you use your iPhone to set up the new Apple TV like your old one — it downloads apps, arranges them on the home screen, and restores your preferred settings. I used the feature, and in a few quick and painless minutes, my setup was complete.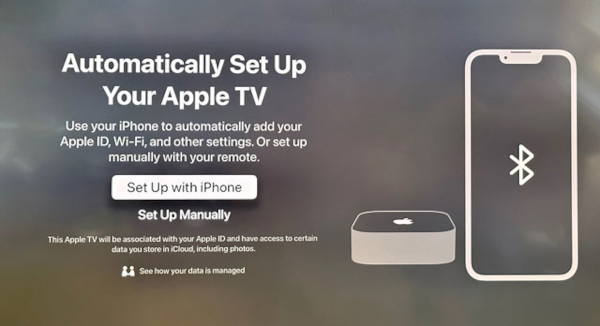 The process automatically logged me in to Apple apps and those tied to my DISH subscription, but I had to log in to other services manually or via their apps and websites. Fortunately, Siri lets you speak your password instead of laboriously typing it with the remote and the on-screen keyboard.
The iPhone can calibrate the Apple TV's video and audio. You can adjust color balance with the iPhone's camera, but it won't calibrate if you've turned on Dolby Vision — it states you already have the best possible picture. For audio delays, the iPhone has a Wireless Audio Sync function.
Purchases of apps or add-ons with Apple TV can be verified with Face ID or Touch ID on your iPhone, eliminating the need to type your password.
Siri Gets a New Design
Siri has a new look on Apple TV where it displays answers in a window at the side of the screen where it won't block the action. The side window is advantageous when looking for the names of actors: asking "what actors are in this movie" brings up a cast list. You can also look for another title without stopping the video you are currently watching.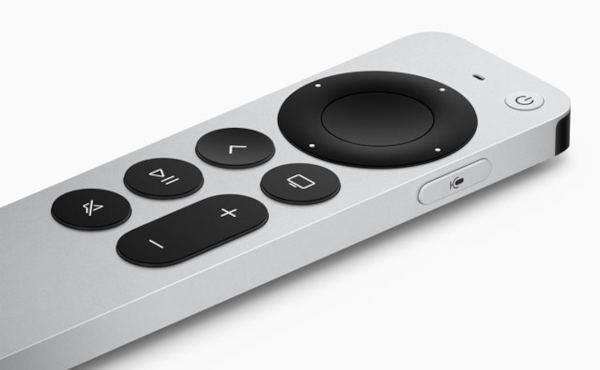 If you don't know what to search for, later this year, you'll be able to ask Siri, "What should I watch?" Siri will recognize the voices of up to six users and display suggestions based on each person's viewing habits.
Other uses for Siri on Apple TV include:
• Ask "What did she/he say?" to rewind and replay a character's dialogue with closed captioning.
• Playback controls, including fast-forward and rewind for a specific amount of time.
• Launching apps.
• Play a title in an app (i.e., "Play Frasier on Hulu"). But Siri is not as smart as a Roku or an Amazon Fire Stick. Both can power on the TV and start playback with that one command.
• Display the weather and time of sunrise/sunset.
• Control HomeKit- or Matter-compatible connected smart home devices like lights, thermostats, etc.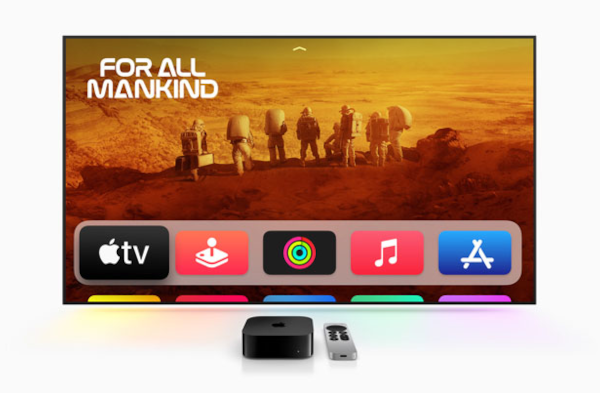 But Siri still has limitations. Voice commands are easy, but you'll still need the remote to choose a title from the search results. Some other streaming players are beginning to offer numbered results to continue using voice to play from the list, but Siri can't do that. Siri can tell you the weather, but it can't do math calculations or find information on the web like Alexa and Google.
Conclusion
It's not that the Apple TV 4K 3rd generation has stunning and surprising new features versus its predecessor. But the new model still has the best sound and picture quality when compared to other streamers, and it won't become obsolete for at least a few years because it has more speed and power, QMS, and works with a wide range of HDR formats. And if you are already in the Apple ecosystem, the company continues to find new ways to integrate it with Macs, iPhones, iPads, the Apple Watch, and AirPods.