ZapperBox TV Tuner/DVR Offers a Way to Cut TV Subscription Fees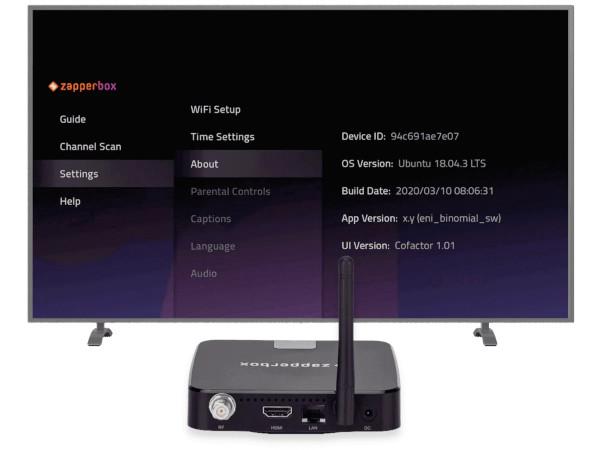 At a time when Americans face a staggering choice of streaming options and escalating subscription fees for streaming and cable TV services, Des Moines-based ZapperBox Inc. is offering an alternative: An inexpensive TV tuner/DVR that lets you receive and record high-definition TV signals over the air without any fees.
The ZapperBox M1 NEXTGEN TV DVR, which began shipping this week, can be used with any 1080p or 4K TV that is not equipped with an onboard digital TV tuner and is compatible with signals broadcast in the original ATSC 1.0 and more recent NEXTGEN TV (ATSC 3.0) digital formats.
The company says the device is the only commercially available DVR that is compatible with both TV standards. Over-the-air (OTA) broadcasting is regulated by the Federal Communications Commission (FCC) and has been free since the earliest days of television.
The ZapperBox M1 NEXTGEN TV DVR receives standard HDTV signals and is ready to receive 4K Ultra HD broadcasts when they become available in the U.S. It supports Dolby Atmos sound and high dynamic range (HDR) video (standard high-definition broadcasts with HDR are available in some markets).
The box comes with a remote control and is available in single-tuner ($250) and dual-tuner ($275) versions, the latter of which allows you to record two channels at once while watching one of them or a previously recorded program. The DVR lets you schedule recordings and pause, fast forward, or rewind live TV. Live and recorded broadcast TV programs are displayed in an easy-to-navigate onscreen channel guide.
Setup involves plugging the 4.5 x 4.5 x 1-inch box into a wall outlet, connecting it to your TV via an HDMI cable (included) and then to an antenna, and attaching a hard drive to store recorded programs. The box should also be connected to your Wi-Fi network to receive software updates and access online TV features, which are available in some NEXTGEN TV broadcast areas.
The ZapperBox M1 is ready for the future, according to company founder Gopal Miglani. "Since the inception of ZapperBox in 2017, our vision has been to reshape entertainment experiences through innovation. The ZapperBox M1 exemplifies our dedication to pioneering technology. Our commitment to consistent software upgrades ensures that our customers will enjoy the latest advancements in the years ahead."
The ZapperBox M1 introduced last year is a straight digital TV tuner (sans DVR) that supports both the ATSC 1.0 and 3.0 broadcast standards. The company also sells the ZapperBox A1 indoor/outdoor antenna for $150. For more information, visit zapperbox.com.
Additional Reading:
NEXTGEN TV Aims to Keep Over-the-Air TV Broadcasting Relevant
WatchNextGenTV.com (A comprehensive resource that provides a rundown of the markets now broadcasting NEXTGEN TV, a search tool that shows a list of channels you can receive over-the-air in your area, a list of TVs with built-in NEXTGEN TV/ATSC 3.0 tuners, and more.)