Amazon Fire TV Streaming Media Player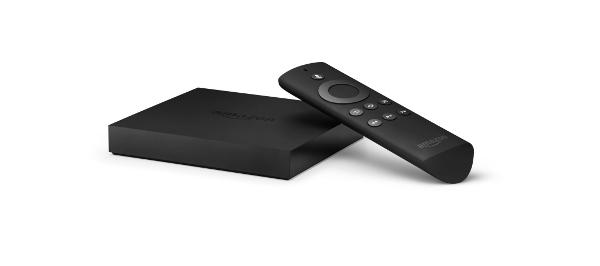 PRICE
$99
AT A GLANCE
Plus
Effective voice search function
Powerful quad-core processor
ASAP feature loads movies for instant playback
HDMI CEC functionality
Minus
Voice search and watchlists not functional for all services
Limited on-demand video apps
THE VERDICT
Fire TV is a solid performer, but it needs more content and services, and a global search option, to make it a hit.
Amazon surprised the world last week by announcing the details of its new standalone media player, the Amazon Fire TV, on the very same day it was released for sale. Priced at $99, Fire TV is positioned to compete with the top-selling Apple TV and Roku 3 box. After I got my hands on a review sample, it was immediately apparent that Fire TV is not only sleek-looking, but a powerful performer with an excellent, simple remote. But, like many newcomers to the media player landscape, the Fire TV suffers from a lack of content variety. And while its impressive voice search function understood my every word, it doesn't perform a true global search of all apps.
The Fire TV gets its name from Amazon's Kindle Fire tablets and works with many of the Android-based Kindle Fire apps. In fact, the Fire TV can mirror a Kindle Fire HDX to a TV screen, similar to the way an Apple TV mirrors an iPad. The box is a very solid, slightly larger square than an Apple TV, but it's thinner and sports a sleek black matte finish. Its Bluetooth remote is velvety to the touch and has only the necessary playback and navigation buttons, similar to both the Roku and Apple TV remotes. The Fire remote's unique feature is a microphone (actually, dual microphones supported by noise suppression technology) used for voice search.
Amazon promised that the Fire TV's voice search would make a keyboard unnecessary and open a movie or TV title by simply speaking into the remote's microphone. That's not exactly true. You start by pressing and holding the microphone voice search button while you speak. This is superior to the Google TV voice search, where you press a button and wait for an onscreen icon, never being quite sure when the unit is ready for you to speak. Once you speak into the Fire's microphone, the search term—cast, crew, title—appears on screen and you press the select button. Results appear immediately.
My first foray in voice search was a complete success but a little cumbersome. It found Glee in Amazon Instant Video and offered rental and purchase prices. Or, I could use onscreen buttons to add the title to a watchlist. Unlike other media player searches that automatically show the most recent episode first, the Fire TV search displays Season 1, Episode 1, with navigation to other seasons and episodes. Once I found the newest episode and clicked on it, there were options to buy or rent the episode and an option to watch it on Hulu.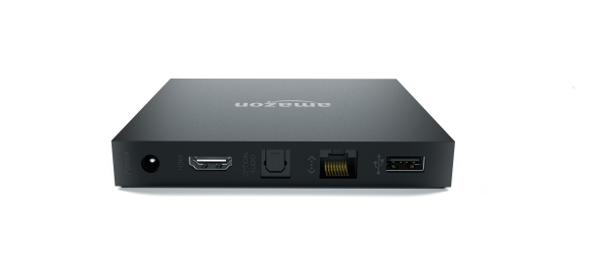 Along with Amazon Instant Video, the Fire TV's search does work with Hulu titles, but not with other apps. The Netflix series House of Cards was an obvious choice to test the voice search with Netflix. Here, the Fire TV failed, showing only options to buy or rent the first season from Amazon. This is a far cry from the revolutionary voice search I expected from the Amazon announcements. Google TV's voice search is currently more global, encompassing results from both rental and subscription streaming outlets, and it includes times and channels where the show can be viewed on a connected TV service. Google TV's ability to find titles based on a movie description also trumps the initial Fire TV search functionality.
Although voice search eliminates the need to type in search terms, you'll still need a keyboard to set up apps. There is presently no iPhone or Android remote control app for the Fire TV, which means that logins must be typed into an onscreen keyboard. Still, because the unit is so responsive to the remote, it is easy to zip through the letters to "type" onscreen. Other remote buttons are used for keyboard shortcuts, further simplifying the process.
Amazon Prime, a $99 per year service that offers free shipping of items purchased from Amazon and some of its affiliated vendors, also gives subscribers more benefits from the Fire TV than are available to users who don't have the premium service. The library of thousands of Amazon Instant Videos is easy to search and organize on the Fire TV.
Whether or not you are a Prime subscriber, there are benefits if you simply have an Amazon account. Setting up the Fire TV for on-demand video purchases from Amazon is almost automatic if you bought the unit from Amazon—it is already registered and connected to your Amazon account. For those users who have watched a number of Amazon Instant Videos, this also provides the benefit of more intelligent movie recommendations based on your viewing history.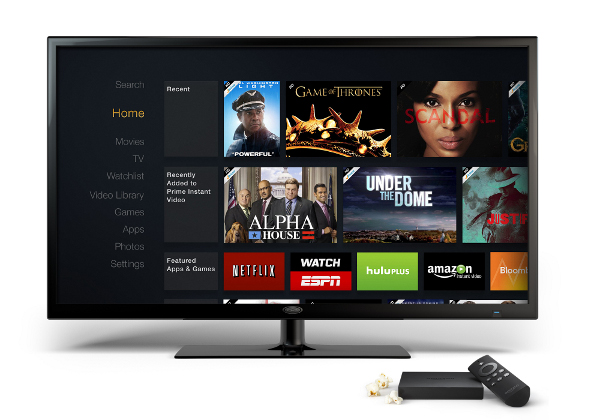 Movies that are recommended onscreen use Amazon's ASAP (Advanced Streaming and Prediction) feature. This preloads the movies that Amazon predicts you'll like so they play instantly when you click on one of the suggested titles. It works—less than 5 seconds after I chose Vicky Cristina Barcelona from the list, the movie was playing on my display.
Content
Amazon Instant Video has most movie titles and an extensive library of TV shows for sale or rent. There are also thousands of titles in the Amazon Prime library that are available for free, unlimited streaming in the way that is allowed by other subscription-based services like Hulu and Netflix. Still, the Fire TV is missing the competition's apps and doesn't have Vudu, HBO Go, or M-Go. There is Pandora but no Spotify app. Also missing is Flickr, Shutterfly, or any other online photo sharing app. This may change quickly, though, as developers start porting apps developed for the Android platform. A full list of currently available apps can be found here.
For parents with young children, Amazon will soon launch a new subscription service called Amazon FreeTime Unlimited that offers unlimited streaming of content sourced from Nickelodeon, Sesame Street, PBS Kids, and others, with prices starting at $2.99 a month.
Amazon Cloud Drive offers 5 gigabytes of online storage to upload photos and movies from a smartphone or tablet, but the Plex app is available and is presently the only other way to view your own content.
Performance
The Fire TV has the most powerful media player hardware currently available. Compared with Apple TV and the Roku 3 box that have single processors, Amazon outfitted its box with a quad-core processor and 2 GB of onboard memory. Not only does Fire TV respond quickly for zipping through menus and loading movies fast, the extra power allows it to offer a number of popular games—from The Game of Life to Minecraft (Pocket Edition). A dedicated gaming controller is available for $40. The Fire TV does full 1080p video output, and Dolby Digital Plus surround sound is supported via HDMI (up to 7.1-channel) or optical audio (5.1-channel) outputs.
Final Thoughts
There is much promise in the Fire TV. Yes, it unabashedly serves up Amazon's own content and services front and center, though Amazon Prime members will likely welcome the ready access to the Amazon Instant Video library. Hopefully, Amazon will be able to quickly add a number of other apps from key streaming services and fix the otherwise excellent voice search to globally search all apps as well as support searches by genre and words from film synopses. Given Amazon's resources and the Fire TV's likely commercial success despite its initial failings, it has the potential to quickly become one of the top players out there.