Sonos Era 300 and Arc 7.1.4 Atmos System Review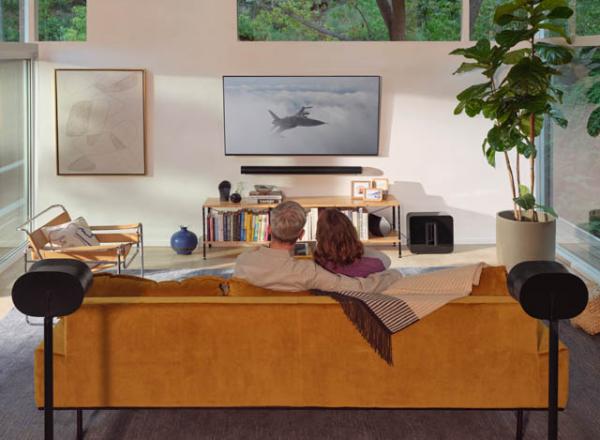 PRICE
$2,471
AT A GLANCE
Plus
Outstanding full-dome Atmos movie effects
Superb spatial audio music reproduction
Plays loud without distortion
Minus
Expensive
No spatial audio streaming from the Sonos Tidal app

THE VERDICT
Sonos has scored a knockout with the Era 300 spatial audio surround speaker, which finally brings the full promise of Dolby Atmos to their flagship soundbar.

Back in 2020 I reviewed the then-new Sonos Arc soundbar for Sound & Vision, and it never left my family room. It's been swapped out multiple times while I reviewed other Atmos-compliant soundbars, and some of these were mighty impressive. But none could match the complete package that the Arc offered, including great audiophile sonics, compatibility with Sonos's superb wireless Sub and rear surround options, and what is arguably the best multiroom platform on the planet, with an easy-to-use app and the widest range of music streaming options you'll find in one place. I'll share a few tech basics on the Arc below, but for more details you can find my original review here.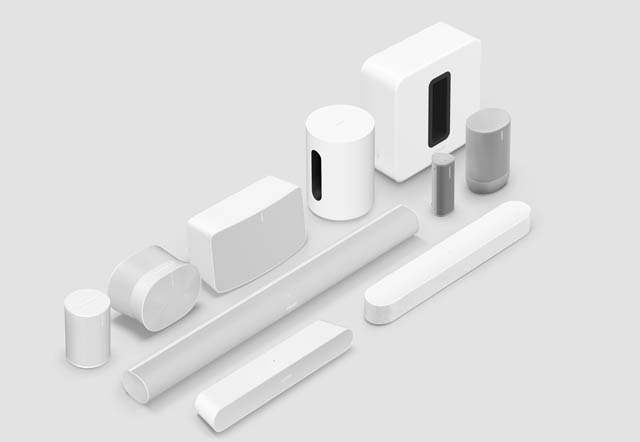 That said, my deepest yearning for my Arc system has always been for it to deliver a full-field Dolby Atmos experience. I run an AV receiver-based 5.1.4 Atmos/DTS:X system in my basement theater with ceiling-mounted height speakers. So, I know what the full Atmos treatment can do for a good movie or well-mixed spatial music track. However, the Arc system, even with a Sub and a pair of conventional Play:1 bookshelf speakers as surrounds, only delivered a 5.1.2 Atmos configuration, falling short of a full-field Dolby Atmos experience; there's a noticeable collapse of the height bubble near the front of the room.
Sonos has long lacked an Atmos-compliant rear-surround option to complete the front-to-back soundfield. That limitation was rectified earlier this year with the new Era 300. I'll discuss my experiences using a pair as rear surrounds for the Arc in this review.
Priced at $449, the ERA 300 is primarily intended for enjoying the growing library of Atmos-encoded "spatial audio" music. You'll find my review of the Era 300—as a single speaker, a stereo pair, and a pair mated with the Sub—in a separate article alongside this one. Suffice to say it exceeded expectations as a music system. But I could barely wait to try the Era 300s as rear surrounds for the Arc.
Arc of Ages
For those unfamiliar with the Arc, it's a 45-inch wide, elliptically-shaped bar that uses 11 drivers to deliver 3.0.2-channel sound—meaning that it emits left, center, and right-channel information from three front-baffle arrays, along with front-height information from a pair of top-mounted bounce-drivers canted toward the ceiling. Side-firing drivers on the end-caps help spread the sound around. To facilitate beam-forming for more precise and immersive spatial effects, Sonos cleverly mixes all the driver outputs. As for bass, the bar will go down to a respectable 60 Hz or so, but adding the Sub should give you a pretty solid response down to 35 Hz or below.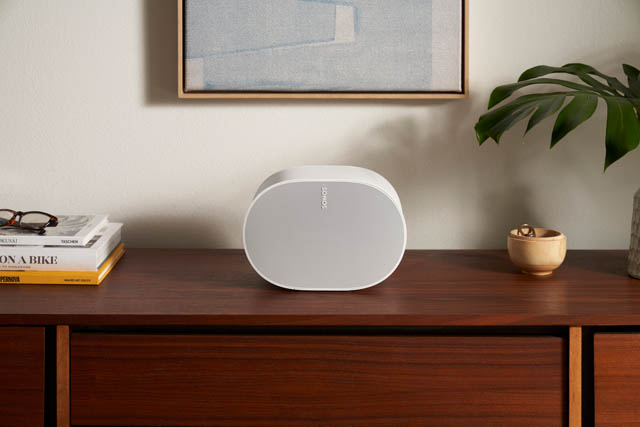 Over the years, Sonos has delivered consistent and reliable sonic character in pretty much every speaker I've tried. I'd characterize it as attentive to midrange and high-end accuracy, with relatively flat subjective response that neither pushes the mids to exaggerate voices nor the highs to create sizzle or the perception of greater detail. The speakers have an open, unveiled, and unforced quality, with larger models being highly dynamic. They track subtlety in vocal or orchestral swells and dips with aplomb, and roll off politely at their low-end limit without severely goosing the upper-bass and getting boomy or floppy.
Well-designed DSP for the amps lets them play at or near their volume-control limits without obvious distortion, though their max output may fall a bit short compared with some other premium wireless speakers and soundbars I've tested. Nonetheless, the Arc alone delivers in the mid-90dB range in my space, and more with the Sub. Aside from pushing the system for product reviews, I've never felt the need to max the volume in actual use.
It's essential to add the pricey $799 Sub or a pair of rear surrounds to an Arc, but if you're a home theater enthusiast it's a no-brainer despite the substantial cost. The Sub, now on its 3rd generation, is an elegant beast that uses opposing 6-inch racetrack drivers that cancel vibration from a ported, slim-profile cabinet that can be stood up or laid flat. It's solid like a rock and blends well in most decors—you even get the option of a black or white finish. Since the app knows what Sonos speakers you're mating it with, there's an essentially perfect crossover to the rest of the system, especially after using Sonos's Trueplay auto-tuning.
The result is deep and well-defined bass reinforcement. Though the Sub hasn't changed substantially since its launch in 2012, the internals—processing power, memory and the like—have been steadily goosed through the current Gen 3, presumably to accommodate its pairing with newer Sonos speakers. I've had a Sub Gen 1 in my home since 2013 when I mated it with the now retired Playbar soundbar, and Sonos sent me a Gen 3 with my Era 300 samples so I'd have the latest.
Used as rear surrounds, the Era 300's represent a substantial upgrade from the aging Play:1s I've also lived with since 2013. The Play:1 is a compact bookshelf that was first replaced with the Sonos One and more recently the new Era 100. It's a wonderful little speaker that's quite musical and images nicely in a stereo pair, but it lacks any real bass and, typical of most bookshelf speakers, fires only from its front baffle. The Era 300, on the other hand, is a beefy six-driver speaker with mid-woofer/tweeter arrays on both sides, a single tweeter in a waveguide on the front, and a canted height driver on the top.
As I learned during my music auditions, the Era 300 delivers bass on its own down to about 40 Hz, and has substantial power that allows it to hit mid-90 dB peaks in my somewhat voluminous basement listening space. Of course, at a cost of nearly $900 for the stereo pair, you should expect a little something. Happily, replacing the polite little Play:1s with Era 300s as back-up for the Arc delivered a whole lot of something.
Performance
I began auditions by first swapping in the Era 300s, then added the new Sub later to see what difference it made. My pencil stands for the lightweight Play:1s were wholly insufficient to safely carry the Era 300's girth and 10-pound weight, and Sonos was unable to send me their accessory stands due to supply issues. So Sanus shipped me a pair of their own fixed-height Era 300 stands to plant on the back wall of my family room on either side of the sofa where the Play 1's resided. These sell for about $200/pair and come in either black or white to match the color of your speakers. They assembled in a jiffy, look great, and placed the speakers at what's said to be optimal height for most homes at 32.3 inches. Sanus sells an adjustable version as well.
The Sonos app makes it simple to delete or add speakers to any room, and I completed the upgrade by re-running the Trueplay calibration, which took all of about 5 minutes using my iPhone. Placement of the Era 300 can be critical to performance because it's a direct/reflecting design. I found they like a bit of space around them to let the sound bloom, including behind them, so the best scenario is one in which your sofa is out into the room rather than pushed against the wall like mine.
Don't worry if your room design won't permit that, because even with the speakers relatively close to my ears, I experienced an outstanding sonic bubble. It's not an overstatement to say that adding the Era 300's was like night and day. Before the upgrade, I had a natty little home theater that was impressive enough to garner comments from visitors for its clean sound, deep bass, and ability to generate rear surround effects. Atmos music and movies threw front height information that grew the height of the front stage and added a bit of front-to-back depth to it—something that pretty much every soundbar struggles with. But the system couldn't generate effects terribly far off the front wall, and it was rare that I heard any soundtrack elements coming from anything close to the sides.
All that changed in an instant with these new surrounds. The first thing I noticed was the obvious completion of the front-to-back Atmos dome, a truly coherent bubble from which sounds or instruments were finally able to emerge along any plane ranging from slightly behind my sweet spot on the couch to the top of the front stage above the TV. I was enthralled with how well the system blended; there is seamlessness to the surround soundfield now that just wasn't there before, even if I'd convinced myself it was with the Play:1s.
The enhanced front-to-back cohesion was the hoped-for and expected result. What I didn't expect, but also got, was a serious widening of the overall soundstage, particularly above me within the height dome, but also with ear-level effects. I attribute this to the Era 300's side-firing drivers, which throw significant energy out into the back of the room and interact with the Arc's side-firing drivers, located on the endcaps (or extremities) of the soundbar.
My family room is a narrow rectangle with the TV and sofa across from one another in the middle of the long walls, so those Arc end cap drivers are a distance away from the sidewalls and only marginally effective at widening the front stage. I learned from test tones that left and right rear-surround signals strongly activate the Era's outermost driver arrays. This made a huge difference in my space, and for the first time I was not only hearing a wide arc of placed audio objects and instruments above me, but also sound coming from the sides at something close to ear height.
As a final bonus, the system also gained some additional volume and authority, with some loud music tracks now hitting peaks of 104 dB on my SPL meter from my position 10 feet from the bar. That's a lot of juice, and it gave the sound a bit more ease at normal (i.e., safer) volumes.
With the system thus configured, the experience with Atmos movie soundtracks was full-ticket awesome. The most obvious change was that the music score in most Atmos mixes took their rightful place near the top of the dome rather than being pushed forward to the top of the front stage where it fights with the on-screen action. That separation, along with more precise placement of effects, immediately creates a more dimensional soundfield.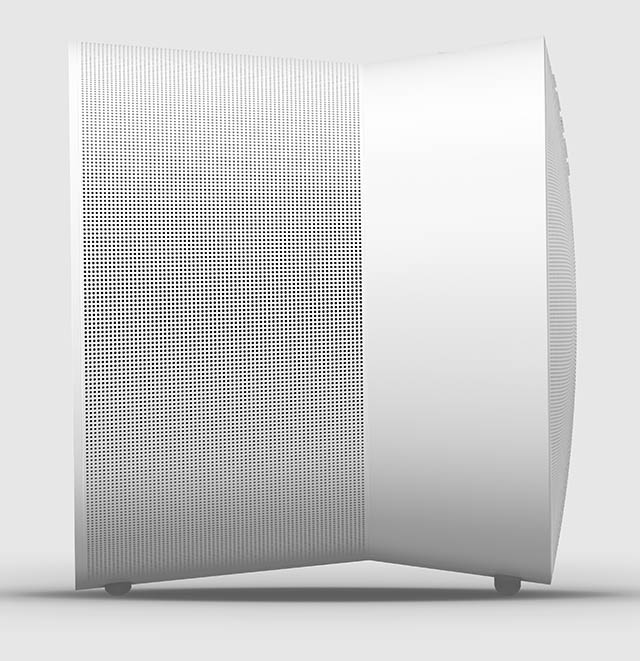 A clip from Jurassic World: Fallen Kingdom streamed from the Dolby channel on my LG OLED was one of many great demos I watched, with the tense score backing the scene from the middle of the ceiling and all manner of dinosaurs roaring, squealing, and stampeding through the space from front to back. The system also upconverted standard 5.1 soundtracks to use all the speakers, and did a superb job broadening both the width and height of the soundfield. Stadium sounds during sports broadcasts were broader and more convincing, and I got goosebumps when I stumbled onto a pro bowling broadcast that really put me inside the cavernous alley space, right down to the 80's pop music playing in the distance from the PA system.
Music tracks also took on a new perspective, starting with the stereo tracks in my Tidal reference playlist, which the system upconverted to use all the speakers, very carefully placing vocals up front where they belong but judiciously mixing some instruments toward the rear of the mix, and always above ear level. I spent a lot of time exploring Atmos spatial audio tracks as I'd done with the standalone Era 300s. I just can't believe how rapidly the Atmos music catalog is growing, and Apple Music and Tidal are adding more and better remixes of classic rock, pop, and folk tracks that place the listener inside the music: lead vocals up front, backup vocals often up top and spread far right and left, and individual instruments placed…wherever. Some of the recordings don't hold up from an audiophile perspective despite the engaging soundfield.
When it all comes together it's something to behold. Suffice to say that you haven't really heard "Lucy In The Sky With Diamonds" until you've heard the Atmos remix on a good system. (Note: The Era 300 is only compatible with Atmos streams from Apple Music on the Sonos platform; not Tidal. However, I was able to successfully play Atmos from the Tidal through the Arc via the Tidal app on my LG TV.)
Swapping out the Sub (Gen 1) for the newer Sub (Gen 3) shouldn't have made much difference based on everything I've read. I even checked the output of both subs from 100 Hz to 20 Hz using test tones, and after Trueplay tuning they measured essentially the same at every step, dropping off slowly below 40 Hz more rapidly below 30 Hz. That said, I heard tighter, better defined bass from the Sub (Gen 3) than what I'd been used to. Whether by virtue of improved DSP that takes advantage of the additional processing power or perhaps a more evolved driver design, there's a degree of control now I haven't heard before that results in louder, more impactful drum thwacks with less apparent overhang (lingering resonance), and extremely clean bass notes.
After updating the surrounds, better bass was just the icing on the cake.
Conclusion
Nothing about the happy experience I just described will be news to the folks at Sonos, who know they have a genie in a bottle and put together discounted bundles for different upgrade scenarios. But even with that help, none of these options are cheap. Adding a pair of Era 300s to an existing Arc soundbar system costs $898. A pair with a Sub costs $1,697. A full bundle with the Arc ($899), Sub ($799), and Era 300s ($449 each) adds up to $2,596, but with the bundle discount the price drops $125 to $2,471.
But I feel confident saying that you're getting what you pay for. These are well-built audiophile speakers—you won't find any corners cut with cheesy subwoofer cabinets or plastic, cubelike surrounds. And if I learned anything doing this review, it's that the sum of the parts here adds up to way more than I expected. If you already have an Arc, adding Era 300s will likely catapult it to a level you just can't imagine right now. And if you're starting from scratch, this is a seriously impressive soundbar kit for under $2,500 that'll reintroduce you to your favorite music and movies in a way you haven't heard before.
Specs
Era 300
Drivers: Mid-tweeter (4, unspecified), oval woofer (2, unspecified)
Amplifier: Class D x 6, power unspecified
Weight (lbs): 9.85
Dimensions (inches, WHD): 10.24 x 6.3 x 7.28 inch
ARC Soundbar
Drivers: 2 x 3-in aluminum elliptical cone woofer (8), 0.75-in silk dome tweeter (3)
Amplifier: Class-D, one per driver (power unspecified)
Inputs: HDMI-eARC/optical digital (shared, adapter included), Sonos wireless (Wi-Fi), Ethernet
Dimensions (WxHxD, Inches): 45 x 3.4 x 4.5
Weight (Pounds): 13.8