Samsung HW-Q990B Atmos Soundbar Review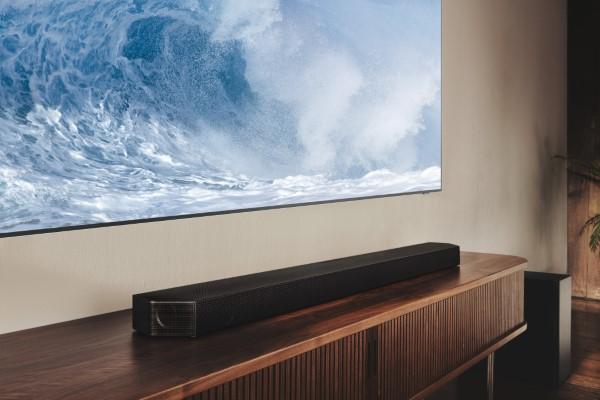 PRICE
$1,500
AT A GLANCE
Plus
11.1.4-channel Atmos/DTS:X with wireless rear surrounds and sub
Audiophile sonics for movies and music
Superb dynamics
Extensive adjustability
SmartThings app for control

Minus
Some functions hard to reach with remote
No Atmos/DTS:X indicator on app

THE VERDICT
Samsung's HW-Q990B is a high-performing Atmos soundbar that easily substitutes for a full AVR-speaker setup.
I've had the liberty of reviewing some very high-performance soundbars in the last couple of years that take advantage of the height information in object-based Atmos or DTS:X soundtracks to effect a more engaging soundstage. These are sweet-sounding systems adept at both movies and music, but all were equipped with only a pair of front-height channel drivers that bounce off the ceiling and no rear surrounds. All lacked the usual channel-level adjustments to further tune the sonics to a specific space. On the other hand, Samsung's HW-Q990B—the subject of this review—comes as close to emulating a full-blown AVR-based Atmos/DTS:X system as I've seen to date, down to the highest level of tweakability. Priced at $1,899, it's not cheap. But it is as well thought out, fully equipped, and solidly built as any serious piece of audio kit you're likely to find at its price point. Let's take a closer look.
The Q990B system includes the main bar, a wireless powered sub, and a pair of rear surround/height speakers. Technically, it's an 11.1.4-channel system. The bar itself measures 48.5 x 2.7 x 5.4 inches (WHD), the same width of a 55-inch TV, and weighs 17 lbs. It is impressively inert and decidedly utilitarian—a simple black bar with perforated grilles on the front, side, and top baffles. It does its best to disappear on your credenza.
Of the system's 22 active drivers, 15 are in the bar, driven by 384 watts of power. Nine of these are matched, 2-inch round drivers that appear to function full-range or as tweeters when mated with one of the six, 3.75 x 2-inch racetrack woofers. The front baffle has one 2-inch round driver and two racetracks for each of the left, center, and right-channel arrays. Two more of the 2-inch rounds are found at each of the end-caps, which come to an apex to create two distinctly aimed baffles pointing to the sides and back wall of the room. Finally, the top baffle has two more of the 2-inch rounds firing up to bounce sound off the ceiling for the front-height channels. Four control buttons on top include one for power and input selection, one to deactivate the built-in microphone used for Alexa and auto-setup, and two to control volume.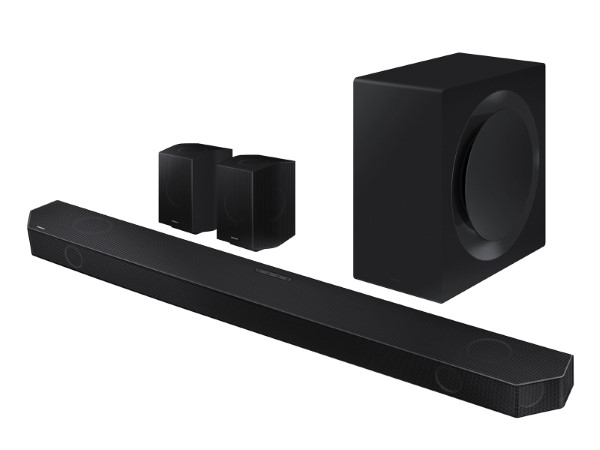 There's a small, scrolling LED display behind the front grille to provide feedback and status. The jack port is in a recessed bay on the bottom of the bar, open to the rear. Two HDMI inputs allow direct connection of sources. A third HDMI is an eARC output that lets you send signals to your display or get Atmos bitstreams from your TV's own streaming platform. Beyond this, there's an optical input and a USB-A for service or firmware updates. However, the bar also connects to WiFi for software updates or AirPlay 2 sources, and there's Bluetooth on board.
Each wireless surround receives three distinct signals from the bar and requires only AC power. They are sturdy boxes, measuring 5.1 x 7.9 x 5.5 inches (WHD) and weighing 7.5 lbs. There's a 2-inch forward-firing surround channel driver, another 2-inch round top-firing height driver, and a side-firing 2-inch. Each rear speaker is driven by 105 watts in total.
Lastly, there's the wireless 8-inch sub, with a side-firing woofer driven by 200 watts in a bass-reflex enclosure ported on the back. It's hefty for a soundbar sub, measuring 8.7 x 16.3 x 16.1 inches and weighing 25.8 pounds. The cabinet struck me as a bit resonant when I wrapped it with my knuckles, but as you'll see, it performed surprisingly well, showing great depth and control with movies and music and no coloration.
Most users will connect the bar to their TV via ARC or eARC and control the volume from their TV or set-top box remote via HDMI-CEC. But there are many other functions that require the supplied compact remote. The remote does offer direct access buttons to change the surround mode or adjust the subwoofer level, for example. However, the key sequence for some other functions is complex and unfriendly. Fortunately, you can tap the Samsung SmartThings app for Android or iPhone for an intuitive interface that provides quick access to things like the Night mode, Voice Enhance mode, and various EQ functions. It's also the easiest way to adjust levels on the fly for the different channel signals.
Better Atmos soundbars today perform some kind of auto-EQ and level tuning, and the Q990B has its SpaceFit+ and Auto EQ features that use the built-in mic for this. Auto EQ optimizes the subwoofer, while SpaceFit+ attempts to identify room boundaries to optimize the sound from the reflected drivers. Auto EQ worked very well in my room by taming a bit of bloat I sometimes hear and delivering excellent bass performance. Beyond this, there are bass and treble trims and a Bass Enhancement mode. There are 13-step sliders (with a -6 to +6 range) for most channel arrays: Center, Side, Wide, Front Top, Rear, Rear Top, Rear Side. That's something all AVRs provide, but most soundbars don't.
If you have a compatible Samsung TV, you can tap the Q-Symphony function, which utilizes the built-in TV speakers to further bolster the system's front-stage presentation. Samsung reports that the algorithm has been improved for 2023 to better isolate center-channel voices from surround information for an even more immersive experience, but I could not test this function with my LG OLED.
There are four basic sound modes on the Q990B: Standard, Surround, Game, and Adaptive Sound. Standard plays back in whatever format you put in: 2.1-channel for stereo tracks, 5.1 or 7.1 for regular Dolby and DTS, and 7.1.4 for Atmos and DTS:X. All the other modes upconvert to 11.1.4 to use the full speaker complement. I pretty much stuck to the Surround mode, which did a sensational job with everything from two-channel music to Atmos and DTS:X. High-quality stereo music tracks were well-rendered, with the algorithm deciding what musical elements to place where something like a string accompaniment or the back-up to a lead vocal might end up in the rear surround and height channels, artificially placing the listener slightly inside the soundstage. But it was always engaging and sounded natural. Main vocals remained up front, with none of the echoey reverb effects that can happen when stereo is scaled up for surround sound. Timbre and detail improved considerably in Surround vs. the collapsed and less dynamic Standard mode.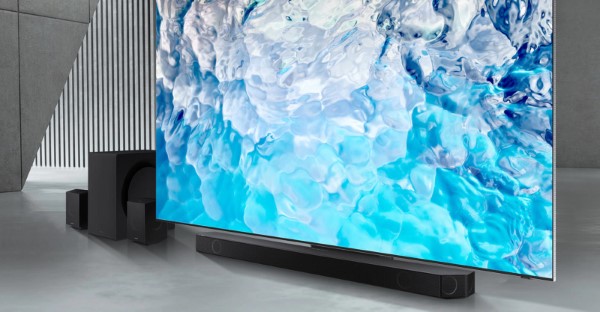 Game mode is intended to better track on-screen action during gameplay, while Adaptive Sound analyzes the signal in real-time to ensure dialogue legibility and optimize surround effects. I skipped the latter after hearing one or two occasions where the level or timbre of the dialogue seemed to shift unexpectedly. In any event, there is an excellent Voice Enhance mode that pulls dialogue out of a busy surround mix when needed, as well as the center channel level trim. Another available feature, Active Voice Amplifier, uses the onboard mic to monitor room noise and boost voices accordingly. I never felt the need to use it.