Klipsch Cinema 1200 Soundbar System Review
PRICE
$1,699
AT A GLANCE
Plus
All-in-one 5.1.4 Atmos system
Stupendous dynamics
Great sound quality with music and movies
Class-leading 12-inch subwoofer
Minus
Ineffective surround processing of stereo music
No mic on remote or bar for Alexa and Google Assistant
No DTS decoding
THE VERDICT
The Klipsch Cinema 1200 is among the least expensive of today's high-end soundbar solutions and over-delivers on both sound quality and value.
Klipsch's new Cinema series soundbars are the latest effort of an iconic, 75-year-old speaker maker to push new performance barriers while delivering a product that is quintessentially, well, Klipsch. There are four systems, each with the real wood cabinetry and the signature Tractrix horn- loaded tweeters that have come to define the brand. These run from the entry-level Cinema 400 ($329), a 40-inch-wide 2.1-channel bar with an 8-inch wireless subwoofer, to the Cinema 1200 ($1,899) reviewed here—a 5.1.4 system with a 54-inch-wide Atmos-enabled bar, a wireless 12-inch sub, and a pair of wireless Atmos- enabled surrounds.
Klipsch's bar made a nice impression right out of its giant L-shaped crate owing to the solid build quality and good fit-and-finish. The bar is a basic but well-detailed rectangular box, most of it wrapped in black grille cloth. In a world filled with plastic soundbars, I found the knuckle-thunk of its wood cabinet both satisfying and nostalgic.
The faceplate features an exposed pair of 1-inch textile- dome tweeters at the far ends aided by 90x90-degree Tractrix horns. The rest of the driver complement, all hidden behind the grille cloth, includes a pair of 3-inch fiber-composite oval mid-woofers mated with each end driver, and a dedicated center-channel array. This is a two-way with a matching horn- loaded tweeter flanked by a pair of racetrack mid-range drivers.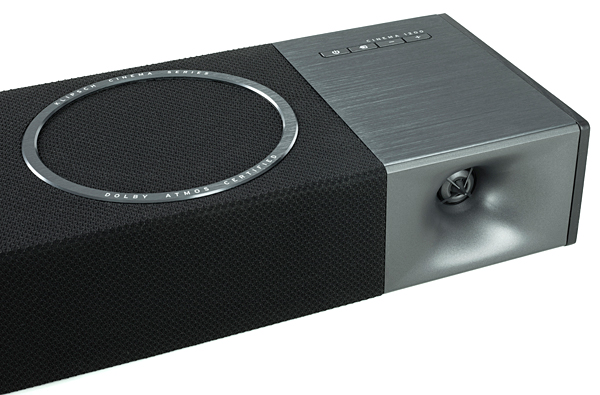 A pair of 3-inch Cerametallic cone Atmos height drivers located on top are canted forward for a ceiling bounce. Inside, the Cinema 1200 packs 500 watts of power distributed among all the drivers.
On the bar's top you'll find a pair of stylish brushed-metal plates, one with buttons for power, input selection, and volume. Around back is a surprisingly robust connection panel with three HDMI ports, one an HDMI output that allows pass-through of up to 8K video signals. This is also the designated eARC port (enhanced Audio Return Channel), critical for routing uncompressed Dolby Atmos signals from a TV's onboard streaming platform. (On most sets with a regular ARC link, Atmos soundtracks won't pass through without first undergoing downconversion and a loss of height information.) Like many other Atmos bars, the Klipsch artificially derives height information from whatever signal it's fed. But unlike some other Atmos soundbars that have only a single HDMI eARC port—we're talking about you, Sonos Arc—you can still get discrete Atmos rendering with the Klipsch even if your TV has an older ARC connection by directly plugging your Atmos source (such as a Blu-ray player or a Roku, Amazon Fire Stick, or Apple TV streamer) into one of the other HDMI ports.
If HDMI doesn't work for your setup, there are also optical digital and 3.5mm analog stereo inputs. A subwoofer output lets you mate the bar with a second Klipsch sub in addition to the included wireless one, or with a different sub entirely. There's an IR input for a third-party control system, a dedicated LAN port for a wired network connection, and you can wirelessly stream audio to the bar via Bluetooth. Finally, hidden behind the removable wooden endcap on the bar's right side is a USB port for service/firmware updates. The default black-ebony endcaps match the bar and other components, but Klipsch also thoughtfully provides a pair of walnut-stained caps.
The soundbar's dimensions are 54 x 2.9 x 6.2 inches (WxHxD), and it weighs about 17 pounds. Skinny wall-mount brackets, along with an included template, make for an easy flush installation, but the bar must be oriented with the Atmos drivers facing up and that works best on a credenza below a TV's screen. (Given today's thin TV/mount combos, the Klipsch's 6.2-inch depth means a couple inches of bar will be poking out in front when mounted on a wall.)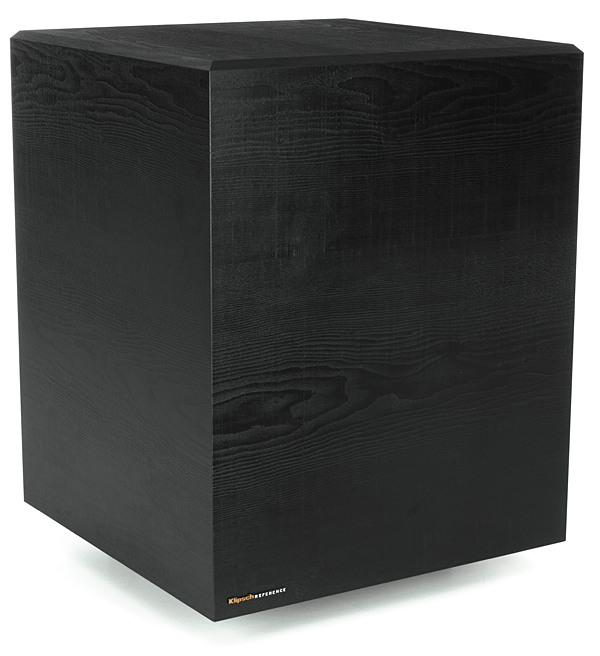 Compared with the subs packaged with most soundbar systems, the Cinema 1200's is a monster: a 16 x 16-inch black, ebony-wood column that stands more than 20 inches off the ground and weighs 45 pounds. Its downfiring 12-inch fiber composite driver, powered by another 500 watts, is aided by a downfiring slot port. The sub crosses over from the bar at 120Hz and is rated down to 22Hz. Test tones revealed that it started to roll off at 30Hz in my room and managed to put out detectable energy at 25Hz.
The system's compact wireless surround speakers stand about 5 inches square and 9 inches tall. Inside each are two 3-inch fiber-composite drivers, one facing forward and the other top-firing for rear height effects. They're driven by another 200 watts of power that, combined with the 1,000 watts used by the bar and sub, adds up to the system's "1200" label.
Klipsch's IR remote is a contoured, 6.5-inch plastic affair that was solid and comfortable in my hand and large enough to avoid getting sucked into couch crevices. Its backlit buttons turn on with movement, and while small, I found operating them to be easy and intuitive. There are dedicated buttons for input selection, adjusting subwoofer and surround levels, and selecting enhanced Dialog and Night listening modes. Another button cycles through listening modes that I'll go into more detail about below. The LED button dims or turns off the hidden numeric display behind the grille that tells you which input is selected, volume setting, or the surround and subwoofer levels.
Setup
The simplest and most convenient way to hook up and operate the Cinema 1200 bar is with a direct HDMI ARC or eARC connection from your TV, which lets you use your set's remote to adjust volume. If you use the optical or non-ARC HDMI ports, you can still teach the bar to respond to your TV or set-top remote with a procedure not mentioned in the manual: hold the Source and Vol- buttons on the bar to enter learning mode; press Vol+ on bar then the corresponding TV remote button; and press Vol- on the bar then the corresponding TV remote button.