Bowers & Wilkins Panorama 3 Atmos Soundbar Review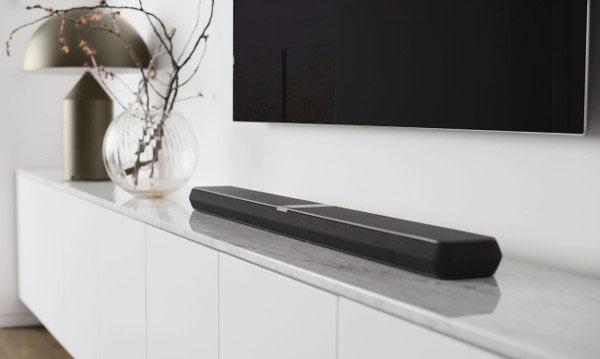 PRICE
$999
AT A GLANCE
Plus
Audiophile sound for music and movies
Atmos height effects
Good bass
Integrated high-res music streaming
Minus
No expandability for surrounds or sub
No voice-boost or height-channel adjustments
THE VERDICT
B&W's Atmos-enabled Panorama 3 delivers audiophile-quality music and excellent movie sound without a subwoofer or surround speakers.
Bowers & Wilkins has developed a solid name in the soundbar category for premium products that reflect the brand's longstanding philosophy of putting respect for the music above all else. This doesn't mean their soundbars don't make sonic compromises, only that those compromises tend to be more careful and measured than we see elsewhere. As B&W's first soundbar to offer Dolby Atmos playback and its least expensive soundbar to date at $999, the Panorama 3 is a perfect example of this philosophy.
With this introduction, B&W's line now consists of two bars, the other being the futuristic Formation Bar priced at $1,299. Unlike that bar, to which you can add the Formation Bass subwoofer ($1,199) and Formation Flex wireless speakers ($499 each) for rear surround channels, the Panorama 3 is take it or leave it. It's an all-in-one solution that creates an immersive sound bubble with the magic of upfiring Atmos drivers and foregoes the standalone sub, instead pushing the boundaries of what can be done with small, integrated drivers.
Visually, the Panorama 3 is a rectangular column with soft concave sides and rounded corners; it communicates class but tends to disappear in the decor. At 47.6 x 2.6 x 5.5 inches (WxHxD) it is wider than many soundbars but not terribly tall, and a wall mount may leave it poking out past a thin TV. At 14.3 pounds, it feels substantial. The cabinet is made of sturdy ABS plastic, braced internally with thick walls and crossmembers to add stiffness.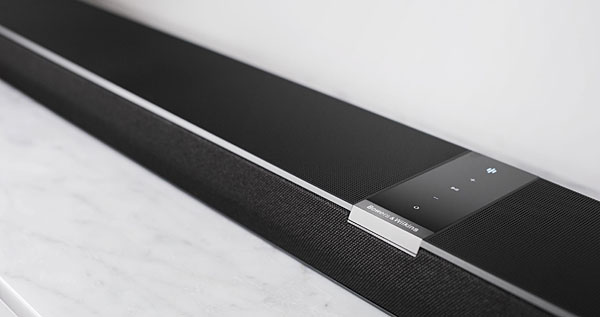 The bar's front and sides are wrapped in continuous black grille cloth, while the flat top is a metal grille broken only by a dark-glass touch panel and LED status bar at the center. Waving your hand above the controls wakes up the backlight. There's a multifunction button used for Bluetooth pairing and selecting sources, volume up/down, play/pause, and a button that can wake up Alexa without a voice prompt or turn off the built-in mic. Around back is a connection panel with an HDMI eARC port, an optical input, an Ethernet port (for use in lieu of Wi-Fi), and a USB-C port for service.
The Panorama 3 uses 13 drivers to create a 3.1.2 Atmos system. Nine of those drivers are configured in three front-channel arrays with two upfiring drivers reserved for height channels and two for bass duties. Each front-channel array mates a 0.75-inch titanium-dome tweeter with a pair of 2-inch woven glass-fiber midrange/bass drivers in its own sealed chamber; the tweeters are positioned at the far left or right edge of the baffle for the respective channels, while the central tweeter is sandwiched between the mids. The two height drivers are also 2-inch woven glass-fiber cones, each in its own sealed chamber, that fire up at an angle from behind the top grille at either end of the soundbar.
Bass comes from a pair of shallow 4-inch woven glass-fiber woofers that fire up from the cabinet and load into a sealed chamber that runs across three quarters of the soundbar. Here's the kicker (pun intended): the substantial volume of that chamber, coupled with dynamic equalization (EQ) controlled by the unit's digital signal processing (DSP), allows for a respectable claimed low-frequency limit of 43Hz—without a subwoofer.
The system is powered by 400 watts of class-D amplification: 40 watts goes to each woofer, 40 watts to each height driver, 40 watts to each pair of mid/bass drivers (so, 40 watts per front channel), and 40 watts to each tweeter. The dynamic EQ makes sure the system is operating in its optimal range for maximum volume with minimal distortion.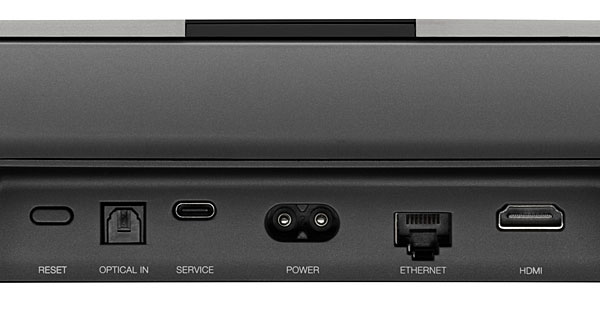 Audio processing in the Panorama 3 is Dolby Digital up to TrueHD Atmos quality (no DTS), and it'll decode hi-res up to 24-bit/192kHz from the streaming services available through B&W's music and control app, which I'll describe below. Straight two-channel stereo is processed as 3.1 channels—with bass, but no height channels—and Dolby 5.1 soundtracks are upmixed to 3.1.2.
Setup
The setup procedure for the Panorama 3 was familiar following my experience reviewing the latest B&W Zeppelin (April/May 2022). Like the Zepp, the Panorma has no remote and is configured and controlled using the Bowers & Wilkins Music App. Once installed and booted on iPhone or Android, the app automatically connects with the soundbar and guides you through the process of naming it, engaging Alexa voice control, and hooking it up to your TV.
On that last front, the ideal connection is HDMI eARC (enhanced Audio Return Channel), which is required for passing discrete Dolby Atmos signals and allows volume control through your set-top box or TV remote (via HDMI-CEC protocol). If you don't have eARC, plain ARC will do with the limitation that Atmos soundtracks will be downmixed to 5.1, though you'll still get up to TrueHD lossless sound along with the aforementioned remote compatibility. If you get stuck using the optical input, you're limited to basic Dolby Digital or DD+, but the Panorama 3 has the ability to learn your TV remote's volume commands.
The B&W Music App is attractive, intuitive to use, and offers integrated access to several premium music services: Tidal, Deezer, and Qobuz for CD-quality or better streams, plus Tune-In, Last.fm, NTS, SoundCloud, and Dash; Amazon Music and Pandora are expected to be added in the future. Spotify is supported through Spotify Connect and, if you're an iPhone user, services not supported in the B&W app are accessible when streaming via Apple's AirPlay 2 platform. The app also supports aptX Adaptive Bluetooth for on-the-fly streaming at resolutions up to 24-bit/48kHz and offers some excellent curated playlists culled from its integrated services, which might include hi-res playback if your subscriptions support that.
Finally, the Music App is envisioned to be the control hub for any B&W wireless speaker in your home, with multiroom functionality promised later this year. In the meantime, you can use the app to access and control individual speakers, which in the case of the Panorma 3, includes adjusting volume, selecting inputs, and using a pair of sliders to tweak bass and treble.
Despite all of this functionality, there are still a few common soundbar features missing that I would have welcomed. One is a classic loudness contour switch or preset EQ curve that adds more fullness to the upper bass region. In the absence of a subwoofer, that can be a good thing depending on room acoustics and the content playing. Also missing: voice EQ or a center-channel level control to help bring out dialogue in instances where it's competing with surround effects—something I experienced more than once. A level control for the height channels that lets you optimize spatial effects would also be a nice addition. With no side-firing drivers and no surrounds, you're counting on the height speakers to create an immersive environment. Sometimes the default setting was enough, but sometimes I yearned for more.
Performance
I auditioned the Panorama 3 in my den, where it sat on the credenza below my eARC-equipped 55-inch TV. The screen is about 8 feet from the listening position and the room's ceiling is a touch higher than normal at 8.5 feet. Starting formal evaluations with music, I played a variety of familiar CD-quality tracks from my Tidal reference playlist. Not surprisingly, the Panorama 3 delivered highly palatable audiophile playback. Hey, it's a B&W.
As previously noted, with stereo music playing only through the soundbar's forward facing drivers—no height channels—the Panorama 3 cast a respectably wide image that extended slightly beyond the edges of the bar, though it would have been nice to have a surround-music mode that engaged the height drivers for a bit more front-to-back depth. Even so, putting aside the spatial limitations you should expect with most soundbars, the Panorama presents a superb and engaging listening experience.