Polk Audio MagniFi 2 Soundbar System Review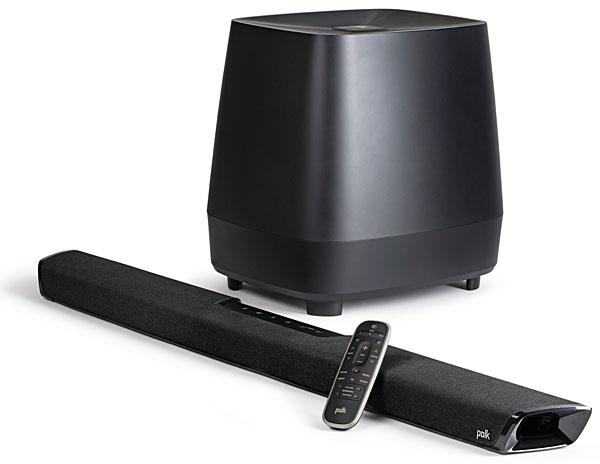 PRICE
$499
AT A GLANCE
Plus
Immersive 3D audio mode
Chromecast-built in plus Bluetooth
Stylish, wireless subwoofer
Minus
Imaging can be vague with stereo music
Remote control hard to read
THE VERDICT
Polk Audio's elegantly simple and affordable MagniFi 2 delivers expansive sound from a system with a relatively small footprint.
Polk Audio's new MagniFi 2 soundbar hits a sweet spot of affordability, performance, and convenience. It features Polk's patented SDA Stereo Dimensional Array technology to enhance stereo imaging, a 3D Mode that adds virtual height and surround effects, and a Voice Adjust feature to boost dialogue levels in movies and TV shows. Chromecast built-in enables wireless music streaming from apps including Amazon Music HD, Spotify, Tidal, and Qobuz, and its HDMI 2.0 connections support Dolby Vision pass-through. The MagniFi 2 also works with Google Assistant (when used with an external like a Nest speaker) for voice command of functions like volume adjustment and playback control.
SDA (Stereo Dimensional Array) works via a combination of driver placement on the MagniFi 2 and DSP to cancel out interaural crosstalk between the left and right drivers. While this gives the soundbar a very wide soundstage, I found that the 2.1 soundbar's 3D Audio Mode, which works with SDA to also provide virtual height effects, is what makes it a standout. The result is not as realistic as what you'd get from a system with dedicated surround and overhead speakers, but it's still impressive.
As mentioned above, the MagniFi 2's four 1 x 3-inch oval drivers and two 0.75-inch tweeters are arranged to optimize spatial performance with SDA. The soundbar's back panel includes three HDMI 2.0 inputs, one HDMI output with ARC, and an optical digital input. HDMI and optical cables are included, along with hardware for wall-mounting. The system's wireless powered subwoofer features an 8-inch downward-firing driver in a ported cabinet with a stylish, rounded design.
Polk's soundbar comes with a remote control, and it also has built-in support for a wide range of TV manufacturer remotes for basic volume control. The remote's IR Learn feature can be used to connect to TVs without preloaded IR codes. While Polk's remote is fine, the one thing I'd ask for would be a backlit keypad or one with larger/brighter print.
The MagniFi 2 has Movie, Music, Sport, and Night preset EQ modes. The first three of these adjust the overall EQ curve and subwoofer levels, while Night mode reduces bass and sound effects while keeping dialogue distinct even at lower listening levels. Bass level can be adjusted independent of the main volume control. The soundbar's Voice Adjust feature adds a subtle boost to vocal clarity, adding a touch more intelligibility to muffled or soft dialogue.
You can engage the soundbar's 3D mode, which enhances Dolby and DTS soundtracks by adding virtual height and surround effects while listening to any source. Polk has intelligently implemented this feature so that the MagniFi 2 prevents users from making a mistake with sound selection. Some soundbars let users stack effects, often to the detriment of the original sound mix. But on the MagniFi 2, you can't combine the 3D mode with certain modes such as Music. Even with movies, care should be taken to not just automatically leave on 3D mode since it can smear imaging on music-heavy movie soundtracks and also creates an odd phase-related effect on center-panned voices with reverb. For example, when watching the Netflix Song Exploder episode with R.E.M., spoken dialogue was clear, but the effect was audible during sequences with music playback.
To check out the MagniFi 2's various modes, I cued up Godzilla: King of the Monsters (2019). When Mothra began to emerge from its cocoon, the deep, menacing pulse was deftly handled by the system's subwoofer. With 100 watts for the soundbar and 100 watts for the sub, the MagniFi 2 can be played at adequately loud levels. In Movie mode, sounds were placed at the front of my room and had a pleasing bit of height. Switching to 3D mode, the bass presence expanded and higher frequencies were pushed further back into the room, which created an enveloping, immersive sound from the sides and above. My home is concrete, which enhances reflected sound, but the effect would be just as impressive in more traditional rooms. The music score in soundtracks widens considerably, too, leaving a bit of space in the middle of the soundstage that helps to enhance dialogue clarity. FYI, all modes can be called up using Google Assistant voice commands.
I found image focus when playing music (in Music mode) on the system a bit soft. The overall effect was pleasant, with vocals gaining air and space, but instrument placement was vague. Listening to Pink Floyd's "Time" illustrated this. The deep guitar notes in the intro should be heard only from the left speakers and the delicate keyboard notes from the right, but some of each sound also comes from the opposite side. It creates a lovely halo of sound but isn't entirely accurate. Also, care should be taken to ensure that Voice Adjust is nulled because it can add treble harshness to vocals. This was especially evident on Chris Stapleton's "Cold," where too much Voice Adjust brought out the sibilance in his vocals and from the violins. With the setting in the neutral position, the system had a natural, transparent sound with a rich midrange.
Conclusion
Soundbars are often criticized for having a small, limited soundstage that doesn't extend beyond the confines of the bar itself. But the MagniFi 2 uses two separate methods to expand sound, and both proved quite effective. Between its SDA tech and 3D audio mode, Polk Audio's $499 soundbar system delivers a convincing immersive experience.