Roku Streambar Pro Soundbar Review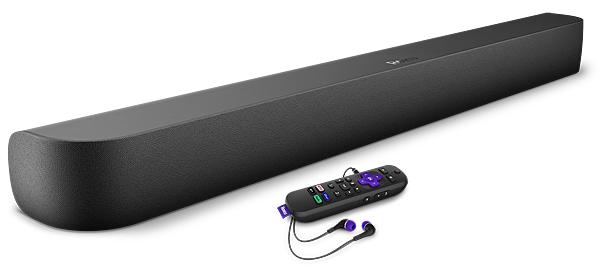 PRICE
$180
AT A GLANCE
Plus
Room-filling sound
Enhances dialogue
Built-in Roku streaming interface
Minus
None worth noting
THE VERDICT
The Roku Streambar Pro offers a considerable sound upgrade over a TV's internal speakers and comes with the company's comprehensive streaming platform built-in.
Soundbars are popular for a good reason. The speakers in a typical flat panel TVs sound puny compared with the visual sway of increasingly larger, higher-resolution displays. Also, since not every viewing room can accommodate the separate components of a home theater, a narrow-footprint soundbar solves the problem of raising the impact of the audio and it does so with one cable.
Roku, a company known for its streaming media players and the user interface found in some smart TVs, has introduced the Streambar Pro ($180), a 4-speaker array with 2.5-inch full-range drivers housed in a 32.2-inch-wide cabinet. It has built-in Wi-Fi and supports 4K/HDR10 video from its built-in apps (but not Dolby Atmos). The Streambar Pro comes with a voice-enabled RF remote with a headphone jack for private listening. (Earbuds are included.) It has dedicated buttons for Netflix, Disney+, Apple TV+, and Hulu, plus ones labeled "1" and "2" you can assign to other favorite services.
Setup
I placed the Streambar Pro on the stand between the feet of my 55-inch TV and connected the included HDMI cable between the bar's HDMI-ARC input and my TV's HDMI-ARC port. (An optical audio cable is supplied for use with older TVs lacking HDMI-ARC.) Next, I followed the screen prompts to connect to Wi-Fi and set up a Roku account. You can press and hold the microphone button on the remote to spell out this information which is faster than clicking through the onscreen keypad.
The asterisk button takes you to the sound settings, which you adjust to your liking. I chose to boost the bass and level the volume to automatically adjust for irregularly loud or soft content like TV commercials. I also set Speech Clarity to Low and enabled Virtual Surround.
Roku additionally offers a wire- less subwoofer ($180) and a pair of wireless speakers ($150) that you plug in for power. These are both installed using setup options in the soundbar's audio menu.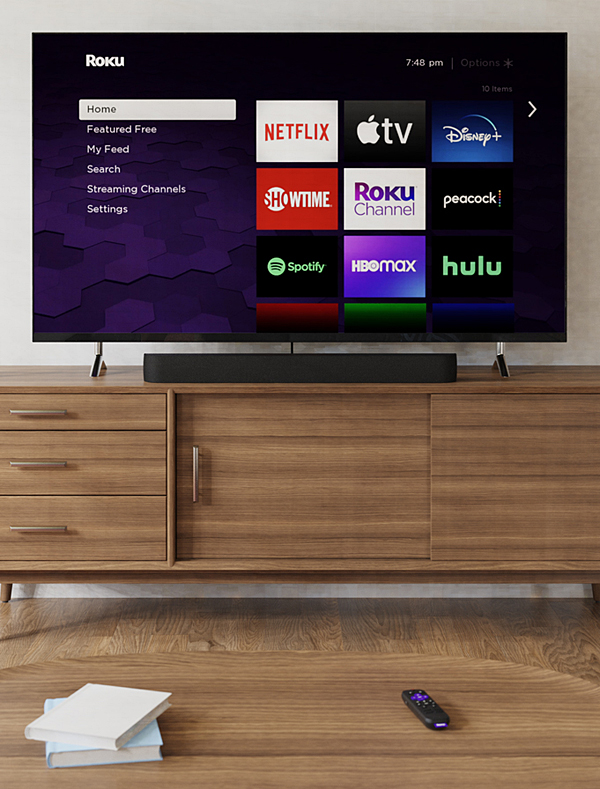 Performance
I first auditioned the Roku Streambar Pro solo before adding the optional sub and surrounds, and it opened my ears to what I'd been missing when using my TV's built-in speakers. Audio easily filled the room even at a relatively low volume, dialogue was clearer, music richer, and sound effects popped.
The first 12 minutes of Star Wars: The Rise of Skywalker, which I streamed from Disney+, were enough to sell me on the merits of the Streambar Pro. Sound seemed to mimic the direction of moving objects as a spaceship or asteroids hurtled across the screen complete with rumble. When the movie's heroine, Rey, lost focus on a ring of rocks she was levitating, the rocks fell to the ground with a crunchy splatter. Watching Mortal Kombat and WW84 on HBO Max reminded me what the movie theater multiplex experience sounds like. Even when watching The Kominsky Method on Netflix, subtle sounds like a coin being rubbed on a scratch-off ticket commanded my attention.
You can use the Roku screen interface to call up streaming channels, adjust sound settings, and play video and music from a USB storage device using the Roku Media Player. The earphone jack on the remote is convenient, but the audio quality pales in comparison with the soundbar. Similarly, Bluetooth enables you to play music from your phone. I used this workaround to accommodate my subscription to YouTube Music (formerly Google Play Music) because the app isn't available on Roku. Bluetooth, unfortunately, didn't do the music justice. (Roku suggested I instead use AirPlay, which the Streambar Pro also supports.)
Conclusion
I was very impressed with the performance of the Streambar Pro, which made dialogue clearer (making captions less vital for me) and music more robust. Its expansive cinema-like sound makes you forget you're sitting at home instead of in a theater. While Roku's optional wireless sub and surround speakers enhanced my experience even further, the largest gain was from the Streambar Pro itself. Once you've heard it, there will be no going back.