Polk Audio Signa S4 Soundbar Review
PRICE
$399
AT A GLANCE
Plus
Atmos height effects from a high value soundbar
Easy to set up and use
Well-integrated small subwoofer
Good sonics for TV and movie watching
Minus
No expandability for surrounds
No network connection for music
No height channel level adjustment
Better for movies than music
THE VERDICT
Polk Audio's Signa S4 makes some canny compromises to bring immersive audio to the masses at an affordable price.
When it comes to hi-fi and home theater, I'm a space hog. Some folks zero in on tight, room-shaking bass, others seek immaculate midrange accuracy or high frequency extension with gobs of etched detail. For me, it's always been about imaging and soundstage first. I can forgive a lot of sins if a system conveys the sense of a three-dimensional instrument, voice, or sound object in the listening room. This is what makes things real for me.
Therefore, I was intrigued at the prospect of reviewing Polk's new Signa S4 soundbar. I'm a big Atmos fan for the format's convincing staging, and at $399, the S4 is among the least expensive certified Atmos bars you can get.
Not surprisingly at that price, the Signa S4 is pretty basic beyond the two height drivers and compact wireless subwoofer that earn its 3.1.2-channel designation. There are no rear surround speakers or any way to add them, nor any network connection for streaming music straight to the bar. For online music you can use your TV's smart streaming platform or attached streamer to tap your favorite service, or else use your mobile phone to make a Bluetooth connection. But as you'll see, the S4 serves its primary function—everyday TV and movie viewing—very well and provides great value at its price.

The Signa S4 is a lean, black column made from formed ABS with black grill cloth across the entire front. It has nice build quality for a budget system. The low-profile bar runs 41.2 inches wide—a good fit under a 55-inch TV—and you can easily hang the 6.4-pound bar on the wall from keyholes on the back.
Behind the grille are two-way driver pairings for the left and right channels, each with a 4.7 x 1.6-inch paper cone racetrack midrange and a 1-inch PEI plastic dome. The center channel is a 1-inch, full-range inverted aluminum dome, and a pair of angled 2.6-inch paper cones fire from the top for the ceiling-bounce height effects. The subwoofer is an MDF wood box with black vinyl wrap measuring 7.9 x 12.9 x 11.0-inches (WHD). It's a bass-reflex design with a down-firing 5.9-inch paper cone woofer next to a circular, flared port. The sub is a lightweight affair at 9 pounds and it sounds that way when you rap it with your knuckles, but it performed surprisingly well with proper placement. Polk doesn't release power amp ratings, but volume was plenty loud in the mid-sized den where I tested.
Visible through the front grille during operation are five multicolor status LEDs. The first LED conveniently stays lit in normal use and changes color to indicate signal type: white for PCM, green for regular Dolby streams, and blue for Dolby Atmos. Around back are an eARC-compliant HDMI port, an optical digital audio input, a 3.5mm analog stereo Aux in, and a USB type-A port suitable for playing back music files. You can use either HDMI or the optical port for a digital connection to your TV, but you can't hook a second source to the unused port. Most people will go HDMI to the ARC or eARC port for the highest quality signal. You'll need HDMI eARC on your TV to pass discrete Dolby Atmos soundtracks to the bar, but an older ARC connection will still engage processing for the height speakers.
There are five membrane buttons on top of the bar for control, though you'll mostly use your TV or set-top box remote control for volume adjustments. HDMI ARC connections will usually track your TV remote automatically, or there's a learning function to teach the bar to respond.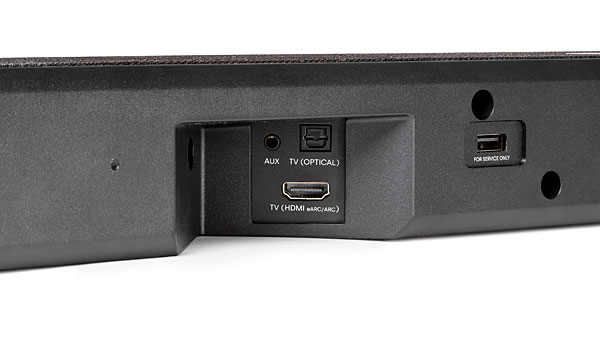 Regardless, you'll still want to keep the supplied compact remote handy. Along with direct access buttons for the TV, Aux, or Bluetooth inputs, there's a mute key, volume rocker, and a bass rocker. Dedicated buttons allow selection of the Movie, Night, or Music modes, along with three levels of Voice Adjust, which is Polk's proprietary tech for clarifying dialogue.
Setup
The day-to-day soundbar in my den is a first-gen Sonos Beam (no Atmos) connected via eARC to a 55-inch LG OLED, so it was nothing to swap in the Polk on the credenza that sits below the wall-mounted TV. I tried the subwoofer on the front wall where Polk recommends, but it was boomy in that spot so I instead moved it under the end table next to my sofa where my Sonos Sub normally resides. The result was punchy and defined bass within its operating range with no localization of deep male voice to the sub. Bass tones revealed that the bar hands off to the sub around 125-150Hz.