Sonos Arc Soundbar Review
PRICE
$799
AT A GLANCE
Plus
Outstanding music and movie sound
Impressive rendering of height information
Solid bass for standalone soundbar
Minus
May require latest eARC HDMI connection for Atmos
No DTS decoding
THE VERDICT
The latest home theater offering from Sonos delivers an impressive Atmos experience from a standalone soundbar. Add the company's Sub and bookshelf speakers as surrounds for even more intense audio immersion.
The new Sonos Arc soundbar is the company's fourth home theater product and the clear result of an evolution. Its first soundbar, the Playbar (currently $599 and being closed out), debuted in 2013. But with only a single optical input intended to ease installation and no HDMI port, it was already outdated on Day 1. In 2017, the company introduced the Playbase sound platform ($699, also being phased out), a solution for those who found the bulky Playbar too invasive. Playbase was extraordinary for its ability to extract bass from its lean cabinet, but still failed to take advantage of a higher-quality HDMI connection or the benefits of HDMI-CEC control. The Sonos Beam ($399), a more compact and affordable soundbar (or "living room speaker" as Sonos likes to call it), came out about a year later and today is one of the company's most popular products. Not only did it finally integrate HDMI-ARC connectivity, but it also added Alexa voice control of the bar and connected devices. From an audio engineering perspective, it drew heavily on what Sonos had learned creating the small, high-excursion elliptical woofers and low-resonance cabinetry for the Playbase.
The Arc ($799) is a culmination of all that development, and with a 45-inch width, is almost 10 inches wider than the Playbar to better mate with today's larger 55- and 65-inch TVs. But that extra width is also there to accommodate more drivers that, along with some sophisticated processing, are used to deliver immersive effects from Dolby Atmos soundtracks. Though enthusiasts have long embraced Atmos playback and its additional height information from Blu-ray discs, Sonos says that more than 25 streaming services now pass along Atmos programming. Some six years after its introduction to home theater, Atmos has officially gone mainstream.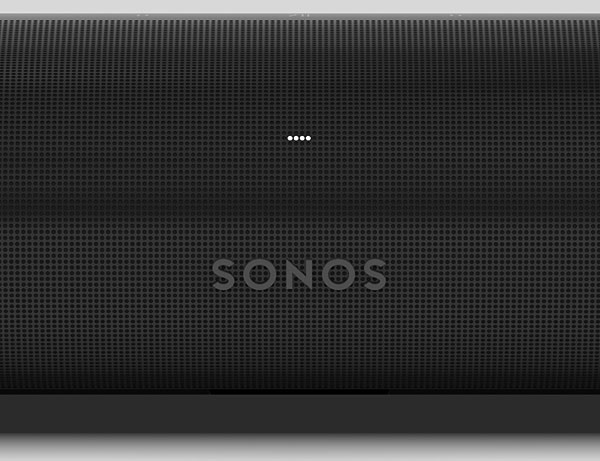 Features
As usual with Sonos, the industrial design of the Arc is understated, classy, and in service to the sonics. The soundbar is available in matte black or white. Viewed from the side, it is a near perfect ellipse; the only disturbance to the visual flow is a subtle bracket that serves as a base for resting it flat or attaching it to its optional $79 wall-mount. The front surface is wrapped by a 270-degree curved grille made from a single sheet of thermo-formed plastic into which are drilled 76,000 holes. Capacitive touch controls similar to those on the Beam and other current Sonos speakers are on top and allow for volume up/down, play/pause, and skip/repeat. A group of tiny LEDs indicates speaker status and the built-in multi-microphone array used for Alexa and Google Assistant control. An ambient light sensor gracefully dims these in a dark room so they won't be a distraction, and they can also be turned off in the Sonos app.
There's some clever engineering behind how the Arc's 11 speaker drivers work together. Each driver operates independently from its own class-D amplifier of unspecified power, with its signal phase and amplitude optimized in real-time to allow the bar's speaker arrays to steer sound in specific directions. There are eight 2x3-inch aluminum elliptical cone woofers, with four on the front baffle along with three 0.75-inch silk-dome tweeters. The left and right tweeters are paired with woofers and have waveguides that fire them out at 60 degrees toward the side walls. A pair of woofers and a tweeter are also mounted at the bar's center, and there is yet another pair of woofers firing straight out at 90 degrees from the bar's ends. The final two woofers, also in wave guides, fire at the ceiling with a modest tilt toward the listeners.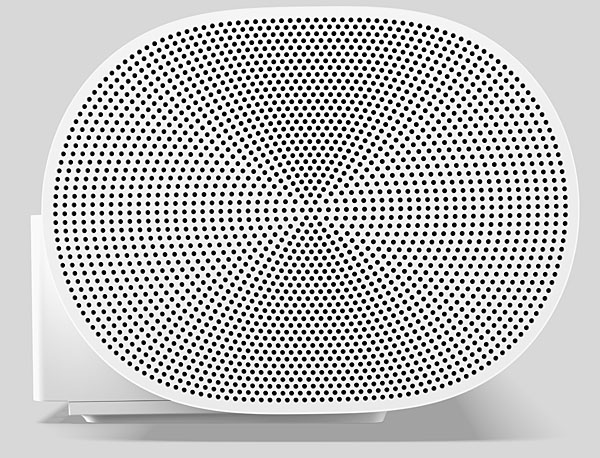 Audiophiles looking at a graphic of what's behind the grille will be curious why the center array, with its two woofers and tweeter, has a woofer in the bullseye position rather than the tweeter. The short answer is that it is the distance between the woofers here that determines the pair's upper frequency limit—which needed to be as high as possible to ensure its sonic match with the side-firing arrays on the far edges of the baffle and the ends of the bar. As a Sonos engineer explained it, "The best sound experience resulted in a swap of the center tweeter with a woofer to position the center woofers as close together as possible, with the woofers being twice as close as they would have been if the tweeter was in the center. The net effect was that the array's upper limits were extended a full octave higher. This helped us get a smooth transition from the arrays to the high-frequency components and a smoother power response overall."
In what is again a repeat of earlier Sonos soundbars, the rear connection panel of the Arc is nearly a void. There's a single HDMI eARC input (with backward compatibility to regular ARC displays), an RJ45 Ethernet port in the event the onboard 802.11b/g 2.4 GHz Wi-Fi proves unreliable, a power-cord socket, and a reset button. Sonos provides an HDMI-to-optical adapter for older TVs without ARC. System control is provided by the ARC connection in conjunction with HDMI-CEC, which lets the TV handset or a universal remote control volume, but the bar has an IR receiver and can be trained to respond directly to a TV or set-top box remote if you're using the optical adapter. Alexa and Google Assistant voice commands can be used to control volume or call up music and advance tracks from compatible services. If you end up connecting an Amazon Firestick or Google Chromecast streaming dongle to your TV, you gain the ability to search and call up video content as well. Furthermore, the Arc is compatible with AirPlay 2, so it can be tapped from your iPhone's speaker menu and music, podcast, or audiobook apps.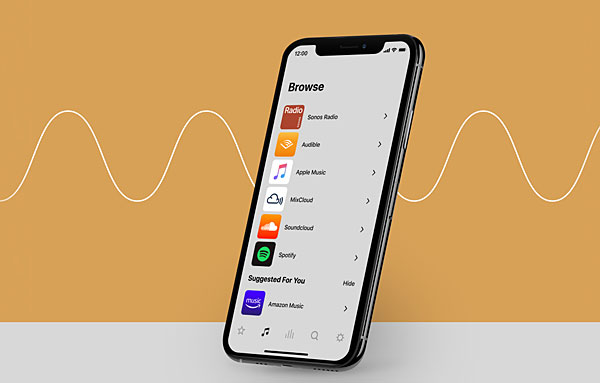 Of course, the Sonos app also provides control and a range of adjustments. Concurrent with the release of Arc, Sonos rolled out its new S2 version. It's required for Arc but also makes a few ergonomic tweaks said to improve the user experience. If you're familiar with the most recent Sonos app you won't have much to adjust to.
As with previous Sonos soundbars, owners have the option of adding a subwoofer and rear surrounds to the system. Also simultaneous with the launch of the Arc, Sonos announced its 3rd generation Sub subwooofer ($699), with updated internals that include more processing power and memory to better drive the Sub's pair of opposing, force-canceling drivers. From its initial launch in 2012, the Sub has remained a remarkable over-achiever dressed in exceptional industrial design. I used my first-gen Sub for this review with excellent results and felt that the Arc really needed it to perform at its best—more on that shortly. A pair of Sonos One SL speakers ($179 each), the most recent generation of the original Play:1 "not-smart" bookshelf speaker, is the recommended add-on for the rears. I tried the Arc with pair of Play:1s, which are a close sonic match. As described below, they were even more essential than the Sub for getting the most out of Arc.
Setup
Depending on your perspective, the Arc's single ARC HDMI input, with no internal switching or HDMI output for pass-through, is either a blessing or a curse. Sonos has gone the one-input route from the beginning, even in the optical-only Playbar and Playbase, on the thought that ease-of-use demands a single instant-on connection to the TV audio output and that users will always use the TV input selector for switching among sources. The times have perhaps caught up with that thinking, as so many viewers watch today from their TV's built-in streaming apps rather than a separate media or disc player, and therefore require a straight audio connection from the TV to access that sound.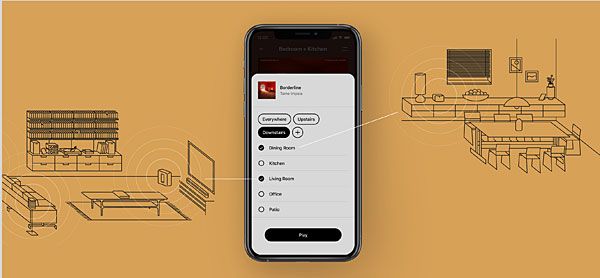 Nonetheless, this approach chews up what is usually the one HDMI ARC or eARC connection on your display, leaving you short at least one video source input. Depending on the display and its number of HDMI or Ultra HD-compliant HDCP2.2 inputs, this can present challenges. The LG HU85LA ultra-short-throw projection TV I initially used for my review, despite being introduced just last year, has only two HDMI inputs, one with ARC, which left me with only one external source connection.
Furthermore, the LG's port is ARC and not the newer eARC. In theory, ARC allows passage of Dolby Atmos soundtracks coming into the TV from a source component or its own onboard streaming platform, just married to a lossy Dolby Digital Plus base rather than the lossless Dolby True HD associated with Atmos coming off a Blu-ray Disc. However, this is also dependent on the TV's capabilities— what the streaming service sends based on what it sees at the receiving end. The Sonos app helpfully flags you when it recognizes an Atmos soundtrack, but the LG projector, despite being a Ultra HD display with LG's up-to-date WebOS 4K streaming platform, would not pass Atmos to the Arc whether I streamed known Atmos programs from WebOS, a connected Roku Ultra or Chromecast Ultra 4K streaming player, or a Blu-ray player. Nor does the Arc allow a direct HDMI input from a player or any source; its port is strictly an eARC audio connection. Eventually, I connected the soundbar to a new LG OLED TV with an eARC HDMI port. This let me play Netflix and Amazon Prime Atmos programs with a Dolby Digital Plus base from the set's streaming platform or the connected media players, as well as play Dolby True HD-based Atmos soundtracks from my disc players.