Samsung HW-Q990B Atmos Soundbar Review Page 2
SETUP
I placed the Q990B on the credenza below my wall-mounted 55-inch LG OLED and connected it to the HDMI eARC port. This lets me play Dolby Atmos from the TV's streaming platform and Atmos or DTS:X discs via a Blu-ray player connected to the TV. The bar has brackets for wall hanging, but it sticks out awkwardly from the wall and is optimized for a tabletop mount.
The rear surrounds were placed on stands on either side of my sofa, with the side drivers pointed outward, and the sub went in my usual location beneath a coffee table alongside the sofa.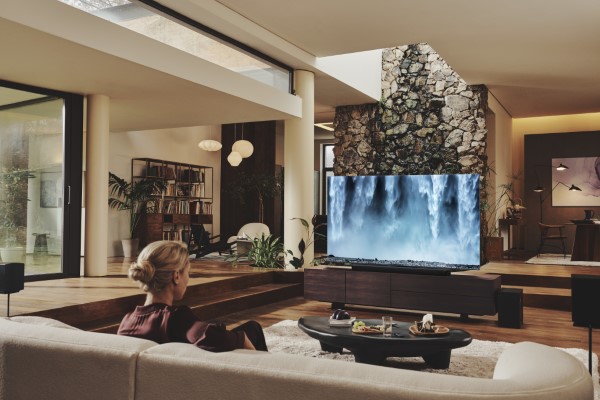 With the system in place, I connected to it via the SmartThings app. The app lets you check for firmware updates, set up Alexa or Spotify Connect, run the Auto EQ routine, and generally activate most functions that might otherwise require the remote. My one complaint: there was no Atmos or DTS:X flag within the app to confirm those signals; the only way to know was by watching the info scroll by on the front-baffle LED display.
PERFORMANCE
My day-to-day soundbar is a Sonos Arc mated with a pair of Sonos Play:1s as rear surrounds and a Sonos Sub for low-end support. It's a 5.1.2 Atmos system. There are no rear height drivers to create a true four-channel height bubble, and the difference with the Q990B was instantly audible. After experimentation, I turned up the front height channels—an option I've not had with any other Atmos bar I've reviewed—to bring those virtual channels a bit more out into the room vs. just hovering at the apex of the front wall and ceiling. I also turned up the rear heights for greater prominence.
The resulting sound bubble was enthralling, further enhanced by the front- and rear-wide drivers that spread the sound horizontally. World Cup soccer or NFL football games were delivered with convincing stadium sound that placed me in the middle of the crowd noise and gave voice announcements that appropriately echoey feel. Atmos height effects on good mixes enjoyed their full positional cues, so objects could properly pass overhead or through the listener without being restricted to the front half of the room or being unnaturally pulled toward the room boundaries during pans.
The classic Dolby Atmos demo clip Leaf exhibited insect sounds from directly overhead and good tracking of the whirligig maple seed pod as it winds its way around and down, as did the flying bird in the Amaze demo as it circles around. Overhead storm effects, as heard in Amaze and later in a clip from The Batman where Batman engages with some thugs on a rainy night, enjoyed that everywhere-at-once randomness that brings you into the space. Ditto for the rain effects found in the Atmos version of The Doors "Riders On The Storm."
This and other music tracks I played, both Atmos tracks and good stereo from my Tidal reference playlist, revealed a highly palatable tonal balance that began with a deep bass foundation, rose up through a relatively transparent and detailed midrange and peaked with a revealing and unfatiguing high-end. I hesitate to report the Q990B was a touch less transparent and detailed than some other high-end audiophile bars I've tested, notably the Devialet Dione and B&W Panorama 3, but only because it implies poorer performance, and that wasn't really the case here. The sound was simply more typical of designs that don't feature the most highly refined tweeters capable of revealing the very last word in detail and midrange clarity.
But it came with some advantages. What you get is still a serious audiophile experience and the ability to play music and movies to some very loud levels without fatigue. The combination of the large number of drivers around the room, ample power, and a dedicated sub that allows the bar and surrounds to work harder without strain produced astonishing volume. The volume control runs from 0 to 100, and I rarely got past 35. I played a couple of action movie clips to the maximum volume I could bear and only got to two-thirds on the scale before my SPL meter hit peaks of 106 dB, causing me to back off for fear of injury. On the other hand, this brute force output was accompanied by an ability to also track subtle dynamic swells and valleys and to communicate the emotion of a vocal crescendo, as heard in Adele's "Make You Feel My Love."
Following the Auto EQ calibration, the bass was tight, deep, and loud when called for. Test tones revealed that the system kept steady output from 250 Hz down to 80 Hz, ticked up 3 or 4 dB in the 80 to 60 Hz range, then leveled out again till about 45 Hz when it slowly started dropping off. It was only about 10 dB down at 35 Hz and still had some modest detectable output at 25 Hz.
As good as it was for music—with its big open soundstage, giant out-front vocals, and excellent timbre on instruments and voices—the Q990B thrilled me on object-based movie soundtracks. The opening of the Atmos version of Mad Max: Fury Road, in which Max is haunted by the voices of children coming from inside his head from all directions, was perfectly rendered—an effect you just can't get on a 5.1.2 system. And the fine sonic details, like the sound of a lizard's tail dragging in the dirt, were all present. The opening battle sequence in Unbroken, which I also use as a frequent test, was as good as I've heard on any full-blown Atmos system. The Q900B's low-end support gave the prop sounds of an approaching WWII bomber fleet the kind of deep, guttural underbelly that I felt in my chest, and when the lead plane finally came full frame, I could feel it pass directly through me—another effect you miss absent full front/rear height channels.
The spatial bubble and detailed mids and highs also combined to beautifully recreate the environment inside the plane, with the ever-present hum of the engines and all manner of metal creaking from the flexing fuselage. When the battle began, the crack of the gunfire had solid dynamic impact, and explosions had sufficient bass depth and dynamics to get my heart racing.
CONCLUSION
To put the Q990B in perspective, just look at some of its premium soundbar competition. A fully outfitted Sonos Arc, complete with rear surrounds and their top-line subwoofer, will run you about $2,000. It's an outstanding system, with perhaps a bit more extended high-end detail and a better subwoofer. But it's only 5.1.2, and can't immerse you in soundtracks and music the way a full Atmos system can. Ditto for the Devialet Dione, which offers more refined sound for music and staggeringly deep bass without an outboard sub. It's impressive for what it accomplishes in a single chassis, but it goes for $2,400.
And then we have the Samsung HW-Q990B at $1,899. It offers highly capable audiophile music and movie playback with full Atmos and DTS:X surround capabilities, surprisingly deep bass, and stupendous dynamic range. Besides costing less than the competition, it is the only soundbar system I've tried that can truly replace the functionality, performance, and soundstaging of a traditional AVR and speakers without missing a beat. If you can't do a discrete component system, the Q990B really is the whole package, and a heck of a good value.