RSL W25E In-Wall Speaker System Review – Invisible Treasure
PRICE
$2,020 (as tested)
(2) W25E left/right speaker, $199
(1) CG25 center speaker, $425
(2) W25E surround speaker, $199
(1) Speedwoofer 12s subwoofer, $799
AT A GLANCE
Plus
Clean output
Edgeless magnetic grille
Angled baffle design improves imaging
Minus
Installation requires insulation behind the speaker
THE VERDICT
Outstanding sound quality at an affordable price that will please even the most demanding audiophile listener.
I recently upgraded from traditional box speakers to in-wall speakers after delving into the world of in-walls with my recent review of the SVS 3000 In-Wall Subwoofer, which I installed in my den. My wife never liked the aesthetics of the entertainment system because the first thing you saw walking through the door was a wall-mounted bookshelf speaker, which stuck out a good 8 inches from the wall. Despite the great sound, it wasn't so easy on the eyes.
After receiving approval from the CFO, I had to decide which in-wall speakers to purchase. The decision was pretty simple: I chose RSL (Rogersound Labs) because the company offers a tremendous value proposition and is built on a compelling story.
An American Tale
RSL started making speakers back in 1970 and became an instant success. Founder Howard Rodgers had a vision of building speakers with high-quality parts and selling them direct to the consumer at affordable prices; selling direct enabled the company to keep prices low by cutting out the middleman and eliminating profits collected by the distributor and dealer. The strategy worked. Rodgers opened his first factory-direct store in North Hollywood, CA in 1970, and as luck would have it, one of his early customers was a producer from Warner Brothers Records who was so impressed by what he heard that he ended up buying a pair of speakers and spreading the word among his colleagues in the music business. Before long, RSL speakers were being placed in recording studios throughout Southern California.
In the years that followed, Rodgers developed speakers and eventually invented and patented Compression Guide technology, an enclosure design that reduces the cabinet resonance common to all box speakers by guiding rear sound waves through calculated expansion and compression areas, thereby improving sound quality.
In 1989, Rodgers decided to retire after accomplishing everything he set out to do with his company. Unfortunately, the new owners made a lot of unwarranted changes to the business model and went out of business within three years.
Howard purchased back the company name but didn't do anything with it for more than a decade and a half. It was during this time that he contemplated some new approaches to his Compression Guide technology and began experimenting with new designs while building his own home theater. He had no intention of mass-producing the speakers, but when his friends heard them firsthand, they wanted to buy them.
Howard's oldest son convinced him it was time to relaunch the speaker brand and continue the tradition of offering quality speakers at wallet-friendly prices. RSL was reborn and the internet allowed the company to expand its reach well beyond Southern California.
I was introduced to the RSL brand seven years ago when I reviewed the Speedwoofer 10s, which received a Top Pick award not only for its stellar performance, but for its phenomenal value with a budget-friendly $399 price tag. Over the ensuing years I've recommended this sub — as well as RSL's other speakers — to budget-conscious friends and family members.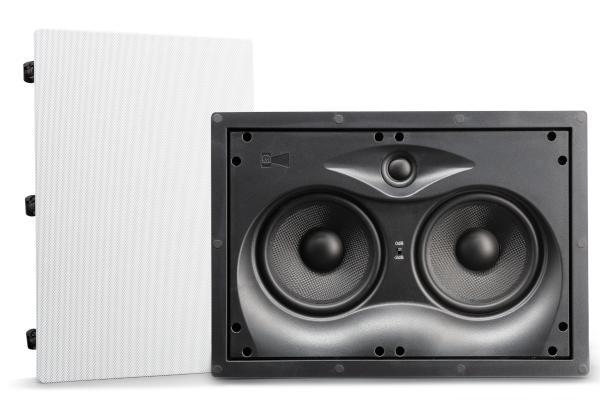 To determine which speakers to use for the in-wall installation I was about to undertake, I reached out to RSL and received a quick reply from Joe Rodgers, Howard's son, who runs the day-to-day operations at the company. He recommended a 5.1-channel system that paired five of RSL's new W25E in-wall speakers with their new Speedwoofer 12s subwoofer. I agreed and the speakers arrived within two days, well-packaged to withstand the rigors of ground shipping.
Houston, We Have a Problem
Installing a 5.1 sound system using in-wall speakers is quite a bit more challenging than setting up a surround system with traditional box speakers because you have to first decide where to put each speaker and then cut holes in the wall to accommodate all of the speakers. In other words, it pays to be handy because once you make the cut, there's no turning back.
Using a stud finder, I had to determine where the speakers would fit in relation to my current TV (as well as accommodate a larger display at some point in the future). It was at this point that I realized I had a problem: There was a rogue stud (not 16 inches on center) right where the center-channel speaker needed to go.
Instead of opening up the wall and removing the stud, I opted to purchase a standalone RSL CG25 center-channel speaker and forego the extra construction. Fortunately, I was able to maintain the clean aesthetics my wife was looking for by placing the speaker on a recessed shelf above the TV and angling it down toward the main listening position.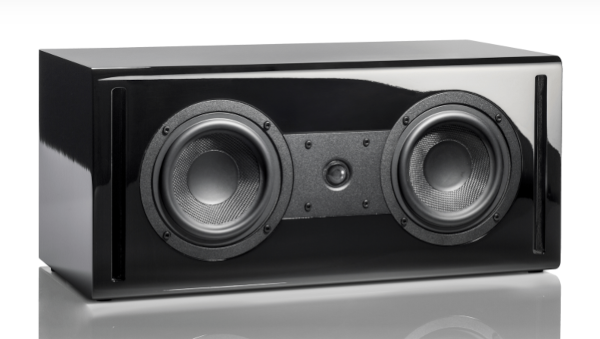 Then it was time to figure out where to locate the remaining four speakers, cut holes in the walls, and run fire-resistant CL2-certified 12-gauge speaker wire to each location. The installation instructions accompanying the W25E speakers are clearly written and easy to follow. Thanks to the cardboard template, cutting the holes with a drywall saw was quick and painless (but very messy). RSL recommends installing insulation behind the speakers, so I picked up some Rockwool from a nearby home improvement store. Sound emanates from both the front and back of the speaker, so if you skip this step, you'll get cancellation at certain frequencies, leading to uneven frequency response.
If you mix and match the W25E speakers with RSL's other speakers, you should get a similar frequency response thanks to its MTM (midrange-tweeter-midrange) driver arrangement. According to the company, the W25E is not a conventional MTM. The tweeter is offset, and the woofers are positioned in closer proximity than is typical. This layout is designed to deliver better vertical and horizontal dispersion for a smoother response at the listening position versus a conventional MTM inwall design.
The woofer used in the W25E is 5.25 inches in diameter and features a woven, mineral-filled poly-cone with a butyl rubber surround, strong cold-rolled steel frame, and high-energy ferrite magnet. The tweeter is a treated-fabric exposed dome with a neodymium magnet. The speaker also features a high-quality crossover with custom capacitors and inductors to ensure seamless integration between the tweeter and woofer.
In addition to delivering better imaging in a L/R setup, the W25E's baffle is angled 15 degrees, which allows the speaker to be oriented upward or downward when placed above or below a TV. Since my surround speakers were placed near a back wall, I used the 15-degree angle to create a diffuse sound field by to aiming the speakers' output toward the back wall, which worked out quite well.
The speaker has a two-position tweeter-output switch that can be set to 0 dB or –2 dB. As a rule of thumb, RSL recommends using the 0 dB setting unless the space is very live acoustically and has low ceilings. Once the VM25E is ensconced in the wall, you can conceal it with an "edgeless" grille that attaches magnetically to the speaker's frame for a clean, integrated look.
The CG25 is a beautifully crafted speaker. A flawless high-gloss piano black finish looks like it belongs on a speaker costing much more than $425. Like its in-wall cousin, it also sports the MTM driver layout with ports flanking each of the 5.25-inch woofers. As a finishing touch, it includes an industrial-looking magnetic grill that blends well with the speaker.
Rounding out the speaker system is RSL's new Speedwoofer 12s, which boasts a 12-inch custom-designed woofer powered by a 500-watt amplifier (1,550 watts peak) and sports RSL's patented Compression Guide tuning; it also includes a handy remote with controls for power on/off, volume, and four EQ settings (Reference, Movie, Music, and Boundary).
Jim Wilson is taking a deeper dive into its individual performance characteristics in a separate review, but I have some quick thoughts. Though the Speedwoofer 12s is quite imposing in a small space — my den in this case — I was able to nestle it into the front right corner of the room while adhering to RSL's recommendation of keeping the sub 4-5 inches away from the wall due to its rear port.
The RSL speakers joined a system in my den that consists of a 15-year-old 50-inch Vizio plasma TV, a Denon AVR-2313CI AV receiver, an Oppo BDP-103 Blu-ray player, and a TiVo Bolt streamer/DVR.
I'm pleased to report that Mrs. Reviewer was extremely happy with how the installation turned out. She's made several comments about how much cleaner the room looks and has even hinted about putting a bigger TV in the room — I see a 77-inch OLED in my future! I use this room mainly to watch sporting events such as NFL football and PGA Tour events on a lazy Sunday afternoon when I don't feel like firing up the projector.
Listening
Since I had already installed the SVS 3000 subwoofer in the wall of my den (click here for more on the SVS), I started out listening with the 3000 in the mix but switched over to the Speedwoofer 12s and have since spent several weeks listening to the all-RSL system. While RSL's Speedwoofer 12s takes up space in the room, its larger woofer and much larger enclosure allow it to dig a bit deeper below 20 Hz than the SVS 3000 is capable of.
To compare the two, I performed another six-point Audyssey calibration and the results were nearly identical, other than the sub's roll-off point dropping from 22 Hz to an infrasonic 18 Hz. Audyssey set the crossovers at 110 Hz for the four in-wall speakers and 90 Hz for the center speaker, which provided the flattest frequency response in the crossover region — something I verified with REW (Room EQ Wizard) measurements.
After giving the system a few weeks to break in, I began critical listening with high-quality FLAC audio tracks streamed via my home network to the Denon AVR.
I started with a song I know very well — the title track from Styx's 1978 album Pieces of Eight. Though the song didn't fully test the system's dynamic range, it served as a great test for its ability to handle higher band frequencies through scale guitar rhythms, a plethora of synthesizers, and, of course, Dennis DeYoung's piercing vocals.
I've listened to this track for most of my life and, at times, have found it to be fatiguing on inferior systems but with these speakers it was easy listening.
I worried about losing seamless panning by not using identical front speakers — a characteristic I enjoy with the M&K S150 speakers in my reference theater setup. To test this, I played the 13-minute opening of Gravity. In this scene, astronaut Matt Kowalski (George Clooney) skillfully navigates the soundstage, keeping things light for novice space traveler Ryan Stone (Sandra Bullock), who is focused on repairing the Hubble telescope. All the while, mission control (Ed Harris) keeps them on task.
As the camera moves throughout the scene, voices effortlessly transition from one speaker to another; I was particularly impressed with the seamless consistency across the front speakers. The RSL speaker system excelled at creating a solid wall of sound that emanated from the front of the room. And when the Russian satellite exploded, the Speedwoofer 12s kicked into high gear, perfectly complementing Steven Price's Academy Award-winning score and intensifying the onscreen chaos.
Next up, I watched Alita: Battle Angel, an underrated film that boasts remarkable sound effects that produce a heightened sense of realism while enhancing onscreen visuals. The barroom fight between Alita (Rosa Salazar) and Zapan (Ed Skrein) exemplifies this. Aggressive sound design accentuates the impact of every blow and collision, providing a visceral and thrilling experience for the audience.
While the budget-friendly RSL speaker system did not fully replicate the experience of my reference system, it came remarkably close at a literal fraction of the price. The system excels at imaging, ensuring precise placement of sounds, while punches resonate with authority due to the deep bass extension provided by the Speedwoofer 12s. The result is a moving and captivating audio experience that brings you closer to the intensity of the onscreen action without emptying your savings account along the way.
Conclusion
I wasn't sure how much I'd enjoy the change to in-wall speakers, but I have to give my wife credit for pushing me in this direction. The RSL W25E in-walls offer an outstanding value proposition and blend well sonically with the CG25 center speaker and Speedwoofer 12s subwoofer. Installing in-wall speakers requires careful planning and cutting, but the resulting look in the room is a big improvement over speakers hanging on the wall or sitting on the floor.
Having lived with the RSL speakers for a couple months, I'm very pleased with the sound quality and recommend them for budget-conscious buyers seeking audiophile-quality sound. Even if you can afford to spend more, I'd still give RSL speakers an audition because in my experience, they measure-up to speakers that cost thousands of dollars more. Highly recommended.
Specs
W25E In-Wall Speaker
Woofer: 5.25" woven mineral-filled poly-cone (2)
Tweeter: 0.87" (22mm) treated-fabric dome (1)
Weight: 7.6 lbs
Dimensions (overall): 14" x 9.9" x 4" (HxWxD)
Dimensions (mounting): 13" x 8.9" x 3.75" (HxWxD)
CG25 Center Speaker
Woofer: 5.25" cast frame, aramid-fiber cone with ferrite magnet (2)
Tweeter: 1" translucent silk dome with neodymium magnet (1)
Weight: 23 lbs
Dimensions: 19" x 8.5" x 9.75″ (9" without grille) (HxWxD)
Speedwoofer 12s Subwoofer
Woofer: 12" custom-designed driver (1)
Amplifier: 500 watts RMS with <1% THD (1,550 watts peak)
Type: Rear-vented Compression Guide tuning with slot port
Inputs/Outputs: Line-level RCA inputs/outputs, speaker-level inputs
Weight: 82 lbs.
Dimensions: 18.9" x 22.25" x 22.2" (WxHxD)