Triad InWall Bronze/4 SlimSub and RackAmp 350 DSP Subwoofer Amp
PRICE
$1,400
AT A GLANCE
Plus
Installer setup over IP
Options for wide, narrow, and frameless grilles
Six-band parametric EQ
Minus
Installation may be tricky for the uninitiated
THE VERDICT
Extensive tuning capabilities make for true high-end performance at an affordable price.
When it comes to architectural speakers, there are few companies I can think of that do things in a more focused, more insightful, and—most important when it comes to custom installations—more useful way than Triad. The company stands out in another way, too, in that most of Triad's speakers are built to order in the U.S. (Portland, Oregon, to be specific) and are usually less than two weeks old by the time they arrive at the dealer's warehouse door. Triad's president, Larry Pexton, must harbor unfulfilled Olympic athlete aspirations since nearly all Triad products have a Gold, Silver, or Bronze identification. The company's new InWall Bronze/4 SlimSub (see what I mean?) and RackAmp 350 DSP combo is simply the latest example of how meticulous Triad's engineers are when taking on the task of designing a speaker that not only disappears from sight, but also remains invisible ergonomically when it comes time to power the system up.

The InWall Bronze/4 SlimSub itself, for instance, is only 3.94 inches deep with a modest 13.5-inch width, so it fits into most standard walls—either new construction or retrofit—without modification or extending into the room (as its predecessor did). The sealed cabinet is built like a brick…house with a proprietary 10-inch aluminum cone driver that, according to Pexton, has such a long throw, they had to go the unusual route of integrating a thinner, round steel back plate to replace the thicker MDF cabinet material behind the driver in order to give it more internal cabinet space. The InWall Bronze/4 SlimSub includes all three versions—wide, narrow, and frameless—of Triad's Acoustimesh grille, which comes standard in white but can be custom-paint-matched at the factory.
The accompanying 350-watt, mono RackAmp 350 DSP is designed to be plug-and-play out of the box, but it's also chockablock with custom-install features that clearly show how well Triad knows its business. While an EZ Menu Set-up is accessible from the front panel (or via the included IR remote), some really sophisticated tweaking can be done using a computer connected directly or over IP, including creating two custom-parameter mode presets to add to the three preprogrammed ones and manipulating the built-in six-band parametric equalizer. Incredibly, Triad claims that with careful adjustments, the output of the InWall Bronze/4 SlimSub can be smoothed out to an almost unbelievable 30 to 100 Hz +/–0.5 decibels. (As Triad's Steve Colburn emphasized in an e-mail: "That's right, +/– .5 dB with a decimal point!") Intensely butt-whipping home theaters can be put together by using multiple sub/amp combos and taking advantage of the amps' daisy-chaining capabilities, along with independent delay and input gain adjustments. The built-in two-channel crossover with adjustable delay allows you to add bass management and time alignment to a high-end two-channel system.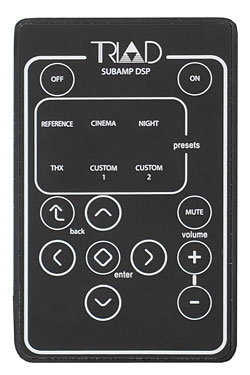 Sub Sandwich
There's not a whole lot to say about the installation procedure of the InWall Bronze/4 SlimSub other than the fact that the subwoofer uses four versatile "retrobrackets," which can be repositioned for either vertical or horizontal installation, to hold the cabinet against the wall. Four additional screws attach the grille frame to the speaker and minimize vibrations by sandwiching the wallboard between the speaker and frame. If you've never done it before, it's a little tricky at first. Once it's in the wall, however, it results in an extremely solid and secure installation with minimal transfer of vibration to the wallboard.
Triadulation
Considering the considerable ability for tweaking its performance, it's perhaps unfair to compare the Triad InWall Bronze/4 SlimSub with other architectural subwoofers. Using my computer to fine-tune the amp's six-band parametric EQ allowed me to tailor an incredibly smooth output of the installed subwoofer down to around 25 Hz in-room. The snap and attack of the InWall Bronze/4 SlimSub was amazing, with the sub turning out to be a wonderful match for the Wisdom Audio P4i/P2i in-wall speakers I had in house for review. This was especially true with the climactic, final drum competition in Drumline when the soundtrack is filled with both the booming bass of the large marching band bass drums and the much tighter taps on the snare drums. Overall, with its customization capabilities, its system- (including two-channel) and automation-friendly design, and its high-end audio performance, the $1,400 Triad InWall Bronze/4 SlimSub is not only a great subwoofer—one that doesn't need to make excuses for being an in-wall sub—it's a great value, too.