SVS 3000 In-Wall Subwoofer - Hidden Bass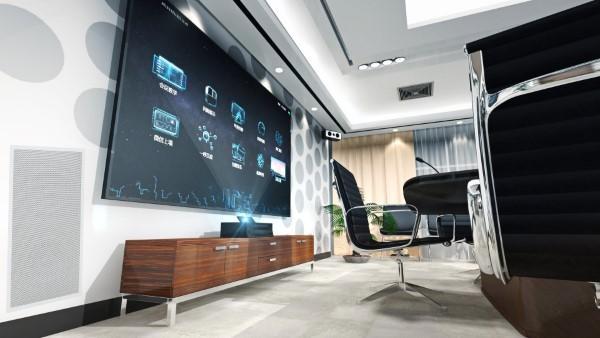 PRICE
$2,000
AT A GLANCE
Plus
Tight and fast bass response
Adjustable tuning controls via handy app
Frees up floor space
Minus
Installation limitations based on room construction
In-wall convenience comes with a steep price
THE VERDICT
The SVS 3000 In-Wall subwoofer is a powerful and customizable high-end subwoofer that delivers impactful bass without taking up any floor space.
Renowned for its expertise in crafting high-performance subwoofers, SVS has carved a niche for itself within the home theater and music system communities. Established in 1998 by a team of passionate audio enthusiasts their mission was to revolutionize the subwoofer market by delivering exceptional performance that exceeded existing offerings.
SVS's groundbreaking cylindrical subwoofer, accompanied by an outboard amplifier, quickly gained acclaim for its outstanding performance, cost-effectiveness and the company's unparalleled customer service. It quickly gained a following among home theater enthusiasts and helped establish SVS as a serious player in the subwoofer market. I vividly recall my first SVS subwoofer, a 20-39 PC with an integrated amp, which served me well for several years before upgrading to a PC Ultra which I still use to this day after nearly two decades. I guess you could say these subwoofers are built to last.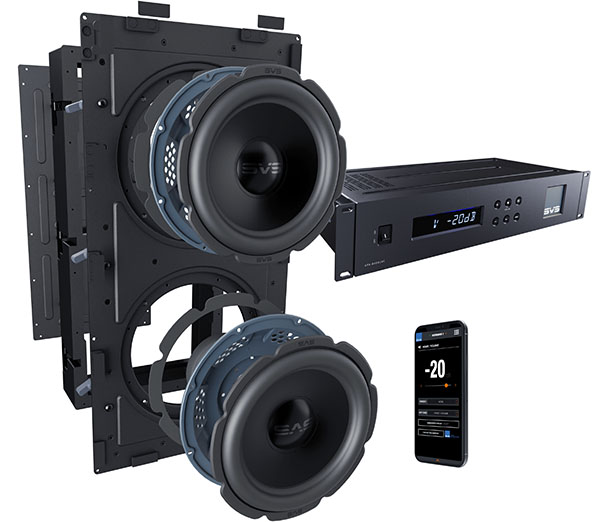 Over the years, SVS has continued to innovate and improve their subwoofers by introducing new models with advanced features such as digital signal processing, advanced driver materials and wireless control. The company has also broadened its offerings to encompass speakers and other audio accessories while exploring alternative sales channels beyond their initial Internet-direct approach. You can now find SVS products at local retailers such as Magnolia Design Centers in select Best Buy locations, RC Willey and local brick and mortar AV shops.
One area where SVS hasn't ventured—until now—is architectural speakers. Going back to their roots, the company has chosen to enter the arena with the 3000 In-Wall Subwoofer which unlike their other products, is only available from authorized SVS dealers.
Just the Facts
The SVS 3000 In-Wall Subwoofer delivers deep, powerful bass in a sleek, discreet package. It features dual 9-inch drivers housed in a shallow, narrow enclosure that fits between standard wall studs.
Designing a subwoofer for in-wall use is unlike doing so for a typical box or cylindrical solution. You have very limited space and the designer needs to ensure that the cabinet remains acoustically inert—even when the drivers are driven to extreme levels. SVS accomplishes this with solid aluminum front and rear baffles and internal bracing. The paintable magnetic grille doesn't sit flat to the wall, it protrudes out into the room about an inch or so.
Featuring dual active 9-inch drivers, the 3000 In-Wall Subwoofer boasts an oversized motor design, a custom-tooled basket and rigid aluminum cones. It is meticulously engineered for optimal acoustic output and thermal efficiency within a compact enclosure - a necessity for in-wall installations.
The total excursion for each driver is 23.4mm Xmax and 29mm Xmech which helps explain why the magnetic grill doesn't sit flush to the front of the enclosure: the drivers need that additional space to move during bass-intensive scenes in the latest blockbusters.
The Sledge STA-800D2C Amplifier for the 3000 is equally impressive delivering 800 watts RMS and 2,500-watts peak power. The amp combines the high-current output of discrete MOSFETs with Class D efficiency plus the processing power of an Analog Devices 50MHz DSP. The amplifier's 2U rackmount size (rack ears included) seamlessly integrates into an equipment rack. Connections include RCA Inputs, dual subwoofer outputs (800 watts for a single sub, 400 watts X2 for dual subs), a 3.5mm trigger and a USB port to connect a SVS SoundPath Wireless Audio Adapter (sold separately).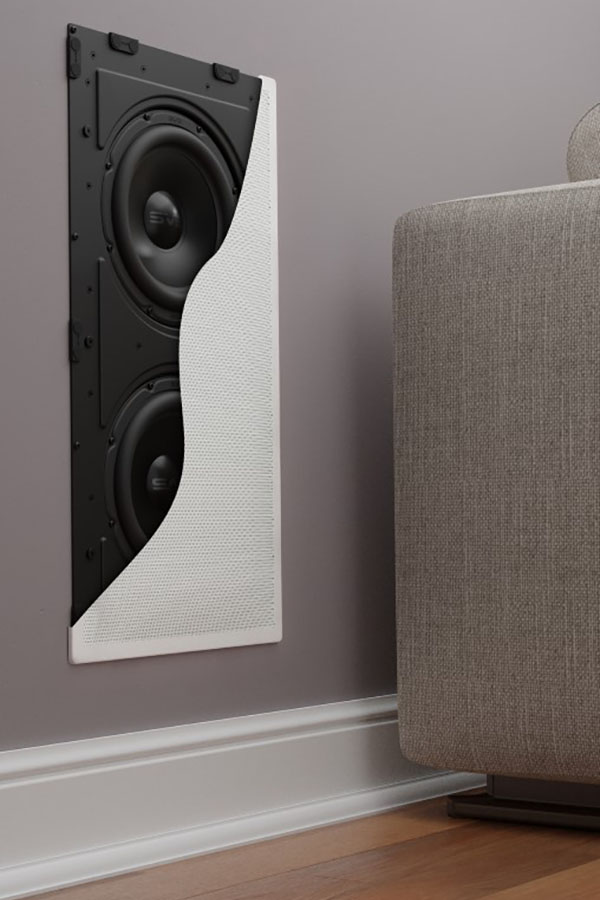 The Sledge STA-800D2C amplifier's DSP sports advanced control features including variable crossover, phase, and room gain compensation, empowering end-users to tailor the subwoofer's performance to their room's distinct acoustic characteristics. Most importantly, it incorporates the SVS Subwoofer Control Smartphone App, which connects via Bluetooth to provide access to the aforementioned controls and a three-band parametric EQ. This allows for precise adjustments to boost or cut, Q-factor, and frequency control down to the single Hz level, ensuring optimal audio performance.
Delivery and Installation
The SVS in-wall subwoofer and amplifier arrived in a single, convenient 45-pound package via UPS, which contained the amplifier, in-wall subwoofer, and rackmount ears. A separate shipment delivered a pre-construction kit, which was unnecessary for my situation since the installation took place in a finished room.
I decided to install the subwoofer in my den, which features a 15-year-old Vizio 50" plasma TV, Denon 2313CI AVR, Oppo BDP-103 Blu-ray player, and TiVo Bolt. To complement the in-wall subwoofer, I decided to upgrade my speaker system with RSL W25E in-wall speakers for the front and surround left/right channels, along with a timbre-matched RSL CG25 center channel speaker.
Although my original plan was to use W25E speakers throughout the room, a rogue stud obstructed the center channel location, prompting me to choose a conventional speaker placed on a shelf above the TV instead of undertaking a time-consuming construction project.
Installing an in-wall subwoofer is a relatively straightforward process that requires some basic tools and knowledge of home construction, but be warned, this isn't for the faint at heart. First, when placing a non-in-wall subwoofer in a room, you have a bevy of placement options and if you decide that position B works better than position A, it's easy enough to move from one place to another. The same can't be said for an in-wall sub—once you've picked your position, it's there to stay unless you want to do some drywall patching and repair.
Selecting a suitable location involves several guidelines. First, test the subwoofer outside the wall to gauge its performance in that spot. Although the sound may change slightly upon installation, this step provides a good performance baseline. Second, measure the available space to ensure the subwoofer fits both in depth and height.
With standard 2x4 constructed walls, every inch of depth is crucial, so check for obstructions like hidden electrical wires. Third, if applicable, secure spouse approval. In my case, my spouse vetoed two locations due to visibility concerns, so we settled on an inconspicuous corner that also provided excellent acoustics.
Once you have determined the spot, place the subwoofer template on the wall so that you can mark the opening. Cut the opening using a drywall saw or jigsaw, preferably with a helper operating a shop vac to minimize dust. Next, run speaker wire from the amplifier to the subwoofer, drilling through studs if necessary. In my case, the six-foot distance required drilling through multiple studs. While my experience with home theater installations made this process manageable, hiring a professional installer is recommended for those less comfortable with DIY projects.
Setup and Use
Once installed in the wall, setup is just like any other subwoofer. Locate the RCA subwoofer output on the back of your AVR and run a cable to the input on the back of the amp. Then connect he speaker wires that you've run from the in-wall subwoofer to the STA-800D2C Amplifier. Power on the unit, and use the AVR's test tones to ensure all speakers are working before running an Audyssey calibration.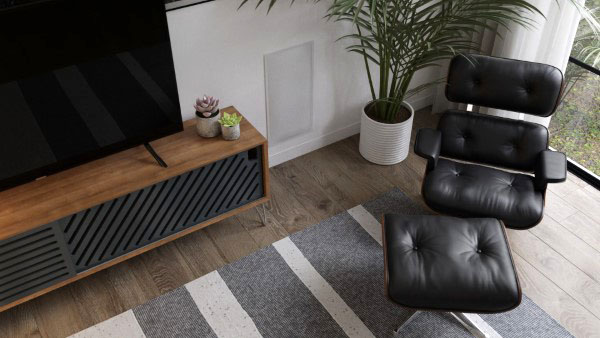 Once the six-point calibration was finished, I broke out a UMIK-2 measurement mic and REW (Room EQ Wizard) software to verify the results. Immediately I could see that the in-room response of the sub improved versus my 1-foot measurements. Instead of rolling off at around 30 Hz, the installed sub didn't start its rolloff until 22 Hz, matching the specs provided by SVS.
It's refreshing to see that the engineering and marketing teams are on the same page when it comes to specified output. Sadly that isn't the case throughout the industry. Audyssey effectively flattened the frequency response from 22-100Hz, significantly improving bass performance in the 40-60Hz range. This room is begging for acoustic treatments, but I'm not sure I can convince "she who must not be crossed" that they are necessary.
With setup out of the way, it was time to start sampling some demo material and attune my ears to the system. The first disc I inserted was my DVD copy of The Eagles "Hell Freezes Over" concert from 1994 which brought the band back together after a 14 year "vacation." The live performance was filmed at Warner Brothers Studios in Burbank, CA for an MTV special and features a fantastic DTS 5.1 mix. The concert's first song, "Hotel California," has an extended opening with an acoustic guitar and percussion that I love to use to see how precise and fast the bass response is on subwoofers. Sure enough, the 3000 In-wall passed with flying colors. Quick, clean and precise sums up the experience.
I tested various FLAC audio tracks from my local server to evaluate the subwoofer's performance across genres. "Brass Monkey" by The Beastie Boys sounded great but elicited complaints from my wife that it was rattling her dishes in the next room—she wasn't a fan but I found it quite impressive that dual 9-inch woofers could elicit a tactile response within my home.
The dual subs' speed was also remarkable, as demonstrated by the quick, non-lingering bass kick in Regina Spektor's Fidelity," where the bass kick in the song didn't linger at all—unlike inferior subs. This sub reminded me of the performance of the SVS SB-3000, one of the best subs I've ever reviewed at any price.
Impressed with its music performance on music, it was time to load up some bass-intensive Blu-rays to see if the new SVS in-wall could live up to the company's heritage. Sonic the Hedgehog, featuring a stunning Dolby Atmos soundtrack (TrueHD 7.1 core), showcased the sub's ease in handling LFE-heavy scenes like Robonick's big rig appearance and the climactic San Francisco battle which features plenty of explosions with acoustic energy below 20 Hz. While the sub rolls off at 22 Hz, it features enough output below this level to give it a heft and presence much bigger than I expected.
Godzilla vs. Kong isn't high-brow entertainment, but it's another demo disc that always leaves the crowd with smiles on their faces thanks to a dynamic Dolby Atmos soundtrack (TrueHD 7.1 core). One of the best scenes in the film is when Kong is being transported across the ocean and Godzilla decides to attack the floating armada.
Batten down the hatches and prepare for a plethora of low frequency effects that will threaten to break lesser subwoofers. I made sure Mrs. Reviewer was out of the house for this test to spare her wrath, but I pushed the 3000—and my ears—to the limits playing this scene at reference level.
In all honesty, I really thought I would damage the sub by playing this scene at such an insane volume. But I'm happy to report that both of us survived. In fact, the sub impressed me with its ability to dig deep. While the majority of the bass occurs in the 30-40 Hz range, there are segments that dip below 20 Hz, such as when the depth charges are fired and Kong resurfaces after breaking from Godzilla's grasp. While my reference subs provide a more tactile experience that one can feel in their chest, the 3000 In-Wall holds its own and conveys the violence and brutality of the scene without missing a beat.
Conclusion
Yes, there are subs out there that will dig deeper and play with more authority, but they are larger than a mini-fridge and don't have the aesthetic appeal that the 3000 In-Wall provides. Going into this review, I knew I was fully committed since I was cutting a giant hole in the wall, but I'm enthusiastically impressed by its performance.
The SVS caters to those seeking top-tier bass without the need for a bulky form factor. Sure, it won't liquify your bowels by dipping into the single digit bass realm, but from 20 Hz on up, it can hang with the big boxes and impress even one of the most demanding bass-o-holics on the planet—me.
Test Bench
Peak output was measured using a UMIK-2 along with REW. Amp volume was turned to max and all measurements were taken with the UMIK-2 facing down 90 degrees at exactly 1 foot from the center of the woofer placed in the middle of my room to minimize the room effect on the measurements. Volume level from my pre/pro was increased in 10 dB increments until distortion occurred while playing a 10-300 Hz sine wave. From there, the volume was dropped in 1 dB increments until distortion was no longer present.
Peak output was 107.9 dB at 53 Hz, which is quite impressive for an in-wall solution. As expected, roll-off below 30 Hz is rather steep due to limited depth of the cabinet and dual 9-inch woofers.
Specs
• Dual 9-inch front-firing active drivers
• 800 watts RMS; 2500 Watts Peak
• Sealed Design
• Programmable DSP with app
• Stereo RCA input and outputs
• 12.017" x 3.73" x 25" (W x D x H)
• 25.5 lbs. (including amplifier)