OSD Black Trevoce 12 EQ DSP Subwoofer Review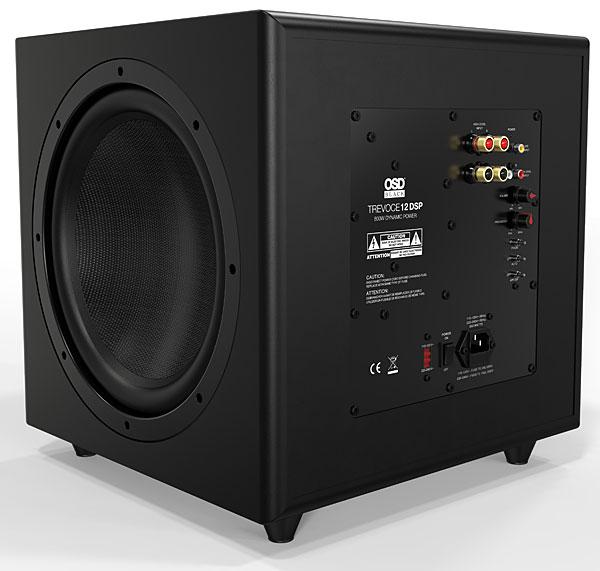 PRICE
$600
AT A GLANCE
Plus
Deep bass from a compact design
DSP and app control
Minus
Control app not user-friendly
Unreliable Auto On/Off function
No wireless connection option
THE VERDICT
OSD Audio's powerhouse Trevoce 12 delivers deep bass from a compact cube. And with onboard DSP and app-based control, users can tune the sub's output for best performance in their listening space.
OSD Audio is a maker of many audio-related things, its extensive product line covering most bases for custom residential and commercial installations. But the company also has a fair number of consumer offerings, including a sizeable range of subwoofers. Last year I reviewed its Nero TubeBass 10, a cylinder-shaped model that provided a decent wallop of bass given its compact size and $179 price. Now, for this review I'm stepping up to the Trevoce 12 EQ DSP, a flagship subwoofer from the company's swanky Black Series that still tops out at a reasonable $600. (OSD Audio also plans to launch a 15-inch model in the near future with a $799 price.)
The Trevoce 12 EQ DSP combines a 12-inch front-facing active driver with a pair of 12-inch side-facing passive radiators. (Other models are available with 10- and 8-inch driver/passive radiator configurations.) OSD Audio specs "power handling" at 800 watts and frequency response as extending down to 18Hz +/-3dB. Impressive, but the main attraction of Trevoce models is the built- in DSP, which can be controlled using the third-party iWoofer iOS/Android app (free for the base version and $10 for
a Pro one that adds auto room EQ and other features like an SPL meter).
According to OSD Audio, as of July 2021 the Trevoce 12 ships with a native DSP EQ curve that's responsible for extending bass to below 20Hz. (An earlier version of the sub delivered around 6dB higher SPL but had reduced low-frequency extension.) A notable feature of DSP/app control on Trevoce series subs is the ability to shape frequency response using 25-band parametric equalization, a process that can be carried out via your own golden ears or, even better, some type of speaker measurement software.
OSD Audio's sub is a 15-inch cube with gently rounded edges and a black "synthetic-leather" finish. Substantial rubber cone feet isolate the Trevoce 12 from vibration, and its front-facing active driver is covered by a removable black mesh grille. The sub's side-mounted passive radiators are exposed, with the pattern on the woven glass fiber surface lending it a high-tech look.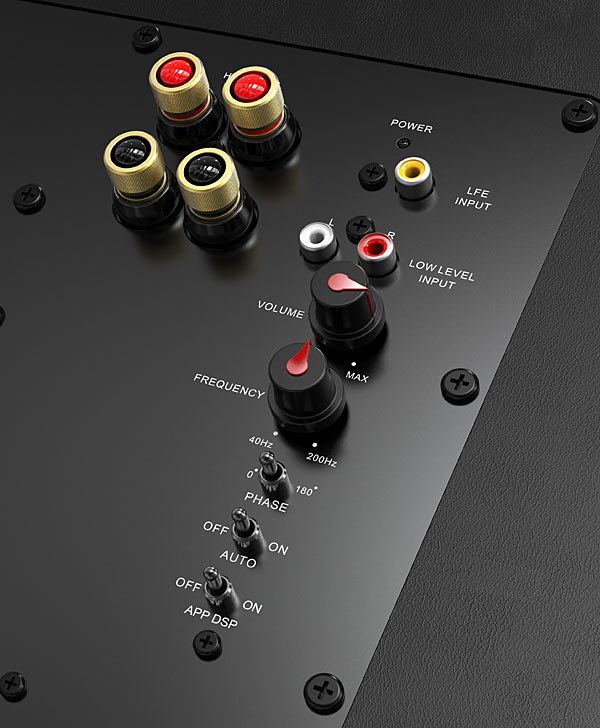 Connections on the Trevoce 12's rear-panel include speaker-level inputs and outputs, a stereo RCA low-level input, and an RCA LFE input. There are continuous dial adjustments for volume and crossover frequency (40Hz-200Hz), and a 0-180 degrees phase switch. Additional switches are used to enable the sub's DSP control when using the iWoofer app for adjustments and to set the power mode (Auto, On, Off). While it's nice to have that last option offered, I noted that the subwoofer remained On in Auto mode even when there was no signal being sent to it, with the power LED indicator remaining permanently blue. (The same LED was also very bright and a bit distracting in the dark.)
Setup
I listened to the Trevoce 12 in two separate systems. The first was in the front left corner of my 16 x 9 x 20-foot (W x H x D) living/music room paired with GoldenEar Technology BRX bookshelf speakers. Next, I moved it to my 12 x 9 x 16-foot home theater room to serve as the .1-channel in a 5.1.2 Atmos configuration using Polk Audio Reserve speakers driven by a Marantz SR6014 A/V receiver, with the sub positioned along the front wall between the right front tower and center channel speaker. Both disc playback and Roon were used for music sources in both systems (via an Oppo UDP-203 player).
While it was good to have a set of physical adjustments on the Trevoce 12 itself, most listeners are likely to use the iWoofer app to dial in settings, as I did. After connecting via Bluetooth, the app shows a UUID identifier for the device that you can then rename (Trevoce-12-1, Trevoce-12-2, etc.). You are also prompted to import the sub's current DSP settings—basically, the positions of the Trevoce 12's hardware dials and switches. From here, things get less user-friendly, though OSD Audio's manual does a decent job explaining the app's various options.