JL Audio Fathom f110v2 Subwoofer Review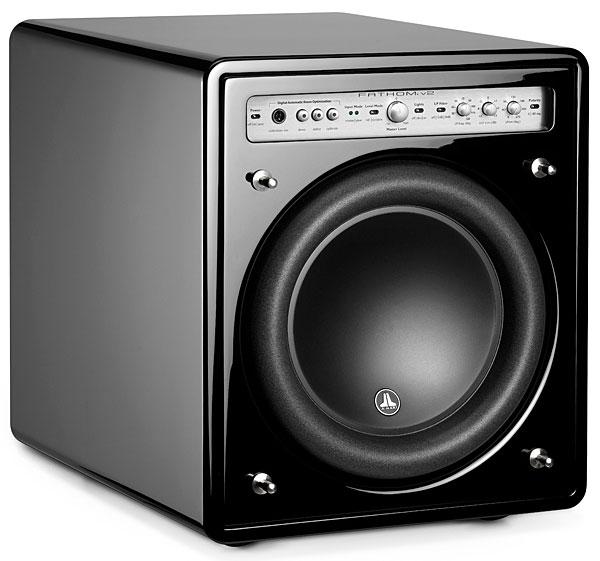 PRICE
$3,500
AT A GLANCE
Plus
Powerful output for a compact model
Onboard Digital Automatic Room Optimization
Dual-sub setup option
Minus
Lacks below-20Hz extension
Gloss black finish attracts dust
THE VERDICT
The f110v2 lacks the output and extension of a larger sub, but packs quite a punch given its modest size.
According to Merriam-Webster, a fathom is a unit of length equal to six feet that's used to measure the depth of water. But for JL Audio, Fathom is a family of subwoofers that dig deep into the lower depths of the audio spectrum. The company, which has been around north of forty years, was started by Jim Birch and Lucio Proni, who started building loudspeakers during their summer break back in the 1970s and never stopped. I had the pleasure of reviewing a pair of JL Audio's entry level Dominion d110 subwoofers a few years back and loved their performance. The company's Fathom line of subwoofers are considered in home theater and hi-fi circles to be some of the best, though, so I could hardly wait to put a Fathom f110v2 through its paces when the company offered to send a pair.
The Fathom line consists of the f110v2 (10-inch driver), f112v2 (12-inch driver), f113v2 (13-inch driver), and F212v2 (dual 12-inch drivers). With an MSRP of $3,500, the Fathom f110v2 is the most expensive subwoofer I've ever reviewed. As one would expect from something in this price class, build quality is second to none. It sports a flawless gloss-black paint job and tips the scales at 69 pounds—definitely not a light- weight by any measure. While some may balk at the f110v2's price tag, it's a model that caters to a high-end audience seeking powerful bass in a highly compact package. Heck, by JL Audio standards, the Fathom f110v2 is a relative bargain compared with the company's super-premium Gotham v2 subwoofer, which checks in at $16,500.
The Fathom f110v2 arrives double-boxed to protect it from the rigors of ground shipping. There are instructions on the box for unpacking—a common thing with subwoofers these days. You open up the top—or, in this case, the top of two boxes—and then slip the boxes over after lifting them off the sub. This makes it easy on your back and keeps all of the packaging intact in case you ever need to ship it again.
Along with the Fathom f110v2, the box contents consist of a power cord, a calibration mic, an extremely well-written user manual in English and Spanish, and white gloves that I recommend wearing when setting the sub up in your room since its gloss black paint finish reveals every fingerprint. Yes, that gloss black looks absolutely beautiful, but it's also a major dust magnet—be prepared to dust regularly to maintain a factory fresh look.
As I stated above, the Fathom f110v2 weighs 69 pounds, so maneuvering it around the room is quite a workout. Its compact 12.9 x 15.6 x 17.3-inch (WxHxD) sealed enclosure is constructed of CNC-cut MDF material with extensive internal bracing. The driver, which is sourced from JL Audio's W7 design platform, boasts extensive peak-to-peak excursion capabilities and is powered by a 1,100-watt switching amplifier that employs patented feedback technology. JL Audio's stated frequency response (Anechoic) for the Fathom f110v2 is 27-111Hz.
One expects a few bells and whistles at this subwoofer price tier and JL Audio doesn't disappoint. The f110v2 employs a powerful Digital Automatic Room Optimization (D.A.R.O.) system that deploys eighteen bands of digital equalization to tame room acoustics. Furthermore, you can link two f110v2's together using a balanced XLR cable and set one as the master and the second as an extension. When doing this, the master takes control of all functions—including the room correction software—and all the controls on the extension sub are disabled.