M&K Sound X15+ THX Dominus Certified Subwoofer Review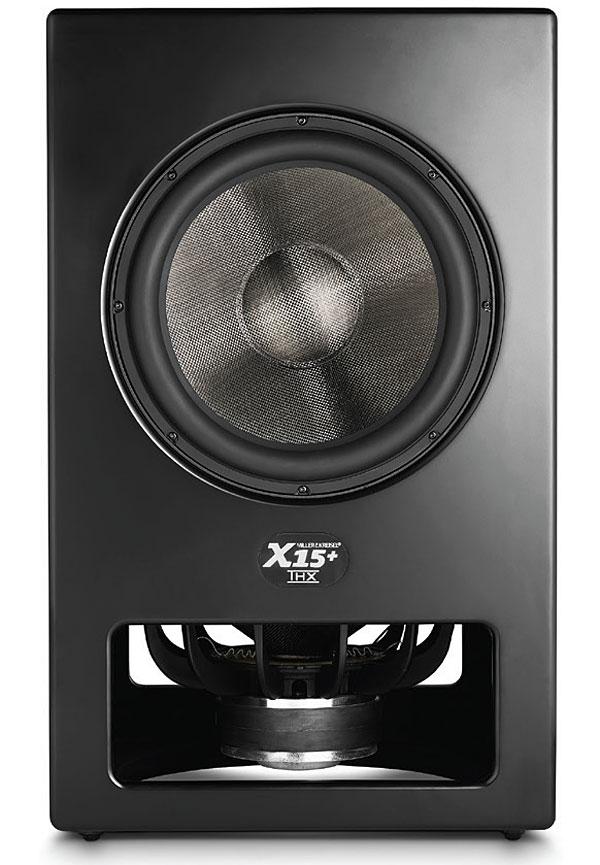 PRICE
$5,999
AT A GLANCE
Plus
Deep bass response with extremely high output
Impeccable build quality
THX Dominus Certification
Minus
No built-in parametric EQ or room correction
No control app or handset
THE VERDICT
The performance of M&K Sound's THX Dominus Certified X15+ is over the top. Highly recommended if you demand bass that can go extremely deep and loud even in the largest of rooms.
Let me state from the outset that I'm a fan of M&K Sound speakers. I have owned an M&K S-150 surround system for the past 18-plus years and have zero desire to change it out anytime soon. The first time I auditioned it in a Magnolia Hi-Fi store back in 2002 made me an instant admirer of the brand, and it took me two years of saving up to be able to afford a full 7.1 speaker package. I fully bought into M&K's—and THX's—principle that using a subwoofer/satellite configuration to separate and optimize the reproduction of low frequencies improves midrange purity and accuracy. Also, that filtering deep bass from the main speakers lets you achieve louder playback with less distortion while simultaneously expending less amplifier power. Another benefit to sub/sat systems: you can arrange your main speakers to optimize their performance, while the subwoofer (or multiple subs) can be separately positioned to maximize bass output.
Several years ago, I reviewed M&K Sound's X12 subwoofer and was impressed enough to award it a Top Pick designation. I really wanted to keep that sub permanently in my system, but had two kids attending college at the time and new A/V gear wasn't in the family budget. When I heard the company's latest generation flagship sub, the X15+, was headed my way for a review, I started to wonder: Would the upgrade bug strike again?
While the X12 used dual 12-inch woofers, M&K Sound has upped the ante with the X15+, which features dual 15-inch woofers and is the company's first sub to achieve THX Dominus Certification, a new designation meant to provide THX reference levels in a 6,500 cubic foot room. Unsurprisingly given its capabilities, the X15+ comes at a steep $5,999 price. If this is too much subwoofer (and budget) for your room, there are two smaller models available, the X12+ ($4,999) and X10+ ($4,499), both of which are THX Ultra Certified (achieves reference level in rooms up to 3,000 cubic feet).
Features
The X15+ is the result of a ground-up re-design from M&K Sound's engineers and employs a new custom driver, class-D amplifier, and sealed enclosure, all of which work together to deliver controlled and extended bass. One thing the company hasn't changed is Ken Kreisel's original push-pull driver configuration, a concept that made its debut in 1988 with the MX-1000 subwoofer. While it has been refined over the years, the basic idea remains the same: a front-firing woofer coupled with a bottom-mounted driver. To briefly summarize, this design allows for a smaller cabinet volume while providing more powerful bass with less distortion. Additionally, it eliminates harmonic distortion and doubles sound power per watt of amplifier power to achieve 6dB extra output.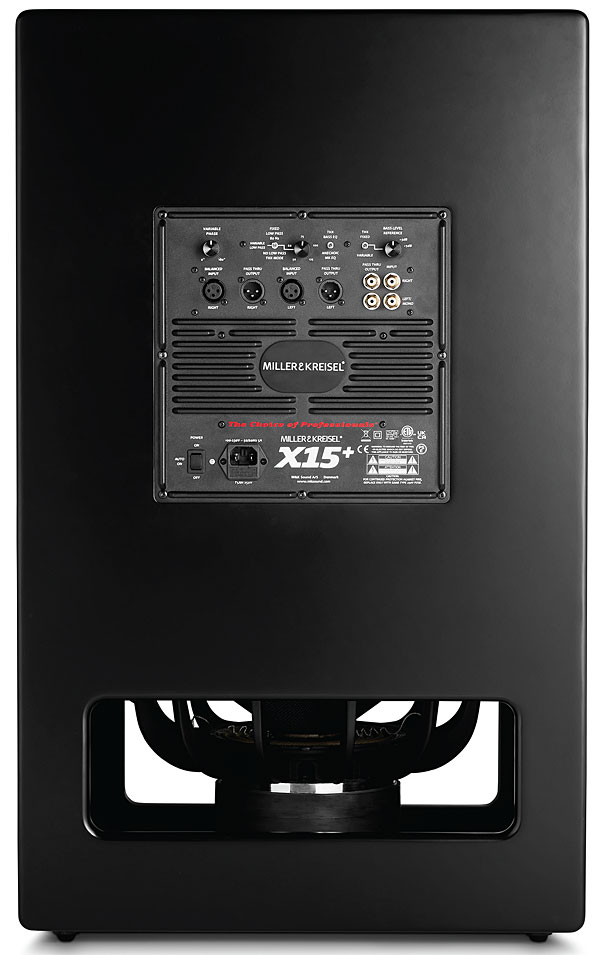 The new drivers in the X15+ feature larger and longer voice coils plus new cones, dust caps, surrounds, spiders, and cast aluminum woofer frames. The woofer cones and dust caps have been upgraded to a carbon-fiber design coupled with a foam inner layer that, according to M&K Sound, ensures consistent performance to keep up with the new subwoofer design's additional power and increased excursion.
With 1-inch MDF construction and bracing, M&K Sound's satin black cabinet is built like a tank. While my wife would disagree, I think this is one of the nicest-looking subwoofers I've auditioned, and the design of the main driver is so appealing that I was happy to leave the magnetically attached speaker grille off.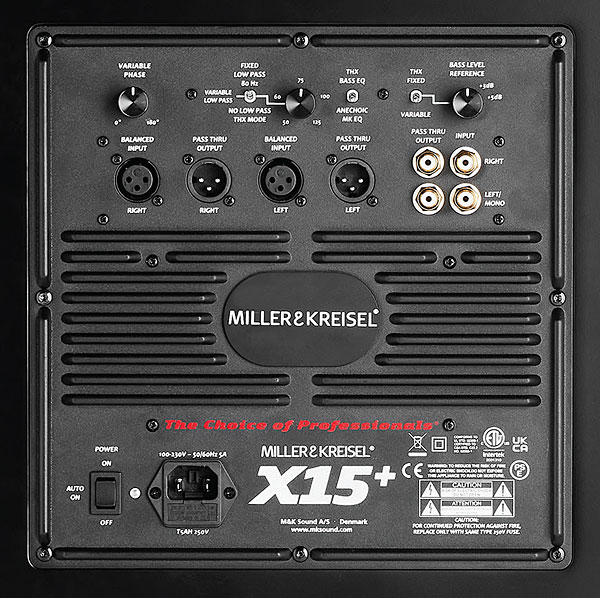 The amplifier is an ICEpower class-D digital switching version rated for 700 watts RMS and 1,400 watts peak. While there are subwoofers out there with more power, the efficiency of the sub's push-pull design makes any spec comparisons moot.
The X15+ omits a key feature found on several recent high-end subs: onboard room correction. M&K Sound's philosophy is two-fold in this regard. First, they believe their subwoofers will interact well with any listening space as long as they are placed and adjusted properly using the basic onboard controls. Second, nearly every A/V receiver and preamp/processor these days already has built-in room correction processing, and the company believes that room correction needs to be applied across the entire frequency range and not just at the subwoofer level to be fully effective.