Bluesound Pulse Sub+ Subwoofer Review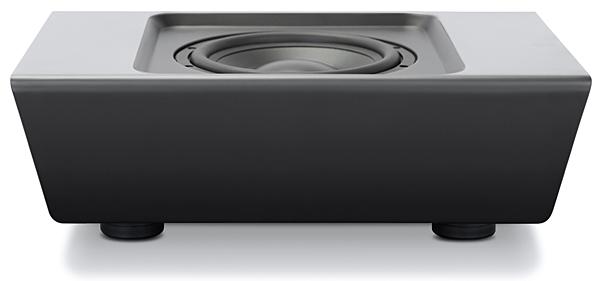 PRICE
$749 (Black Matte or White)
AT A GLANCE
Plus
Impressive kick from a slim, elegant cabinet
Refined sound
Extensive control via smartphone app
Minus
No remote control
No auto-calibration/room EQ feature
THE VERDICT
Designed to work with or without Bluesound's Pulse soundbar, the new Pulse Sub+ is a bigger and better take on the company's original Pulse subwoofer.
What's the one thing lacking in even the best soundbar? If you said "deep, realistic, room-filling, floor-pounding bass," then you are absolutely correct. Bluesound is known for its wireless multiroom audio components and speakers, a family that includes the Pulse soundbar. Bluesound's original Pulse Sub subwoofer, created to pair with the company's Pulse soundbar, was a welcome addition. But the new, re-engineered Pulse Sub+ delivers more power and a larger driver, plus even more sophisticated features to extend low-frequency response with greater impact and accuracy.
Bluesound's Pulse Sub+ ($749) is available in either black or white. The slim, trapezoid-shaped cabinet is designed to be mounted in a variety of ways. It's slim enough to slide under a sofa or end table, and in that configuration four bottom-mounted rubber feet allow the 8-inch driver to fire upward. When positioned vertically as a side-firing sub, an additional set of rubber feet can be magnetically attached for floor placement, or you can use Bluesound's included metal bracket for a wall-mount.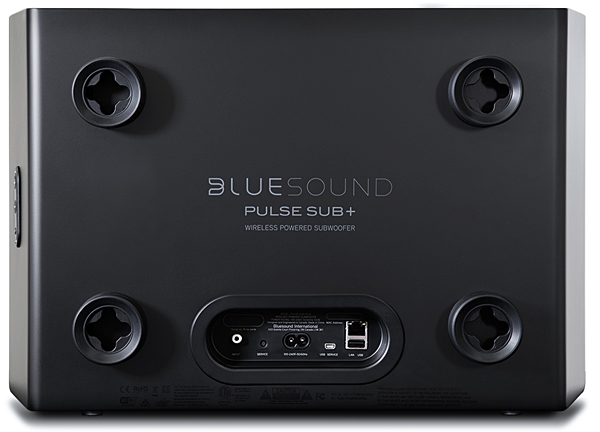 A 150-watt Smart Amplifier with DSP powers the 8-inch driver inside the Pulse Sub+, which has a rated low-frequency response of 22 Hz. The sub's side panel has a colored LED ring that indicates pairing status and power, and inside the ring are buttons to control volume and other functions. It also has USB ports for firmware updates and a LAN port for a wired Ethernet connection.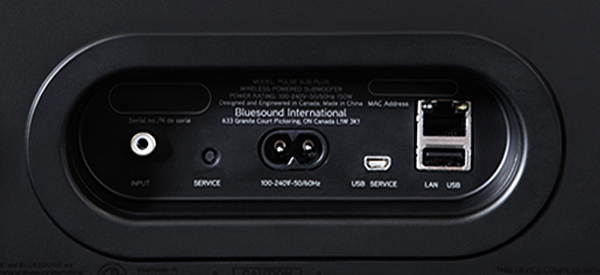 While the Pulse Sub+ was designed to pair wirelessly with the Pulse Soundbar or other Bluesound products such as the company's Powernode 2i streaming amplifier, its line-level input permits a hardwired connection with non-Bluesound components like an A/V receiver. That said, a key advantage of staying in the Bluesound ecosystem is getting to use the company's BluOS Controller tablet/smartphone app for setup and control.
Setup
Getting started with the Pulse Sub+ promised to be pretty straightforward: Just plug the subwoofer in and it would automatically pair with the Pulse soundbar that the company also sent me to use for this review. But after initially pairing the two, I noticed that the Pulse Sub+ wasn't playing, even though the app and the LEDs on the subwoofer indicated they were paired. I unplugged it and powered up again, and it automatically connected and played.
Since both Bluesound's sub and soundbar ship without a hardware remote, all functions are controlled and configured via the BluOS Controller app. Phase, delay, and crossover frequency are easily displayed and adjusted, along with subwoofer volume control. Even the LED indicator brightness can be adjusted.
Performance
Love it or hate it, Wonder Woman 1984 is a fabulous test for a subwoofer. The opening Amazon Olympics is a sonic feast, from the driving drums and pounding bass in Hans Zimmer's score to the thundering hooves of the horses in the stadium, and the Pulse Sub+ handled it superbly when I watched the movie. Although I could control many of the sub's features using the app, proper room placement is always essential. The slim cabinet of the Pulse Sub+ allowed for placement alongside a speaker in a corner of my room that is normally too narrow to accommodate a sub. Once positioned, I had to reduce the subwoofer level just a bit to tone down the intensity of the LFE on scenes like the battering ram sweeping over young Diana's head in Wonder Woman 1984. Setting the crossover frequency to 90 Hz also helped to maximize performance while limiting sound localization.
Digging deep into my playlist, I queued up one of my favorite subwoofer music test tracks, Frankie Goes to Hollywood's "Welcome to the Pleasuredome." The Pulse Sub+ deftly handled the relentless deep bass, 1980s synth patches, and exaggerated kick drum, keeping each sound element distinct and well-defined. I'd imagine some listeners might prefer a more powerful setup, but I found that the Bluesound sub's 150-watt amplifier and 8-inch driver provided substantial amounts of bass, and its DSP kept the sound precise and controlled. And the Pulse Sub+ passed my ultimate test: After I finished writing my review, I closed my laptop and jumped around my playlist, enjoying the extended and refined bass that the sub added to the Pulse soundbar's sound.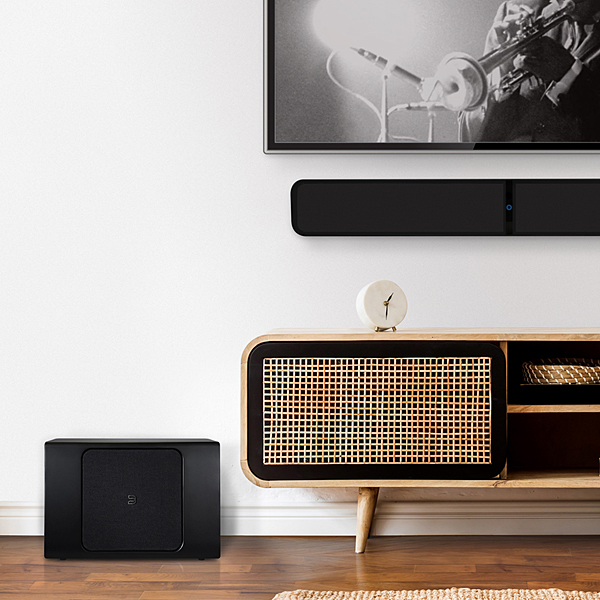 Conclusion
Some of the best soundbars offer good bass response, but they rarely have what I would call "impactful" bass. Having spent lots of time watching movies at home of late, I've come to fully appreciate the contribution that deep bass makes to movie sound, and the Bluesound Pulse Sub+ definitely brought me closer to a realistic theater experience when paired with Pulse soundbar. Who knows when we'll be able to comfortably go back to the movies, but with the Pulse Sub+ in your system, you might not mind viewing them from home.