RSL Speakers Speedwoofer 10S Subwoofer Review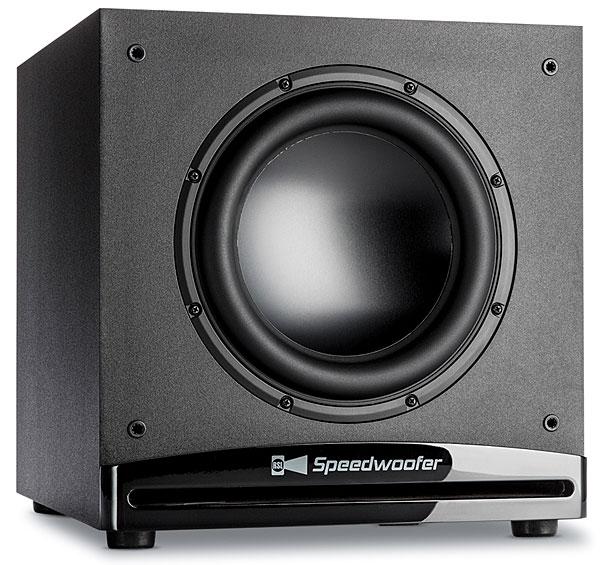 PRICE
$399
AT A GLANCE
Plus
Exemplary value
Clean, punchy bass
Optional wireless transmitter works like a charm
Minus
Doesn't go quite as deep as the big boys
THE VERDICT
When I heard I was going to review a budget $399 subwoofer, I dreaded the month I'd miss my reference subs. I couldn't have been more wrong!
There are two things that I really love in life. The first is the entrepreneurial spirit that grows within someone and inspires them to take a chance with an idea, create a company, and do their best to make it succeed. The second is great bass. As longtime readers know, I'm a bass-oholic—and if my wife would let me, I'd have four (or more) subwoofers in my media room, because there's no such thing as too much bass!
My reference subs are a 15-inch Hsu Research VTF-15H MK2 ($899), located closest to the listening position along my right wall, and a 12-inch SVS PC-Ultra ($1,199 in 2004), sitting in my front left corner. This is quite a combination, and it's rare that any sub can match the price/performance ratio that these offer by themselves, let alone together.
When editor-in-chief Rob Sabin asked if I was interested in reviewing a budget entry from RSL Speakers, I begrudgingly agreed, thinking I'd go a month with tepid bass in order to give this wannabe a chance at the subwoofer title. Although we planned to listen to and evaluate a single 10-inch sub on its own, we realized that it might be challenged filling my nearly 5,000-cubic-foot room. RSL obliged and sent two Speedwoofer 10S subs, to see if they could gang up and best one of the big boys in my room. At $798 total, the pair still comes in cheaper than either of my reference subs alone.
A Blast from the Past
RSL's founder, Howard Rodgers, has quite an audio résumé. He started building speakers when I was still in diapers in 1970 and sold factory-direct from his store in North Hollywood, California. When a producer from Warner Bros. Records came in for a demo, he was so impressed by what he heard that he bought a pair of speakers—and the next thing you know, word of mouth spread like the flu in a nursery school, and RSL Speakers (under their original brand name of Rogersound Labs) could be found in record companies throughout Southern California.
By 1979, RSL had three locations, had ventured into car audio, and had bought a building in Canoga Park for their headquarters; times were really good. Unfortunately, the recession of the early '80s hit, but Rodgers persevered by expanding his wares to include an outdoor speaker, which helped him survive a dark time in the American economy. By 1984, the Reagan economy was on fire and RSL was adding video components, as a new industry debuted in America: home theater.
Rodgers continued to develop speakers during this time and came up with a patented Compression Guide speaker box design, an innovative way to solve some of the detrimental issues associated with speaker cabinets. RSL eventually grew to eight stores and had become one of the most popular A/V specialty chains in Southern California when Rodgers decided to sell the company and retire in 1989. Unfortunately, within three years, RSL had gone belly-up under the new ownership, and Rodgers ultimately bought back the company name because, well, you never know what can happen.
Fast-forward a few years, and Rodgers was back in the game with the new RSL Speakers after his oldest son convinced him to relaunch the company. In 2011, the company released the first Speedwoofer 10 subwoofer, which used a 375-watt Class A/B amp. The finish was piano gloss black to match the company's bookshelf/satellite speakers, and it had a remote box that could control the crossover and volume of the sub, all of which resulted in a $750 price tag—pretty expensive for a modestly sized sub.
Under the Hood
Here we are in 2016, and a new generation of Speedwoofer is on the market, dubbed the 10S. The Class A/B amplifier has been replaced with a Class D, still providing 375 watts. Inside the 15 x 16 x 16.75-inch cabinet is a forward-firing, 10-inch cast-aluminum-frame high-excursion woofer, along with the company's Compression Guide tuning technology. This technology seeks to mitigate the distortion caused by cabinet resonance—that's found to a greater or lesser degree in all box speakers—by guiding rear sound waves through calculated areas of expansion and compression. The internal baffles required for this also serve to brace the cabinet, which can further reduce cabinet resonance. Less cabinet resonance is supposed to mean better sound. But does RSL's method work as advertised? We'll see.