CEDIA 2023 Preview: Dolby Aims to Elevate TV Sound with New FlexConnect Technology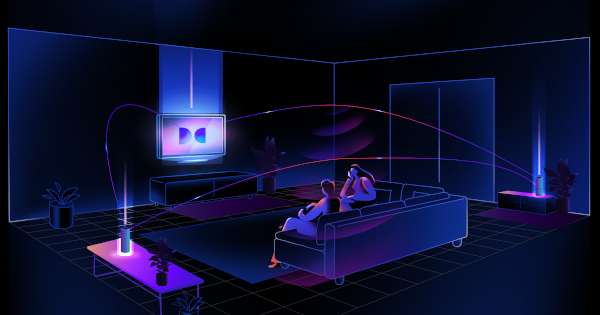 Dolby Labs today announced a new technology that will make it easy for owners of Atmos-enabled TVs to create a heightened audio experience by "seamlessly pairing" one or more wireless speakers to the set's onboard sound system without having to worry where the speakers are located.
Dubbed Dolby Atmos FlexConnect, the system is described as fast and simple to set up and uses acoustic mapping and microphones built into the TV to calibrate and "intelligently optimize the sound for any room layout and speaker setup," according to Dolby. The system is said to balance the sound based on the capabilities and location of all available speakers and enables the audio image to be adjusted for optimal performance.
The FlexConnect feature will make its debut in TCL's 2024 TV lineup along with a TCL brand line of accessory wireless speakers designed for the application, but Dolby expects other TV companies to adopt the technology.
"Consumers shouldn't have to move their furniture to experience better audio, but rather audio should adapt to them," said Dolby senior vice president John Couling. "Dolby Atmos FlexConnect is an entirely new category of experience that offers consumers the freedom and flexibility to choose how they want to arrange their devices while still getting a great immersive Dolby Atmos experience."
Dolby says the technology is also "easily adaptable when more device types are added, which will allow TCL and other manufacturers to innovate with how they bring together different device combinations and form factors to meet the needs of their consumers."
Dolby is formally introducing the FlexConnect technology at the IFA consumer electronics show in Berlin.