Best Gear of 2023 (So Far)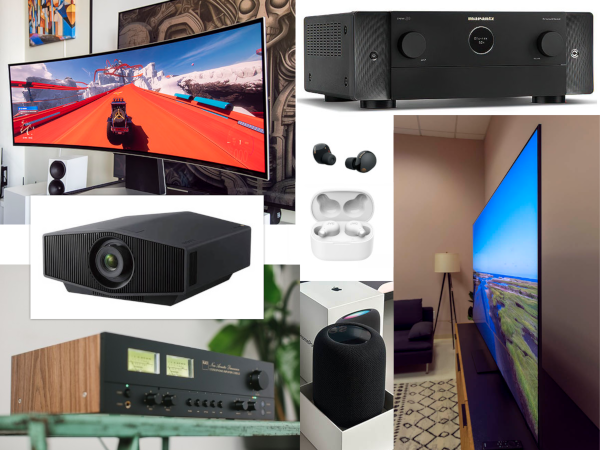 With the summer in full swing and Labor Day a mere month away, it's the perfect time to take stock of
Sound & Vision
's Top Picks for 2023. Whether you're in the market for a TV or projector, a streaming device or speaker, or a full-on home theater speaker system, we've got you covered with multiple recommendations. Or maybe you're looking for a good set of wireless earbuds to get you through the Dog Days of Summer. Whatever it is, we can pretty much guarantee that at least one of the 30 award-winning products we've cataloged here will strike your fancy. And if something grabs your attention, don't forget to check for discounts.
4K TVs
TCL 65" 6-Series mini-LED QLED 4K Roku TV: $999
China's TCL is making remarkable strides in the ever-competitive TV market with an expansive range of budget models in screen sizes ranging from 32 inches all the way up to 98 inches. Though the 65-inch 6-Series R655 Roku model we reviewed falls at the higher end of the brand's price spectrum, it's a decided 5-star bargain in the relatively new world of LCD TVs that use mini-LED backlighting to bolster picture brightness and contrast. It's also a visually striking TV that supports Dolby Vision and HDR10+ high dynamic range (HDR) in addition to offering a near-reference quality Movie picture mode, voice control through the Roku app and remote, and home-screen access to Netflix, Hulu, Amazon Prime Video, Disney+, and other services, including The Roku Channel with its wealth of free content. Also on tap is a handy Game mode that automatically unlocks superpowers not otherwise available — from 4:4:4 chroma to 144 Hz support to VRR (variable refresh rate) and ALLM (auto low latency mode).
Reviewer Mark Henninger was so impressed with the R655 — particularly its natural color, HDR presentation, and gaming prowess — that he gave Performance a 4½ star (out of 5) rating: "This TV will absolutely wow you with its picture quality," which translates into a "particularly crisp and punchy image as long as you are seated centered to the screen." The caveat, of course, is the image doesn't look as impressive to viewers seated off to the side — a compromise many will be willing to accept given the attractive price/performance ratio. Even so, there was no mistaking the "visual feast" of detail, color, and action conveyed in the 4K HDR stream of Avatar: The Way of Water. The bottom line: A thousand bucks gets you a "peak bang-for-the-buck" TV packed with the latest video formats and technologies, presented in an easy-to-use Roku interface.
AT A GLANCE
Plus
Very bright
Deep blacks
Excellent contrast
Wide color gamut
Minus
Limited viewing angles

Full Review Here (posted 4/6/23)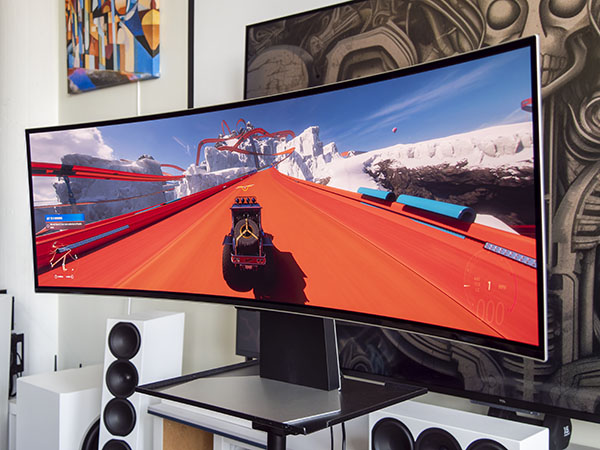 Samsung 49" Odyssey OLED G9 Ultra-Wide Gaming Monitor: $2,200
Samsung's sleek G95SC is a first-of-its-kind technological marvel that will leave you drooling — especially if you're a serious gamer. The monitor boasts an expansive 32:9-aspect-ratio QD-OLED screen that stretches 4 feet across with dual QHD (5,120 x 1,440) resolution and a super-fast 240-Hz refresh rate for displaying some of the most fluid and ultra-detail graphics you will see. The use of
quantum dots
— the "QD" in QD-OLED — takes OLED's already killer picture quality to new heights with increased brightness and even more natural color, while the gentle "1800R" curvature of the screen enhances immersion without being too extreme.
The G9 is remarkably accurate out of the box and draws on Samsung's powerful Neo Quantum Processor Pro to optimize video quality in near real time for an outstanding picture with a lightning fast 0.03 millisecond response time (in 240-Hz mode). The monitor also features high dynamic range (HDR) that leverages OLED's "infinite" contrast and a wide color gamut covering the DCI/P3 space. Adding to the appeal of the G9 is streaming support for cloud gaming via the Samsung Gaming Hub, app-based access to Netflix and other popular streaming services, a programmable smart remote, and a robust stand that is super easy to adjust.
To give the G9 a thorough workout, S&V editor Mark Henninger used a fiber-optic HDMI cable to connect it to a 12-core PC equipped with an Nvidia GeForce RTX 3080 Ti graphics card and was immediately struck by an image he described as hyper detailed and three dimensional. "Graphics possess unparalleled contrast, color, and sharpness [with] no perceptible color shift or loss of contrast when viewed off-axis," and latency is non-existent when the monitor is running in 240-Hz mode. The G9 delivers "all the elements needed for great gaming: color, contrast, resolution, aspect ratio, low input lag, viewing angles, and high frame rate." If you're looking to step up to an ultimate gaming experience with a display that offers the added potential of supercharged photo/video productivity, the Samsung G95SC will get you there.
AT A GLANCE
Plus
State-of-the-art graphics
Great for gaming and productivity
Statement-making design
Packed with smart features
Factory calibrated
Minus
Pricey
Needs a powerful PC for gaming
Full Review Here (posted 6/26/23)
LG 65" G3 OLED Evo 4K TV: $3,299
LG's svelte Gallery Edition series of 4K OLED TVs just keeps getting better. Building on the success of last year's impressive
G2
, which uses an aluminum heat sink to increase brightness by drawing heat away from the display panel, the G3 goes a step further with the addition of a micro lens array (in conjunction with LG's excellent Alpha 9 processor) to reach new levels of peak brightness by better focusing light from the millions of pixels that make up the image. The difference is immediately noticeable, resulting in the brightest OLED we've tested to date and all but removing criticisms around limitations in brightness. Add to that lifelike color, impressive contrast, superb detail and you have a topnotch OLED TV.
The G3 supports Dolby Vision high dynamic range (HDR) and is equipped with dynamic tone mapping that effectively converts HDR10's static metadata into dynamic metadata to minimize clipping while retaining as much image detail as possible. The set also provides useful Filmmaker and Cinema picture modes, controls for fine tuning color, brightness, and contrast, and a dizzying selection of setup options. Though we can't guarantee your experience will be the same as ours, the out-of-box performance of the set LG delivered for this review was so close to ideal that active calibration offered no visible improvements. Drawing on a broad range of movies, from the ornate Victorian-era environments in Topsy-Turvy to the vivid animation of Trolls World Tour, veteran TV reviewer Tom Norton was never disappointed: "Regardless of genre, the LG G3 sets a high bar for its competition."
AT A GLANCE
Plus
Stunning brightness
Excellent color
Outstanding blacks
Minus
Cluttered WebOS
Little else
Full Review Here (posted 5/17/23)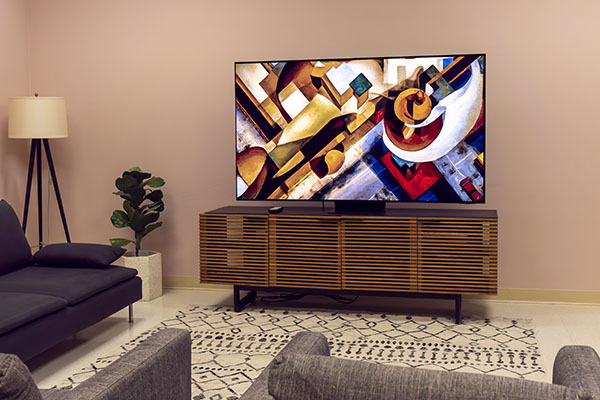 Samsung 77" S95C QD-OLED 4K TV: $4,500
The 77-inch S95C is an exciting follow-up to last year's
S95B, which was the world's first OLED TV to use microscopic quantum dots to improve OLED's already insanely good picture quality, hence the designation QD-OLED. The S95C takes performance to the next level, delivering reference-level color accuracy with remarkable brightness and contrast to an enormous screen with a viewing angle that's nice and wide. The TV is rated to exceed 1,300 nits of peak brightness with high dynamic range (HDR), meaning it can accurately render HDR content mastered at 1,000 nits without having to rely on tone mapping.

As with other Samsung premium TVs, the S95C draws on the brand's Quantum Neural Processor to handle upscaling, noise reduction, motion processing, and HDR tone mapping but it also boasts a revamped menu system that now includes a Smart Hub, which centralizes access to helpful settings and options, and a separate Game Hub. But the refinements don't stop there. The set boasts a Filmmaker mode that all but transforms the TV into a mastering display with exceptionally rich and accurate color that is vibrant but not exaggerated. You also get a killer Game mode built to support hyperfast gaming with refresh rates up to 144 Hz, VRR (variable refresh rate), and extremely low input lag (less than 5 milliseconds at 144 Hz). Make no mistake about it, this is one well-rounded TV.

When put to the test using pristine 4K video footage and test clips from the Spears & Munsil Ultra HD Benchmark disc, the picture was nearly perfect right out of the box with a rare "micro-contrast" ability to render fine textures and sharp lines with a level of clarity that enhances dimension and realism. Simply put, the S95C is one of the finest TVs ever produced.

AT A GLANCE
Plus
Impeccable HDR
Outstanding contrast
Wide viewing angle
Highly accurate
Minus
No Dolby Vision
Pricey for a 77-inch TV

Full Review Here (posted 3/20/23)



Video Projectors
Epson LS800 4K Ultra-Short-Throw Projector: $3,500

The ultra-short-throw (UST) category of video projection has only been around for a few years but is taking off like a rocket. Case in point: Epson's LS800, a substantial update of the LS500 that impressed us in 2020. The LS800 is easy to set up and bright enough to thrive in normal living spaces with windows and ambient light. It uses a three-chip RGB LCD instead of the single-chip DLP used in other UST projectors, making it immune to the "rainbow effect," and can project images as big as 150 inches (diagonal) when placed only a few inches from the wall, thanks to its reconfigured optics. The imager is 1080p but uses proven pixel shifting technology to increase perceived resolution to 4K, and convincingly so.

Mark Henninger tested the LS800 with a $3,000 SilverFlex Ultra 120-inch ambient-light rejecting (ALR) screen designed for UST applications, and noted its ability to improve contrast in "almost all viewing conditions" with the caveat that you will want a dedicated ALR screen if watching TV during the day is a priority. "You would not watch Game of Thrones or a Star Wars movie under those [bright] conditions, but typical TV shows like a sitcom, news, or live sports look totally fine." Sports, in particular, really shine on the LS800.

Overall color looks great out of the box and is very close to what you would get with professional calibration, especially in the Natural, Cinema, and Game modes. The LS800 also boasts extremely low input latency (under 20 milliseconds at 4K 60 Hz) making it ideal for gaming. Calling it a match made in heaven, Henninger marveled at the realism on a PC running 1080p at 120 Hz. "These experiences still look highly detailed with truly incredible smooth motion, and there was a connected, responsive, real-time feel to the play that's especially gratifying for simulations." The Epson LS800 is one of the best UST projectors we've seen to date.

AT A GLANCE
Plus
Sits close to wall
Very bright
Low input lag
No rainbow effect
Accurate colors
Minus
Limited color gamut
Can't be calibrated
No HDMI 2.1
2-way pixel shift
No 3D

Full Review Here (posted 1/13/23)



Sony VPL-XW5000ES 4K HDR Laser Projector: $6,000

The VPL-XW5000ES is a follow-up to the VPL-VW325ES we reviewed last year. Upgrades are significant and include better video processing, higher brightness, and a much longer light source lifespan thanks to a laser rated for 20,000 hours, more than three times the traditional bulb used in the VW325ES. The projector trades a motorized lens for one requiring manual setup, a necessary concession to hit the price point, but deploys the same three-chip SXRD LCoS imagers and "X1 Ultimate for Projector" processor found in Sony models costing two to five times as much.

Mark Henninger paired the Sony with a 140-inch screen with a 1.0 gain and was not disappointed by what he saw in a darkened room. Setup is straightforward and your efforts are rewarded with exceptional color accuracy that mitigates the need for professional calibration. The projector's motion handling is likewise outstanding and Sony provides a handful of useful picture modes, including two Cinema settings and IMAX Enhanced. The 5000ES is particularly well suited for gaming with an incredibly smooth frame rate, low lag (11 milliseconds) and support for 1080p at 120 Hz. As reviewer Mark Henninger put it, "Gameplay feels incredibly responsive, and I definitely gain a competitive advantage from the low lag." The bottom line: Combining a laser light source with the X1 Ultimate processor gives the XW5000ES an edge over its competitors.

AT A GLANCE
Plus
Native 4K
Accurate color
Laser light source
2,000 ANSI lumens brightness
Powerful image processor (X1 Ultimate for Projector)
Minus
Manual lens adjustment
Lens could be sharper
Does not cover DCI/P3 gamut
Lacks HDMI 2.1

Full Review Here (posted 2/21/23)