LG 65G2PUA OLED Ultra HDTV Review
PRICE
$3,000
AT A GLANCE
Plus
Full P3 color
Inky blacks
High brightness
Minus
Cluttered WebOS
eARC usability inconsistent
THE VERDICT
With its upgraded evo technology and new heat sink, the G2 Gallery Edition punches through the brightness limitations associated with OLED displays while retaining the vivid color, stunning blacks, and off-center viewing that have long been the prime appeals of OLED.
LG's new G2 OLED evo Gallery Edition is the replacement for last year's G1 and the flagship offering in LG's 2022 OLED lineup—excluding the $100,000 OLED R(ollable) model, which sits in a class all by itself. Like the G1, the G2 is designed to hug the wall and features a Gallery mode that, if selected, can display a revolving range of still images and artwork when it's not being used as a television. The set ships with only a slim wall-mount bracket but LG offers a conventional tabletop stand for $100 and, if you want a full-on Louvre vibe, an easel-like Gallery Stand for an extra $350.
The G2 series is currently available in four screen sizes: 55, 65, 77, and 83 inches. A 97-inch model was shown at the 2022 CES in January, but LG has yet to announce pricing or availability. According to the spec sheet for the 65-inch model we tested, G2s sold in the U.S. market are made in Mexico, but the sample LG shipped to us said Made in Korea on its rear panel.
Features
The "evo" technology introduced in some of LG's 2021 models has been further refined for 2022. While both the C2 and G2 series claim enhanced brightness over LG's 2021's OLEDs, only the G2 adds an aluminum heat sink to the back of the display panel, which increases the set's thickness to an inch. The sink draws heat away from the panel and, when combined with LG's newest intelligent processor (the tongue-twisting alpha9 Gen5 AI Processor 4K), enables it to be driven to higher brightness without the risk of permanent burn-in with stationary images. (The usual caution against leaving bright, fixed images on screen for extended periods of time, however, is still solid advice with any OLED TV.) Our measurements (and eyes) confirmed the claim of increased peak brightness over any previous LG OLEDs we've tested (see Test Bench).
In addition to using heat mitigation to lower the risk of burn-in, the G2's Support menu provides a "Logo Luminance Adjustment" to minimize temporary image retention by reducing the brightness of objects that remain stationary in otherwise moving images, such as scoreboards in sports and video games. The effect is relatively subtle.
The G2 is equipped with a "NextGen" TV tuner for receiving ATSC 3.0 over-the-air broadcasts, including those in 4K (where available), and has four HDMI inputs, all specified as HDMI 2.1 with one also spec'd for eARC (enhanced Audio Return Channel) functionality. There's also an optical output that can pass lossy multichannel Dolby Digital audio (but not DTS) from the TV to an AV receiver or soundbar. An eARC connection can do the same for Dolby Digital and DTS (including Dolby Atmos if it's in the source). I used an Oppo Ultra HD Blu-ray player, connected directly to the LG via HDMI, and made a separate HDMI connection between the LG and a Denon AVR-X6700H receiver's eARC-enabled HDMI port. LG suggested the additional step of setting the Digital Sound Output to Auto or PCM in the TV's Advanced Settings menu, which I did, but the Oppo never sent more than two discrete channels of audio back to the Denon. I did, however, get full surround using the G2's own built-in apps, including Netflix.
The G2 supports the HDR10, Dolby Vision, and HLG (Hybrid Log Gamma) high dynamic range (HDR) formats and provides a user-selectable Dynamic Tone Mapping control to improve the performance of HDR10-based content. HDR sources are mastered with a range of peak white levels (don't ask…it's a long story). If a display can't handle the peak white levels in a given HDR source, those peaks will be clipped, resulting in a potential loss of detail in bright scenes. To address this reality, all HDR content is mastered with metadata that gives the display the information it needs to minimize this clipping—a process called "tone mapping."
In the case of HDR10, which is the most common of all the HDR formats, the metadata is static—it stays the same throughout the program—which leads to inevitable compromises in how HDR is rendered on screen. To improve HDR performance, the Dolby Vison and HDR10+ formats (the latter of which is not supported by LG) are mastered with dynamic metadata that changes constantly in response to the program material, allowing HDR highlights to be tone mapped to the display's capabilities frame by frame.
LG's Dynamic Tone Mapping control effectively converts HDR10's static metadata into dynamic metadata. When you switch it on, the TV's alpha9 processor continuously analyzes the program and does this conversion on the fly to minimize clipping and retain bright image detail that might otherwise be lost. When I turned Dynamic Tone Mapping on while HDR10 content was playing, the improvement was dramatic, particularly on sources with peak white levels above 1000 nits—just a shade higher than the G2's own maximum peak output. Of course, the Dynamic Tone Mapping feature isn't available with Dolby Vision content because the metadata is already dynamic.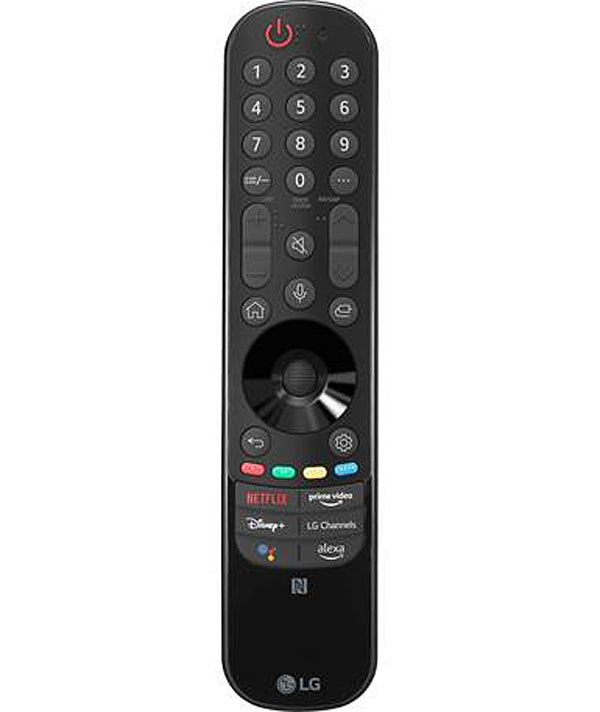 LG also provides a picture setting called AI Picture Pro, which is said to employ a "vast database of visual data points" and use a deep learning algorithm to recognize content, remove noise, and optimize picture quality. There's also a new Scene Detection feature that analyzes the type of scene being shown to "improve the picture accordingly." Similar AI Sound Pro features are available for the set's audio. In both cases, these automated routines are performed by LG's alpha9 processor and can be turned on or off in the AI Service menu. Interestingly, the menu notes that the AI features will not function with copyrighted program material (which means most of the sources you're likely to be watching).
I found the G2's audio more than respectable. It also offers a Dolby Atmos option in the Advance Setting's Audio menu. No, you can't achieve a full Atmos experience when all of channels originate from loudspeakers squeezed in to the TV's chassis, but the Atmos mode was effective in freeing music and atmospheric sounds from the box and moving them out into the room a bit. The effect was never jaw-dropping but on the right material it added ambient frosting to the audio experience.
Even though I'm not a gamer, I'm well aware of LG's reputation as a company that aims to please the gaming community. In addition to its four HDMI 2.1 ports, the G2 is G-Sync compatible and offers game-centric features such as FreeSync Premium, VRR (Variable Refresh Rate), and ALLM (Auto Low Latency Mode). A Game Optimizer also puts all of your game controls and settings in one place for quick reference. Using the 1080p Bodnar meter I measured input lags of 79.9ms in Filmmaker mode and 19.7ms in Game mode. The latter is higher than the best we've seen on other displays, including last year's G1, which had a measured input lag of 12.4ms.