Hisense 65H8G Quantum LCD Ultra HDTV Review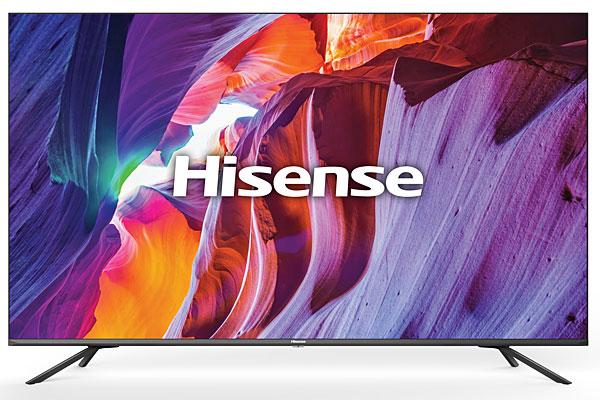 PRICE
$800
AT A GLANCE
Plus
Effective local dimming
Precise HDR tracking
Low price
Minus
Poor off-center viewing
Minor banding artifacts
THE VERDICT
The Hisense 65H8G proves that even budget TVs now offer features enabling a high level of performance that was previously the domain of much pricier sets.
Hisense has joined the ranks of LCD TV makers using quantum dots, a technology that enables sets to more closely approach the wider color gamut promised by Ultra HDTV. (Quantum dots generate red and green light when energized by a blue LED, with the sum total providing the backlighting that LCD TVs require.) Along with the 65-inch 65H8G reviewed here, Hisense's H8G series also includes a 75-inch model, the largest flat-panel the company offers. For larger screen sizes, the company offers a range of ultra short throw laser projectors.
Features
Hisense is based in China, and the 65H8G is assembled in Mexico. The set's design is conventional, with only a thin black edge of frame barely visible around the screen. For table installations, the 65H8G provides two pair of mounting positions for the attached feet: one at the usual width near the screen's edges, and the other slightly closer together to accommodate a range of setup options.
The 65H8G is compatible with the Dolby Vision, HDR10, and HLG high dynamic range formats. Hisense also says the set supports HDR10+ via an HDMI input, but not from its built-in Amazon Prime Video app (Amazon is one of the few streaming services to offer programs with HDR10+). When displaying an HDR10 video source, the set employs its own internal Hi-View Engine processor as needed to optimize tone mapping for the set's peak brightness capability.
While a selectable Dolby Atmos audio feature is provided on the 65H8G, there's no evidence that any audio is directed upward by the set to produce the signature Atmos feature: overhead, object-based sound effects. But apart from the set's speakers being audibly overloaded by deep bass in my large room, overall sound was quite listenable and worked best with the Atmos feature turned off.
All four of the set's HDMI 2.0 inputs can accept and display sources at up to 4K/60Hz in either HDR or SDR. HDMI input 1 is ARC-capable. Other connections include a composite-video input with stereo audio, an optical digital audio output, a mini-jack headphone output, an RF antenna input, two USB ports (one 3.0, the other 2.0), and a LAN (Ethernet) port.
The 65H8G's Android-driven Smart TV features includes a number of preloaded apps for wireless streaming, including YouTube, Netflix, Amazon, and Vudu. You can download others from an extensive list with popular sites such as Disney+ and Hulu through an Apps menu. I restricted my streaming to YouTube and Netflix, with picture quality ranging from adequate to superb depending on the source material. Along with apps, the set's Android smart TV features include playback of your own music, photos, and videos.
Hisense makes no claims for special gaming features on the 65H8G such as Variable Refresh Rate (VRR), but it does offer a Game picture mode. With this active, I recorded a 10.5ms lag time using the 1080p Leo Bodnar input lag measuring device—a very good result. Measured in Theater Dark mode, however, input lag was 71.1ms.
The set's remote control isn't backlit. I initially managed to hit the wrong buttons in the dark, but as with most remotes, familiarity reduced that annoyance over time.
Setup
The 65H8G comes with only a rudimentary Quick Setup Guide. There's no on-screen user manual, though one is available on the Hisense website. Unfortunately, some instructions offered there were inadequate for the user having no past experience with the specific feature being researched. In particular, there was no useful guidance on the set's included Alexa and Google Assistant capabilities.
Picture controls include a Color Tuner (Hisense's name for its color management system, or CMS), both 2- and 20-step White Balance adjustments, and a multi-position gamma control. On most sets, the "gamma" for HDR is fixed and can't be changed by the user since HDR gamma (more correctly called the EOTF, or Electro-Optical Transfer Function) by design must follow a specific curve (PQ, or Perceptual Quantization—try to keep up with the acronyms!). But the 65H8G's gamma control is adjustable for both SDR and HDR10, though not for Dolby Vision. There's also an unusual Gamma Calibration control that can adjust the gamma up or down at 5% brightness intervals and is separately adjustable for HDR and SDR. My advice: leave the H8G's "Gamma" control at its default setting of 2.2 and avoid using either of these adjustments for HDR.
I selected the 65H8G's Theater Dark picture mode for all of my standard dynamic range (SDR) calibrations and viewing, and HDR Theater for high dynamic range (HDR10). Of the three Dolby Vision options—Dolby Vision Dark, Dolby Vision Bright, and Dolby Vision Custom—I used Dolby Vision Bright.
A Dynamic Contrast control is available to enhance the contrast between light and dark areas of the picture depending on the characteristics of each scene. Although the Low setting did offer a subtle enhancement with some material, I left this control off most of the time.
According to Hisense, 90 zones are used for the set's full array local dimming feature. Four settings are available, including Off, but I used the default High setting exclusively. Related adjustments include Backlight control, Automatic Light Sensor, and Minimum Backlight settings. Hisense claims an effective refresh rate of 240Hz, but its native rate is 60Hz. (Processing must be used to simulate 240Hz, which is typically done by modulating the backlighting.)
Some of the 65H8G's Motion Enhancement features proved more effective and resulted in less soap-opera-like images than others. A separate Motion Clearness control inserts black frames between the actual video frames, a process that can reduce motion blur with fewer side effects than the typical frame interpolation techniques. But as is usually the case, the addition of dark frames here produced a dramatic loss of brightness. With all motion compensation controls left off, I saw a trace of judder on film material, mainly on horizontal pans across vertical objects such as fences, but it was never obvious enough to be an issue.
To Calibrate or Not to Calibrate
That is the question. In SDR mode, the 65H8G's Low Color Temperature setting showed both a visible and measurable red shift. The Low-Mid setting, which edged a bit toward blue but was no more accurate, will likely please more viewers who don't pop for a professional video calibration. (People are more tolerant of excessive blue than excessive red in an image, which is why makers of TVs—and laundry detergent!—have long relied on excess blue to grab a viewer's eyeballs.)
Whether or not an aftermarket calibration, which is typically priced around $400, makes sense for an $800 TV is a personal matter. A calibrated 65H8G might well exceed the performance of an uncalibrated $1,200 set, but there are too many variables involved to say for certain.