Sony XR-65A80J OLED Ultra HDTV Review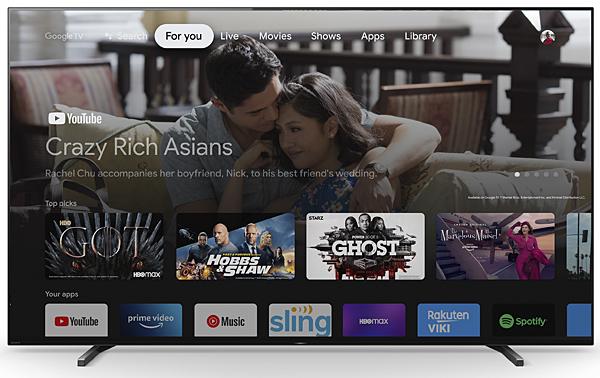 PRICE
$2,299
AT A GLANCE
Plus
Crisp resolution from Cognitive Processor XR
Ultra-wide viewing angle
Impressive shadow detail
Minus
Picture setup menu limitations
Minor black level issues with HDR
THE VERDICT
Sony's 65A80J delivers top-shelf video performance, HDMI 2.1 connectivity, along with many of the same features found in the company's flagship A90J OLED models at a significantly lower price.
Sony's new XR-65A80J OLED TV isn't a member of the company's Master Series—that designation belongs to its XR-A90J OLED models, which are spec'd to deliver higher brightness than the XR-A80J sets. And while we haven't yet tested those pricier Sony OLEDs, the XR-65A80J is far from being a second-class citizen.
The A80J's physical design is solid and well-executed. If you opt for a conventional installation instead of a wall-mount, its feet can be installed either 40 inches or 27.3 inches apart to accommodate a wide range of TV stands or cabinets, and they can also be slightly elevated to make space for a soundbar.
Sony's OLED supports the Dolby Vision, HDR10, and HLG high dynamic range formats, but not HDR10+. Two of its four HDMI inputs are version 2.0, which is sufficient for most current Ultra HD sources, and the other two are HDMI 2.1. One of the latter supports eARC, and both are compatible with the 120Hz output of next-gen gaming consoles and offer ALLM (Auto Low Latency Mode). But the A80J doesn't yet offer one other game-centric feature: VRR (Variable Refresh Rate). According to Sony, VRR will be added in a future firmware update.
The A80J includes the new Cognitive Processor XR, which provides a significant advance even over recent high-achieving Sony TV processors in handling all the set's important traffic-cop chores. These include motion handling, noise reduction, dynamic contrast enhancement, XR Contrast Booster, upscaling, HDR tone mapping, and more.
Cognitive Processor XR also adds a major new wrinkle: Instead of the same-old, same-old AI (Artificial Intelligence—so 2020 in Sony's world), it is said to reproduce the depth, texture, and vividness of the real world by analyzing hundreds of thousands of picture elements almost instantaneously, detecting the most important focal points in each frame and enhancing them in a manner that complements how our brains work.
Well, perhaps not how everyone's brain works. (To be honest, this sort of undefeatable processing makes me a bit uncomfortable.) But for those who may wonder if the result will somehow compromise what the movie director and/or transfer artist intended, Cognitive Processor XR's main intent is to match, as closely as possible, the quality of images displayed on Sony's BVM professional monitor, an industry standard in video post-production studios.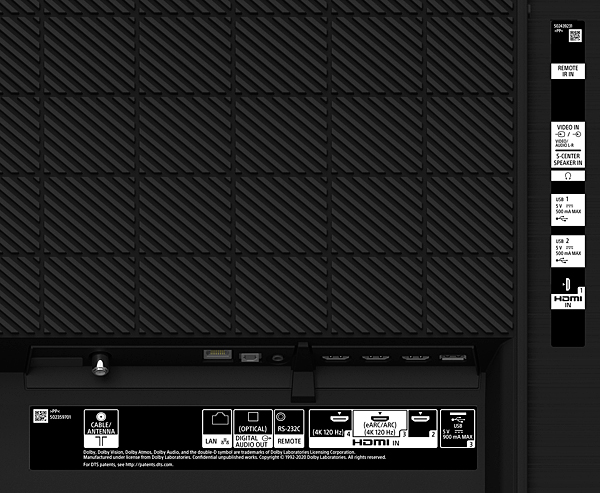 Sony uses Android TV as its Smart TV platform, though it's now been redubbed Google TV. The A80J can respond to voice commands via Hey Google and Amazon Alexa, and can also play back music, videos, and photos from your home network and wirelessly mirror material on your tablet, phone, or computer screen—features now nearly universal on most TVs. It further supports AirPlay 2 for streaming content from an Apple device.
Many of the Google TV features require you to sign up for a Google account, either on initial setup or later—something I prefer not to do. If you decline as well and then spend time surfing on YouTube (or presumably any other sites Google owns or influences), you'll receive frequent prompts (at least one every 30 minutes) to join the Google family. If you select "Not Now" (there is no "Not Ever" option) you'll still be allowed to continue as a guest, but the intermittent prompts will continue forever, or until you relent.
Setup
A maximum of eight Picture Modes are available on the A80J. I chose Cinema for most of my setup and viewing. Both 2- and 10-point white balance calibration controls are provided in the Adv. color temperature menu, though I found the 10-point controls to be ineffective. There are also full color management system adjustments located in the set's Per color menu.
Sony's Reality Creation processing has been around forever in various forms, but I've rarely used it in the past and didn't here. Motionflow offers several controls to reduce motion blur, but I'm sensitive to even a hint of the "soap opera" look, a typical side-effect of motion compensation that makes filmed images look like video. For those who aren't bothered by this, Motionflow is effective in reducing image blur, particularly in its Auto setting. Motion adjustments also include dark frame insertion, which is accessible through the Motion/Clearness control. This setting can reduce motion blur without adding the soap opera nonsense, but it sacrifices brightness in the process. A separate control, Cinemotion, functions only for 24p (film-based) sources.
While Sony appears to have revised its picture setup menus since last year, I still don't care for them. The ergonomic issues I encountered here won't necessarily bother all users, but the video perfectionist who might want to apply different settings for each input (and perhaps for each picture mode as well) will face a maze of limitations.
For example, the Brightness and Contrast controls can't be set separately for SDR and HDR in the same picture mode and source input—Sony apparently assumes users will stay with identical SDR and HDR default settings for both Brightness and Contrast. Since I preferred a Contrast setting of 70 for SDR and 95 for HDR10 (with Brightness at the default Maximum setting on both) I had to manually adjust Contrast every time I switched between viewing SDR and HDR sources.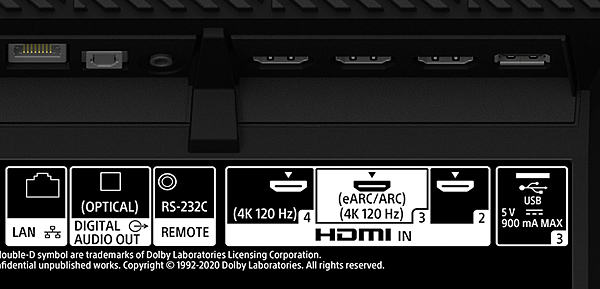 You also can't manually enter different user color settings for SDR and HDR for the same input and picture mode, but in this case you don't need to. Same as with other recent Sony Ultra HDTVs, once you've established and entered the color calibration settings for SDR, the A80J automatically readjusts those as needed for HDR (both HDR10 and Dolby Vision). However, settings for one input don't automatically carry over to other inputs, including programs streamed via the set's built-in Google TV platform. A "Copy all settings to other inputs" menu selection (which Sony doesn't offer) would go a long way toward rectifying this issue.
Fortunately, the A80J's out-of-box color was very good. But it's possible that the accuracy of our review sample's factory color adjustment was above-average. (Sony claims factory calibration consistency for the Master Series A90J OLEDs, but not the A80J models.)
Audio Performance
As with other recent Sony OLEDs, the A80J employs the company's Acoustic Surface technology using left and right audio actuators attached to the back of the screen. The vibration of the screen, together with a separate woofer built into the back of the set, produces sound. My impression was that the set's overall audio performance was well-balanced, and certainly better than what you'll get with most TVs or cheap soundbars.