Samsung QN65Q90T LCD Ultra HDTV Review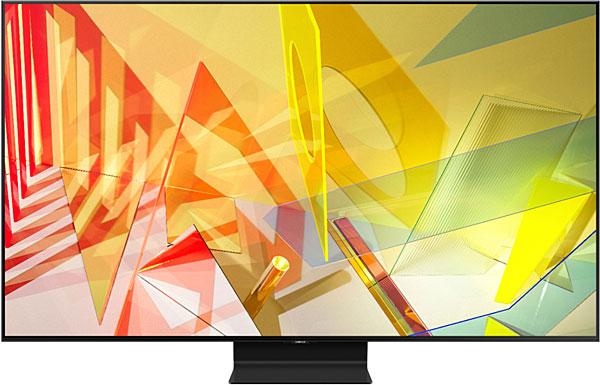 PRICE
$1,900
AT A GLANCE
Plus
High peak brightness for HDR
Wide viewing angle for an LCD TV
Extended color
Minus
No Dolby Vision support
Some visible "blooming"
THE VERDICT
Samsung's 65-inch Q90T series model offers impressive overall performance at a far lower price than the company's previous flagship 4K TVs.
While most buyers might view two grand as a high price to pay for a new TV, longtime readers here will recall the days when that amount would barely get you a small, flat-panel HD set with few features—and certainly not 4K with HDR. But intense competition in the TV world has resulted in bigger and more sophisticated displays at lower prices. Samsung's Q90T series, including the 65-inch model reviewed here, is actually derived from the company's 2019 Q80R series. That means a few refinements are missing in comparison with the 2019 Samsung Q90Rs, though the performance differences are unlikely to be visible to most buyers. What they will notice is the significantly lower prices for the Q90T series. For example, while the new QN65Q90T is priced at $1,900, the QN65Q90R model we reviewed last year retailed for $3,500!
Features
Samsung's 65Q90T uses a center-positioned stand that provides a bit less stability than designs that put separate feet at the far left and right of the screen, though it's a better fit for installations on tables that are less wide than the set. The stand also curves inward to easily accommodate most soundbars. Appearance-wise, the set itself is little different from most of its competition, though there's one significant update from last year's Q90R: Samsung's One-Connect box, a unique, brick-shaped external device that contains all of the input, output, and power connections, is now gone (at least in the U.S. market). However, the One-Connect was mainly useful for a wall-mount installation, where only a single, thin fiber-optic cable linked the box and the TV, and its removal helps keep the price down. The Q90T's connections are now found the usual place—the back of the set. (The One-Connect box continues to be bundled with Samsung's 8K TVs.)
Local dimming is the best method available to achieve respectable blacks and shadow detail on an LCD TV, and Samsung's local dimming has always been among the best. The 65Q90T's full-array backlight provides fewer local dimming zones than last year's Q90R. By my count that model had over 400 zones, but the Q90T makes do with 98 zones. The lower number here means less dimming precision and more visible blooming, particularly around bright objects against a dark background.
When I reviewed the Q90R, it was clear that Samsung had made significant advances in improving off-axis image quality. While that set was no longer on-hand for a side-by-side comparison, the Q90T's off-axis performance seemed nearly as good. As I stated in my Q90R review, the best seat in the house remains front and center, but even fussy viewers at the left and right seats of a couch are likely to have no complaints, and that remains true here.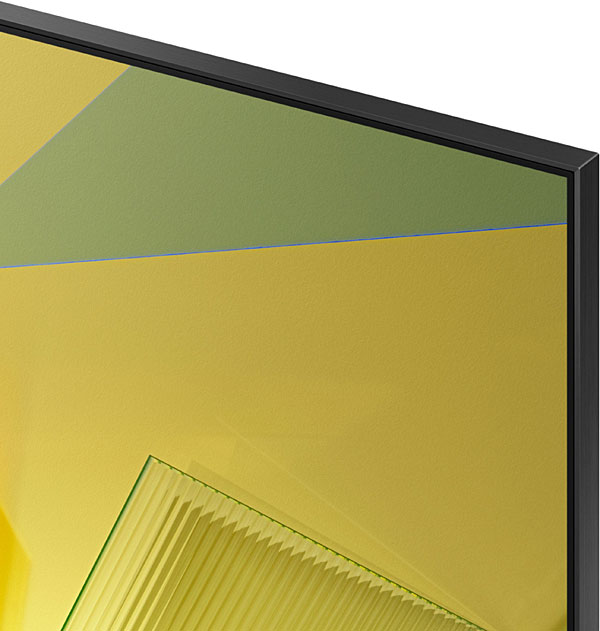 I'm not a big fan of Samsung's anti-reflective screen design. While it generally does dim reflections from in-room light sources, light that hits from certain angles gets spread out across the screen. As always, the best solution for this issue is a room setup that prevents screen reflections.
The "Q" in QLED stands for the Quantum Dots used in the Q90T's backlight, a technology that delivers a wide color gamut. No current consumer Ultra HD video sources exceed P3 color (a subset of the BT.2020 Ultra HD standard, which is 37 percent larger than P3). Our measurements indicated that the Q90T's P3 coverage was roughly 92 percent.
Samsung's Tizen Smart TV feature offers access to most popular streaming sites. I found it a little clunky and overly sensitive at first; on more than a few occasions an unintended, light touch on the otherwise good but not backlit remote control directed me somewhere I didn't want to go. AirPlay 2 streaming is supported, and the set's Ambient Mode+ can display a selected image onscreen, including a photo of the wall behind the TV to make the set (more or less) disappear. I was often accidentally transported there as well!
Samsung's own Bixby voice assistant is built into the Q90T, and it's also compatible with Amazon and Google voice control. The set's sound quality is good by TV standards. Its optical digital audio output can pass lossy 5.1 multichannel Dolby Digital to an outboard device such as a soundbar but is limited to 2.1 channel output with a DTS source.
While only one of the Q90T's four HDMI inputs is version 2.1, the other connections offer HDMI 2.1 features important to gamers, including VRR (Variable Refresh Rate) and ALLM (Auto Low Latency Mode). The set also has HDMI eARC (Enhanced Audio Return Channel) and supports sources with frame rates up to 120Hz. When I played an Ultra HD Blu-ray of Billy Lynn's Long Halftime Walk, a disc with a 60Hz frame rate, it was displayed on the Samsung with all of its features intact: 4K, 60Hz, HDR, and P3 (inside BT.2020), 4:2:2, 10-bit color.
The Q90T has a ton of additional features that would take many more pages to cover, though I can't imagine a need for most of them (such as making color images black and white!). The 65Q90T's full feature set is addressed in its onscreen e-manual, something I found challenging to navigate.
Setup
Samsung offers five preset picture modes: Dynamic, Standard, Natural, Movie, and Filmmaker. Of these, I used Movie exclusively. The Filmmaker mode doesn't offer any out-of-the-box advantage over Movie mode and is unique mainly in that its Picture Clarity settings (which control the set's motion compensation) are turned off. There's also a Game mode, but it's buried deep in the general menu and tedious to access (Settings>General>External Device Manager>Game Mode Settings>Game Mode).
Both 2-point and 20-point grayscale controls are provided in Movie mode (2-point only in Filmmaker), plus a full color management system (CMS) for the primary and secondary colors. Motion compensation is available under Picture Clarity, with separate Blur and Judder settings. An LED Clear Motion option (black frame insertion) can reduce the soap opera effect that's common with motion compensation, but it dims the picture significantly. I left Picture Clarity off.
The Q90T is compatible with three of the four current high dynamic range (HDR) formats: HDR10, HLG, and HDR10+. It doesn't offer Dolby Vision but instead uses its own proprietary processing to produce dynamic tone mapping on-the-fly from the static metadata in an HDR10 source (ditto on the static metadata used in Dolby Vision's base layer).