Odyssey Ark 55" 4K Neo QLED Gaming Monitor Review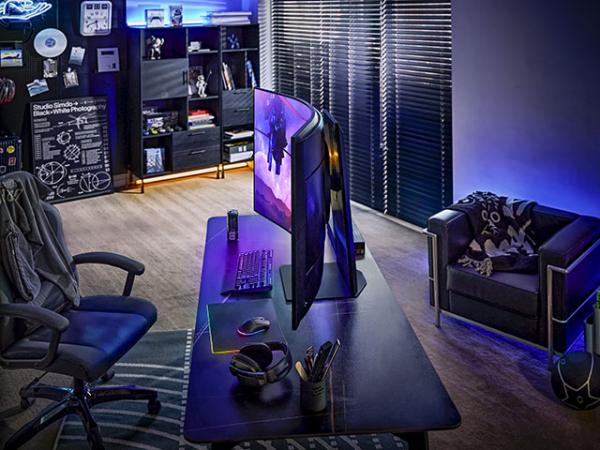 PRICE
$3500
AT A GLANCE
Plus
Peerless sense of immersion in video games
Like having your own private IMAX theater
One Connect box eliminates cable clutter
Matte screen coating eradicates reflections

Minus
Expensive for a 55" display
Might be too large or heavy to place on some desks
Need to sit in sweet spot for full visual benefit
Requires two people to assemble and to move
THE VERDICT
Samsung's over-the-top gaming monitor is beyond compare. It puts you in the action with a huge curved screen and pumps out some of the most jaw-dropping visuals I've seen, thanks to the optimal close-range viewing experience. It is the most badass gaming monitor I have ever used.
When it comes to 4K gaming displays, the Samsung Odyssey ARK monitor doesn't just push the envelope, it bursts right out of it. The massive 55" curved, rotatable screen is unique among displays of its type. If you enjoy total visual immersion, this outrageous gaming monitor offers next-level performance.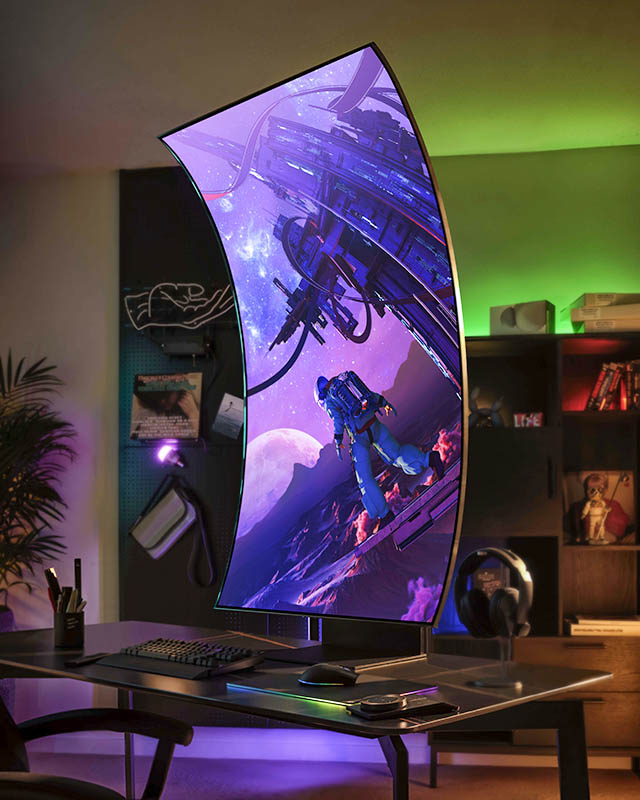 The enormous curved screen easily transforms from landscape to portrait orientation. With this orientation—which Samsung refers to as Cockpit Mode—you get a 9:16 aspect view that you can use in a variety of ways, like stacking . It's a novel aspect ratio for gaming, but also a massive vertical display allowing you to view more than one source, simultaneously.
Features & Specifications
Neo QLED monitors are an HDR display technology that's well suited to PC gaming. High brightness and vivid, realistic colors help make games look their best. Imperviousness to image retention and burn-in is an advantage over OLED. But the VA (vertically aligned) LCD panel used by QLED monitors has limited viewing angles, there is a notable loss of contrast and color balance when viewed from the side.
The curved screen is a key factor in the Odyssey ARK's performance, the 1000R curve (if you draw a circle cased on the curve, the radius is 1 meter) fills your field of view for maximum visual envelopment. When you sit 1 meter away, every inch of the screen is perpendicular to your eyes so you experience maximum detail, contrast, saturation and color accuracy from edge to edge. Combine that with 1000-nit peak brightness (600 nits sustained, 420 nits minimum) plus 95% DCI/P3 color gamut coverage, plus factory color calibration/tuning (including a calibration report) and you've got a display that can handle 4K HDR (HDR10 and HDR10+) with ease, whether it's gaming or streaming or movies.
The settings menu provides extensive configurability and adjustment options. There are a number of modes to choose, including those dedicated to PC and gaming, as well as Dynamic, Standard, Movie, and Filmmaker modes for when you are not gaming.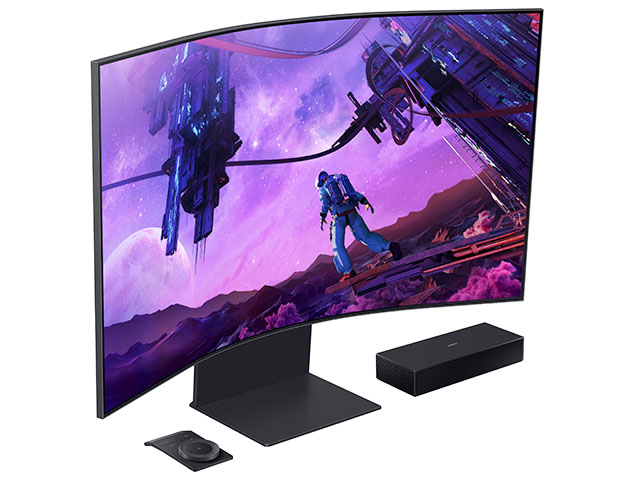 Samsung's Quantum Mini-LED backlighting contributes to the Odyssey ARK's performance, it divides the screen into 1056 local dimming zones which create deeper blacks and brighter highlights—key to rendering HDR properly. This mega-monitor also has a 165 Hz maximum refresh rate (with Freesync Premium Pro VRR) and 1 ms GTG latency, both crucial capabilities for a gaming monitor. Plus, the glare-free "Matte display" uses sAGAR (Super Anti-Glare, Anti-Reflection) film to ensure you are only looking at the image, not at a reflection of your room. And for sonic immersion, there's built-in 2.2.2 Dolby Atmos audio with 60 W of total power, it's a feature the company refers to as Sound Dome that offers audio immersion to go with the visual immersion.
The ability to go vertical is a signature feature. Samsung calls it Cockpit Mode and it does, in a way, remind one of a fighter pilot cockpit. It lets you do interesting things like stacking two or three different sources vertically in Multi-View mode, and it includes a dedicated ARK Dial controller for making adjustments to screen size and aspect ratios. But ultimately landscape view is the more useful orientation, and that's what I focused on. You also get built-in Smart TV functions including 4K streaming from popular apps.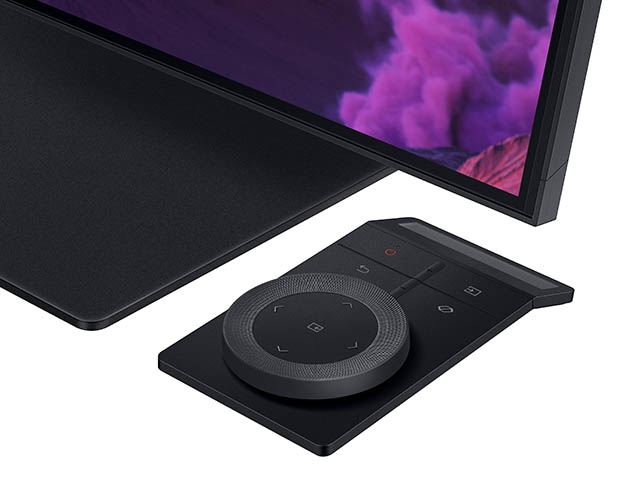 This monitor uses Samsung's One Connect box concept that has the power supply, processing and inputs located in an external box. The advantage is that a single thin cord powers and delivers video signals to the panel. Imagine instead, if there were multiple HDMI cords and a power cable attached to the screen, it would be cumbersome to rotate and look messy.
Setup
The Samsung Odyssey ARK was packaged well, protecting that huge curved screen requires a robust box. It is too difficult for one person to assemble alone, but putting it together only takes a few minutes and involves tightening a few screws. Ensure that whatever you place it on can support its weight over time; you don't want a sagging desktop.
The stand offers 9 inches of height adjustment, raising it creates clearance and allows the screen to rotate to the vertical orientation. When horizontal, you can choose the height and tilt that's ideal for you.
Performance
The Odyssey ARK is geared toward gamers seeking a peerless, fully immersive display solution. But the same qualities that make it great for gaming also make it an amazing way to watch 4K movies and shows, although not as a substitute for a TV.
Using this monitor is like riding a sportbike. The performance has the capacity to amaze, but it's essentially a solo act. Viewing 4K HDR video with the ARK is like seeing a movie in IMAX. It's when you sit at the optimal 1-meter distance that you appreciate its impact. If you have been to a true IMAX theater (not a digital IMAX) you'll recognize the effect, it fully envelops you and puts you right in the scene. It's almost VR-like in terms of visual immersion.
This monitor produces an impeccable image when fed high quality source material. When reviewing original 100 Mbps 4K footage (shot in 4K/30p) I captured with my drone on Cape Cod, the detailed, vibrant and accurate picture quality transported me back to those breathtaking scenes—it feels like flying.
Even in complete darkness, the Odyssey ARK's image quality remains uncompromised. Sitting in the optimal viewing position maintains a high native contrast, allowing it to work in tandem with the FALD local dimming of the Quantum Neo QLED array to provide you with deep blacks and dazzling highlights.
Billy Lynn's Long Halftime Walk is one of the few 4K films shot natively in a high frame rate—120 frames per second—and 4K. On Ultra HD Blu-ray, it is a 60 frame per second presentation. The eponymous scene, depicting a halftime show at a Dallas Cowboys game, is surreal to watch in such clarity. It's not like the soap opera effect of motion interpolation. Rather, it has a reality TV vibe and immediacy, especially with HDR vibrance. ARK's curved screen makes you feel like you're there, with amazing color, contrast, and detail. If Odyssey ARK buyers don't watch movies with it, they're missing out.
To push the display to the limits, I used my gaming PC, which has an NVIDIA RTX 3080 Ti video card able to push 4K worth of pixels at 165 Hz using near-maximum quality settings. With modern games and HDR graphics—like Forza Horizon 5 or Microsoft Flight Simulator, which look almost three-dimensional on the ARK—the resulting image fidelity blew my mind. Movement is incredibly smooth, and even fast motion retains resolution. With these hyper-fast frame rates, the input lag is super low and a feeling of being connected to the game is the payoff.
Conclusion
There's a lot more to the Odyssey ARK that I have not covered in this quick take review. I suggest checking out the features and specs on Samsung's website to determine if it is right for you, because this is definitely an expensive piece of kit. But the key thing to know is it takes gaming to a higher level and has more tricks up its sleeve than you can shake a joystick at. I like to call it the Top Gun of gaming monitors, which seems appropriate for a display that offers a cockpit mode. Ultimately, Samsung's Odyssey ARK makes no compromises when it comes to putting you in the middle of the action.