LG G3 OLED Evo 4K TV Review
PRICE
$3,299
AT A GLANCE
Plus
Stunning brightness
Excellent color
Outstanding blacks
Minus
Cluttered WebOS
Little else
THE VERDICT
Today's best HDTVs are sure to more than satisfy even the most critical buyer. That goes double for 2023 LG's G3. Despite a few ergonomic quirks (a personal call, to be sure), it makes a strong case for itself as it jostles for the top of the hill as the best 4K HDTV on the market.
This is the third edition of LG's Gallery Edition OLED, replacing last year's 65-inch G2 (also reviewed in the August/September 2022 issue).
As with its earlier siblings, the G3 has a design optimized for wall mount applications and by default it comes with a bracket not a stand. You can buy an optional tabletop stand, that's what I used. The table stand tilts the TV backward slightly and offers no rotation. It is solid, immobile and sturdy. There's also an easel-like floor stand option available for $350.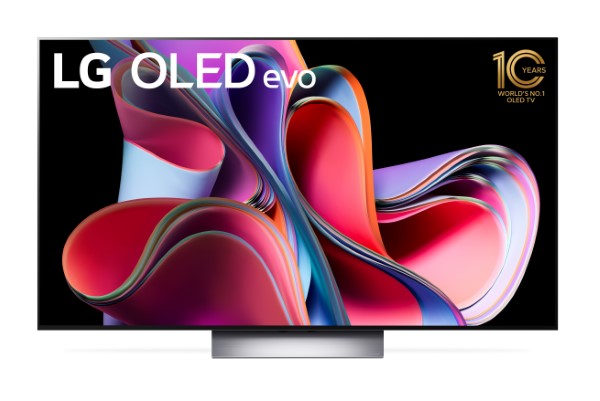 Why the wall-mount-focus? It's intrinsic to the design. This OLED is thin and will mount flush to a wall with it's near-gapless design. As in the older G1 and G2, the G3 offers a Gallery mode. The latter displays a revolving range of still-image art when not showing other types of content.
The G3 series is currently available in four screen sizes: 55, 65, 77, and 83 inches. The rear panel on our sample indicated that it was made in Korea. The G2 we reviewed last year was made in Mexico. It's entirely possible that most G3s for the North American market will also be made in Mexico. These days, however, "Made in XXX" almost invariably means "Assembled in XXX." The individual components of any TV (the panel, processor, or other subcomponents) can arrive at the assembly plant from almost anywhere.
All of LG's OLEDs, including the G3, are WRGB. Until recently all OLED sets added white elements to the RGB for increased brightness. To put it simply, they aren't QD-OLEDs, the latter now available in the flagship OLEDs from Samsung and Sony.
QD-OLEDs employ Quantum Dots and no white pixels, which is said to improve color saturation at very high brightness levels. But it could be argued that the visible differences between WRGB OLEDs and QD-OLEDs, everything else being equal, will be subtle on most source material. We haven't yet experienced a head-to-head shootout between an LG WRGB OLED and a new QD-OLED. In any event, LG's G3 OLED counterpunches with unique and potent benefits of its own.
Features
The technology in the G3 closely resembles last year's G2. In particular, its Alpha 9 main processor and an aluminum heat sink on the rear of its imaging panel remain as key features. The heat sink does add a little depth to the panel, which is about an inch deep overall. Working in combination with the Alpha 9 processor, the heat sink draws heat away from the panel, enabling higher brightness without a higher risk of image retention or burn-in (image retention fades with time, burn-in is forever).
As a further precaution, in most situations if a paused image stays on the screen for more than a few minutes the G3 substitutes a sequence of brief, fixed images or random moving star bursts. Another feature (General > OLED Care > OLED Panel Care > Adjust Logo Brightness) offers several levels of dimming for scoreboards in sports and video games, without affecting the rest of the picture.
But there's no need to be paranoid about OLED burn-in, just sensible. My own OLED TV, now about four years old but used at modest brightness levels, shows no sign of burn-in. I simply ensure that bright, stationary images such as test patterns don't remain on the screen any longer than needed.
Our measurements on last year's G2 confirmed its claim to increased peak brightness over any LG OLED we had previously tested. But this year's G3 goes even further by incorporating what LG calls a Micro Lens Array, or MLA. In an ordinary OLED, the light from each pixel diffuses slightly as it spreads out from the panel—not enough to noticeably degrade the image but enough to somewhat limit its brightness.
The MLA adds a layer of "micro lenses" in front of the imaging panel that focuses the light from the pixels more directly forward. The resulting increase in brightness and punch isn't subtle. The G3 is the brightest OLED we've yet tested, and by a significant margin (see Test Bench).
The G3 is equipped with a TV tuner for receiving ATSC 3.0 (NextGenTV) over-the-air broadcasts up to 4K. Its four HDMI ports are all specified as HDMI 2.1, one of them labeled for eARC or enhanced Audio Return Channel.
The G3 supports the most widely used HDR formats (HDR10, Dolby Vision, and HLG or Hybrid Log Gamma). HDR sources are mastered in a wide range of peak white levels. If a display can't handle the peak white levels in a given source, those peaks will be clipped by cropping off the brightest details. To address this, all HDR content is mastered with metadata that provides the display with information it needs to minimize this clipping—a process is called tone mapping.
In the ubiquitous HDR10 format, the metadata is static—it stays the same throughout the program. This inevitably leads to compromises. Dolby Vision is mastered with dynamic metadata that changes constantly in response to the program, allowing HDR highlights to be tone mapped frame by frame. This makes the best use of the display's capabilities while losing as little as possible from the source.
LG's Dynamic Tone Mapping (on by default but user selectable) effectively converts HDR10's static tone mapping metadata into dynamic metadata. When you switch it on, the TV's Alpha 9 processor operates continuously to minimize clipping while retaining as much image detail as possible. I used it on all HDR10 sources.
HDR10+, another HDR format offering dynamic metadata, isn't as widely used as Dolby Vision. The LG doesn't support HDR10+ directly; it ignores the "+" and processes HDR10+ it as it does any other HDR10 source. (LG's fellow Korean manufacturer and arch rival Samsung, was a co-developer of HDR10+. Samsung doesn't as yet support Dolby Vision and shows no signs of planning to. Follow the breadcrumbs.)
The LG G3 also offers a "picture enhancement" option it calls AI Picture Pro. This is said to employ a "vast database of visual data points" together with a deep learning algorithm and the G3's Alpha 9 processor to recognize content, remove noise and "optimize" picture quality. There's also a new Scene Detection feature that analyzes the type of scene being shown to "improve the picture accordingly."
A separately selectable AI Sound Pro feature offers similar enhancements to the audio. All of these AI features were off out of the box in the AI Service Menu and that's where I left them. In any event, these AI features function with copyrighted program material and your own videos but the effectiveness may vary depending on the quality of the source material. You might want to see if they will help improve YouTube wanderings and your summer vacation videos.
A new LG feature for 2023, the Personalized Picture Wizard, offers you several versions of a sample image with different levels of brightness, color, contrast and other image parameters. You choose which images you prefer and the set then applies adjustments based on those selections. This could impact what may have been the filmmaker's intended look. You are, of course, free to use this feature, but I left it off for all of the observations shown here. That also goes for the G3's motion compensation controls in the TruMotion menu.
The G3's audio was decent, but my table-top setting, a couple of feet away from the wall behind, will inevitably sound different than the on-wall mounting for which the set was designed. It also offers a Dolby Atmos option, but you can't achieve the full Atmos experience when all of the channels originate from in or near the TV.
I'm no gamer, but LG sets are well known for their support of those who are. The G3 is G-Sync compatible and offers gamecentric features such as FreeSync Premium, VRR (Variable Refresh Rate), and ALLM (Auto Low Latency Mode). A Game Optimizer mode also puts all of the game controls and settings in one place for quick reference. Using the 1080p Bodnar image lag meter I measured input lags of 80.3ms in Filmmaker mode and 12.8ms in Game Optimizer mode with a 60 Hz signal, at 120 Hz it should be about half that.
LG's wand-like "Magic Remote" controls the G3 with buttons, voice commands, scrolling and point-and-click. With no backlighting, it's easy to hit the wrong button in the dark. I also didn't personally much care for the G3's webOS Smart TV, though to be fair other Smart TV platforms I've experienced recently have been similarly convoluted. As the range of on-screen offerings has increased year-by-year in this and similar Smart TV platforms, clutter has inevitably followed. I eventually warmed to this one, at least for most of my needs, but never loved it.
TV-makers make money from many of the paid Smart TV features. That does help keep down the sales price of TVs, so at least that's something. The G3's webOS offerings include all of the usual streaming suspects (Netflix, Prime Video, Disney+, and much more). There's also LG's own free "LG Channels" that stream a wide range of mostly older movies and other content in decent but not eye-popping HD quality.