Samsung QN65Q90T LCD Ultra HDTV Review Page 2
Unlike most LCD TVs (including last year's 65Q90R), the 65Q90T has no dedicated Backlight level adjustment, though there's an unusual Shadow Detail control for both SDR and HDR sources. Along with the fixed Gamma settings (BT.1886 or 2.2 for SDR, BT.2084 for HDR) there's a slider control to adjust gamma (EOTF for HDR) that's usable in HDR and the BT.1886 SDR setting. Gamma adjustment controls are common for SDR (for which luminance levels aren't tightly defined). But they're not typical for HDR, where the luminance is rigidly specified.
While the HDR and SDR calibration results shown in the Test Bench section of this review were performed with the gamma sliders and the Shadow Detail controls in their off/centered positions, I found that the results (particularly in HDR) were often too dark. With such material, increasing both the gamma slider and Shadow Detail controls by +1 (and less often by +2, or a mixture of +1 and +2) offered significantly more pleasing and consistent-looking images.

Ultra Hd/Hdr Performance
I used Blu-ray discs (HD and Ultra HD) played on an Oppo UDP-203 player for most of my serious viewing. With both formats, banding (posterization) was never an issue on the Q90T. Ditto for screen uniformity, which was good throughout.
Although I didn't spend much time viewing the Samsung pre-calibration, I was impressed with its out-of-the-box performance. After reducing Contrast a bit to get the HDR PQ curve under better control (it was too "hot" in its upper half at the default Contrast setting), it calibrated beautifully for 4K/HDR—something I can't say about every HDR-capable display I've tested.
Some manufacturers might claim a peak brightness higher than the Samsung's measured 1,293 nits for their sets, but not many. And I measured that 1,293 nits post-calibration in the Movie picture mode. I'm most accustomed to the peak brightness of OLED TVs, which in my experience usually hovers at around half the Samsung's peak level. (Consumer projectors are lucky to achieve 150 nits.) The differences from those OLEDs and projectors were obvious in the Samsung's vivid, brilliant HDR images. (Veteran readers will know that an OLED display is totally different from a QLED, but newbies can sometimes be misled by the Q's squiggle in QLED.)
The Greatest Showman was sometimes almost too punchy in my darkened room. But its vivid colors (particularly deep reds) and overall lively images looked endlessly impressive on the Samsung. On a few occasions I did see inconsistent contrast such as a slightly washed-out look when a character's face, lit normally, was positioned in front of a bright background or a window. Such mixed lighting can fool local dimming (though it could also be in the source), but this artifact was infrequent and not a serious distraction. The movie's bright highlights, from spotlighted performance spaces to the glitter of jewelry and other details, tiny or large, came across as totally compelling on the Samsung. In some ways it was more impressive than the HDR I've experienced on other displays, despite some obvious advantages such as little or no blooming on a good OLED compared with the Q90T.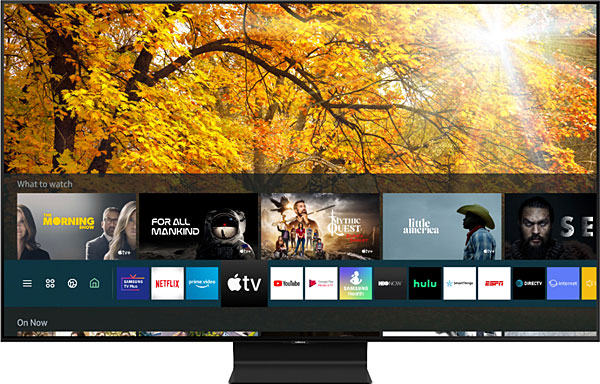 Demonstration clips on the Spears & Munsil UHD HDR Benchmark test disc also looked impressive on the Q90T with one exception. When set for a maximum output of 1,000 nits (the disc offers a range of peak brightness levels for the demo material), a shot of horses in near-blinding snow showed obvious white clipping, though I've seen the same with every other display I've watched it on. But the clipping here was an outlier: although I occasionally saw it with other sources, it was never serious enough (or lasted long enough) to be distracting.
The Spears & Munsil disc also has a starfield pattern among its wide range of tests. The Samsung did reasonably well on it, but a starfield can be a big reach for the local dimming on an LCD TV, which can't come close to the pixel-level dimming of an OLED. Nevertheless, the starfield in chapter 3 of Prometheus definitely looked more vivid than it did on the test disc. The dark, gloomy cave scenes in this film also showcased the Samsung's excellent shadow detail, punctuated by the lighting from the explorers' clear helmets and bright flashlights. While none of the scenes in this film were as splashy as The Greatest Showman and similarly vivid titles, they looked equally impressive in their own way.
When it was first aired in 2019, the battle scene in the final season of Game of Thrones (The Long Night) had many fans squinting to see what was going on. Viewed on the calibrated Q90T in a dark room (to set the right mood) with the added tweaks discussed above, it was not only easy to follow the action, but I've never seen the episode look better.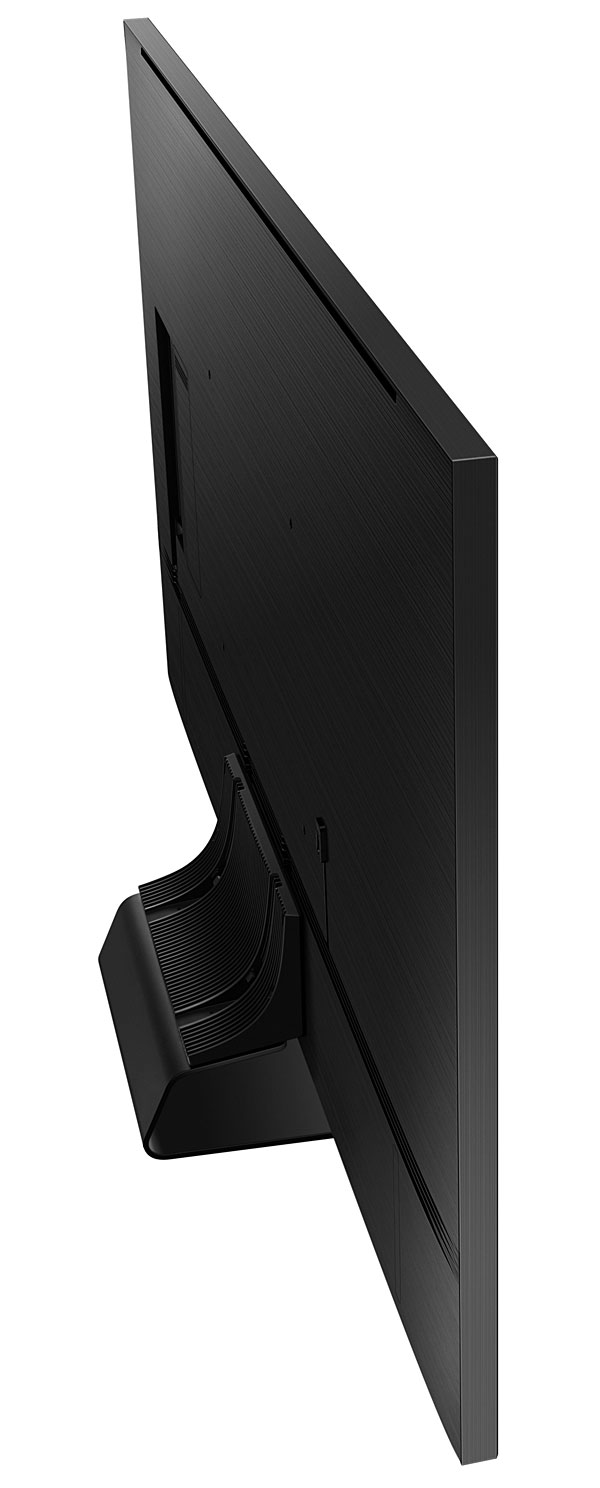 Trolls World Tour is an excellent test for color on TVs. Things don't really get cooking (in terms of image quality) until well into the movie, but the last act serves as a demo piece for HDR/wide color gamut. Viewed on the Samsung, there was no mistaking this disc's brilliant colors and dramatic, punchy highlights.
HD/SDR Performance
HDR can create a dramatic picture quality upgrade, but there's a wealth of movies and TV shows out there that may never see an HDR release. One example is Casanova, a 2005 comic farce with an elaborate and distinctive production design. The film's color, costumes, and brilliant recreation of Baroque-era Venice came across beautifully on the Samsung. The same went for Victoria & Abdul, particularly in the color- and detail-rich banquet scene.
While deep shadows on the Q90T were not quite as inky as on an OLED, and its local dimming less effective than last year's Q90R, I wasn't disappointed when viewing dark scenes in a blacked-out room. Dark City is a weird but aptly titled little film, and I had to fiddle a bit with the set's gamma here to correct the occasional black crush on it and other very dark movies. Ultimately, I chose the 2.2 SDR gamma option, which effectively dealt with the issue while keeping Dark City's gloomy ambience intact.
The dark cave scenes from Prometheus mentioned in the Ultra HD/HDR discussion above were also well-handled by the Samsung when I watched the regular Blu-ray disc version. It came as no surprise that the bright highlights in those scenes looked less dramatic than they did in HDR, but the reduced highlight brightness also made the image less susceptible to visible blooming. Black bars on letterboxed films remained fully black except for when a very bright object appeared immediately next to a bar. This was true for both HDR and SDR, though with either format it never intruded enough to obsess over.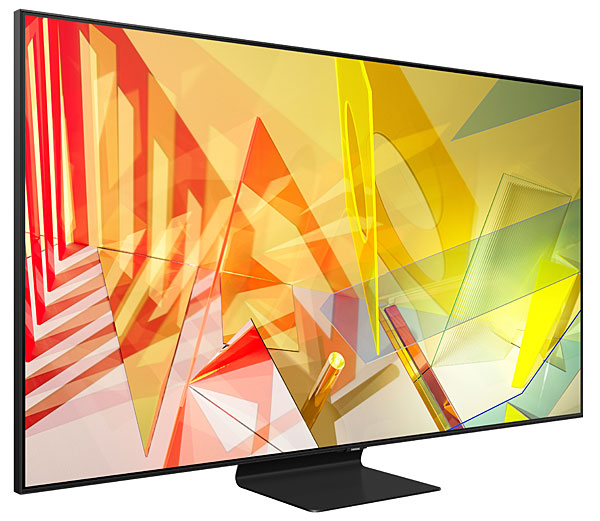 I'm a big animation fan, and two older Disney titles, Hercules and Wreck-it-Ralph, came across with such vivid color and crisp detail on the Q90T that I ended up watching both nearly all the way through. SDR doesn't have the same extended color capability as HDR, but the brilliant hues in both films would fool most viewers into thinking otherwise. Wreck-it-Ralph is pure CGI, and its color really gets going in the Sugar Rush scenes. Hercules (one of the best comic animated features ever from the Mouse-house) is hand-drawn with some minor but important CGI enhancements. It isn't quite as spectacular as Wreck-it-Ralph, but nevertheless looked more impressive on the Samsung than I recall from my last viewing of it several years ago on a less-capable TV.
Conclusions
Samung's QN65Q90T has some minor shortcomings, as all TVs do. But given its stellar overall performance, and relatively low price for the quality it offers, you'd be making a mistake to not give the 65Q90T serious consideration when shopping for a TV in the under-$2,000 price range.