LG 65G1PUA OLED Ultra HDTV Review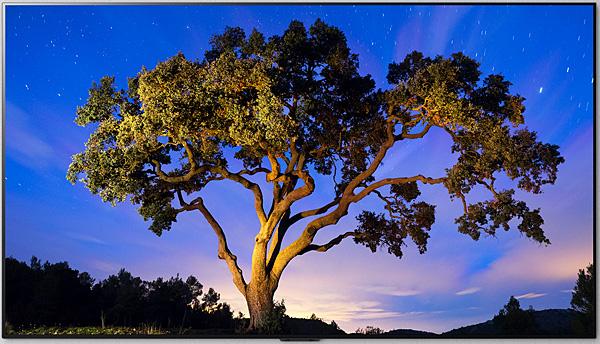 PRICE
$2,800
AT A GLANCE
Plus
High peak brightness for an OLED
Unrestricted viewing angle
Vivid color and powerful contrast
Minus
Remote control can be confusing
Cluttered smart TV home screen
THE VERDICT
Featuring an upgraded OLED panel, LG's new G1 "Gallery" model sets a new standard for OLED peak brightness while otherwise maintaining the company's traditionally impressive overall video performance.
LG's G1 "Gallery Design" TVs are the company's flagship OLED models for 2021, replacing last year's GX series. The now-discontinued WX models excepted, the G1 series comprises the slenderest Ultra HDTV line we've yet seen.
As with the WX sets, G1 TVs are designed specifically for wall-mounting, with a bracket used for that purpose being the only hardware included with the set. Tabletop mounting feet (which I used) are available for an additional $100, and an easel-like Gallery Stand is another $350 option.
The G1 series is made in Mexico and available in 55-, 65-, and 77-inch screen sizes. When it's not being used for video viewing, a Gallery feature can display stationary artwork surrounded by a variety of faux picture frames. Both the displayed art and frame graphics switch every few seconds to avoid possible burn-in. A wide range of options is selectable from a menu, but you can't add other artwork
and frames beyond what is already stored on the set.
Features
A key feature of the 65G1PUA that LG sent us to review is a new "evo" OLED panel. Among LG's 2021 OLED lineup, this is only available with G1 series models and is claimed to offer higher efficiency together with a 15 percent increase in peak brightness over the company's best previous OLEDs—a claim our measurements confirmed (see Test Bench).
G1 series sets include TV tuners for ATSC 3.0 over-the-air broadcasts (where available). An optical digital output can pass lossy multichannel Dolby Digital sound from the set to your receiver or soundbar, and its HDMI eARC port can do the same for multichannel lossless Dolby Digital (including Dolby Atmos). But DTS soundtracks are passed from the G1 only in two-channel format via both optical and eARC connections. Each of the G1's four HDMI inputs are HDMI 2.1, the latest version and one that offers compatibility with a currently limited selection of new videogames and videogame consoles. But HDMI 2.1 features might become more significant during the set's lifetime.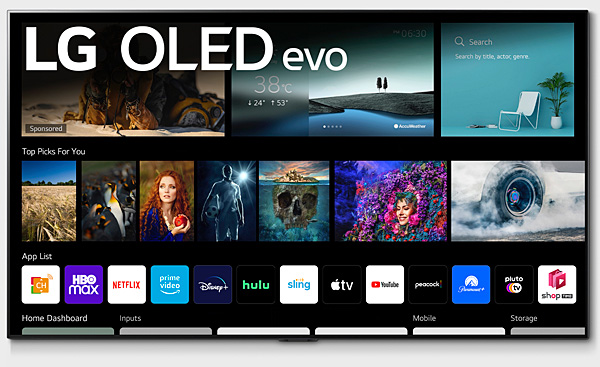 LG's AI Picture Pro setting is said to employ "a vast database of visual data points," and "the deep learning algorithm recognizes content, removes noise, and optimizes picture quality." There's a similar feature available for the set's audio. Both are enabled by the company's latest central processor, dubbed the "alpha 9 Gen4 AI Processor 4K." That tongue twister aside, I'm puzzled as to how any such auto correction can distinguish between something in the source (as intended by the content creator) and an error in the playback chain between the source and the set. But both AI Picture Pro and AI Sound Pro can be turned on or off (individually) in the set's AI Service menu. I found their effects to be subtle at best with good source material, and apart from briefly sampling them, left both off for this review.
LG G1 sets support all three of the most widely used high dynamic range formats: HDR10, Dolby Vision, and HLG (Hybrid Log Gamma), but not HDR10+. A user-selectable Dynamic Tone Mapping control analyzes the source to effectively convert HDR10's static metadata (constant for the whole film) to dynamic metadata, which is then tone-mapped on a frame-by-frame basis.
The G1 offers several features in the Support menu designed to minimize the risk of temporary image retention or permanent burn-in (either is possible with an OLED TV, though burn-in is unlikely during typical home use). These features include a Logo Luminance Adjustment that reduces the brightness of stationary objects on otherwise moving images, such as the scoreboards on sports and videogames, though its visible effect is relatively subtle.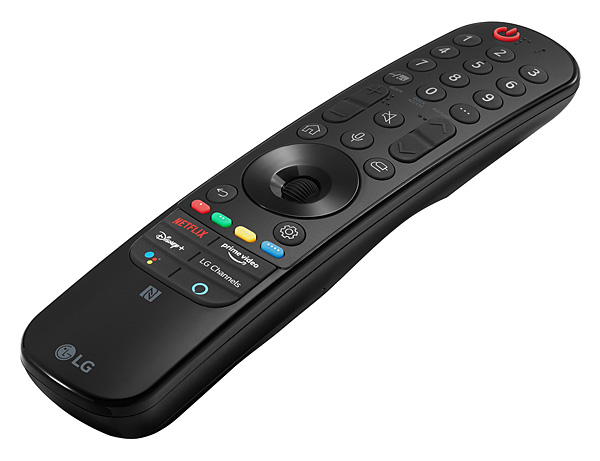 LG's wand-like, non-backlit Magic Remote continues to be a mixed bag for me. Mainly, it was too easy to hit the wrong buttons in the dark. One such error I encountered frequently during use triggered a voice assistant that offered to recommend programs for me to watch—no thanks. The set offers hands-free voice control via the remote, plus compatibility with Google and Amazon Alexa digital voice assistants, both built-in with no separate device required. LG's WebOS Smart TV screen is as good as any out there, though I've yet to find a built-in Smart TV interface. I truly like. As with all of these, LG's home screen ends up cluttered and is clearly intended to send you on a treasure hunt for something to watch—typically pay to play.
I found the G1's built-in audio to be highly listenable in my tabletop setup. Percussive bass could break up when I pushed it too hard, so I didn't try to rattle the teacups. But the set often surprised me when watching challenging pipe organ videos on YouTube, though I heard no real deep bass (no surprise there). LG offers wireless surround speakers that can be easily paired with the TV via Bluetooth, so it's too bad they also don't provide an easy way to add an outboard subwoofer.
Like other set-makers, LG describes its set as Dolby Atmos-ready, possibly to attract buyers who don't know what Atmos is apart from hearing it's the latest audio thingy. Selecting Atmos on the G1 made the sound different, but not arguably better. And when the set's built-in audio is turned on and it recognizes an Atmos source, an annoying message fills the bottom of the screen asking you to either switch to Atmos or decline to do so.
I'm no gamer, but LG has a well-earned reputation among the gaming community. The G1 not only has the HDMI 2.1 ports mentioned earlier but offers gamer-centric HDMI 2.1 features such as FreeSync Premium, VRR (Variable Refresh Rate), ALLM (Auto Low Latency Mode), and it's also G-Sync- compatible. A Game Optimizer displays all your gaming-related settings onscreen for quick reference. As for input lag, I measured 88.8ms in the ISF Dark Room and Filmmaker modes, and a notably lower 12.4ms in Game mode.
Setup
A wide range of picture modes are available on the G1, including Filmmaker mode. The latter (oddly not selectable with Dolby Vision sources) boots up with LG's motion compensation feature (TruMotion) turned off. TruMotion provides four settings, including individually selectable De-Judder and De-Blur. Another new TruMotion option is Cinema Movement, a setting designed to reduce motion blur while also minimizing the infamous Soap Opera Effect (SOE) that makes 24fps film-based programs look like video-based ones. I'm highly sensitive to SOE, and it was still visible to me even with Cinema Movement engaged, but you might have a better experience with it.