LG OLED65E9PUA OLED Ultra HDTV Review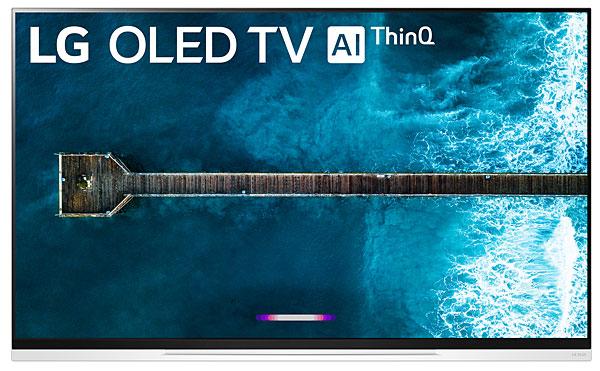 PRICE
$4,299
AT A GLANCE
Plus
Powerful contrast with inky blacks
Wide viewing angle
HDR format support includes Dolby Vision, HDR10, and HLG
Minus
Pricey
So-so built-in audio
No HDR10+ support
THE VERDICT
LG's stunning E9 continues OLED's long streak in providing the highest-performance Ultra HDTV display option available.
Set makers may argue otherwise, but improvements to the two dominant TV technologies—OLED and LCD—come gradually. Each year, the new sets that get rolled out incorporate wrinkles that will result (it's hoped!) in a better picture and more advanced features. Following that pattern, LG for 2019 continues to build on its already impressive OLED TV credentials with the OLED65E9PUA.
Features
LG's 65E9, like all OLEDs, has an almost impossibly thin screen, widened at the rear bottom only because the needed electronics have to go somewhere. The trim at the bottom inch or so below the screen is clear glass. In the right environment, this might make the screen appear to be floating, though in my setup it didn't quite pull off that illusion.
The 65E9's stand is a welcome departure from some other TVs stands we've seen recently in that it's located at center screen and thus won't require an extra wide surface for a table installation. To satisfy an increased demand for stability, the stand alone is a boat anchor at 23.5 pounds.
All of the 65E9's four HDMI inputs are 2.1, a version that was developed to meet future requirements, including 8K throughput. While that's of no concern for a 4K set like this, some 2.1 features might be of interest to gamers. These include ALLM (Auto Low Latency Mode—the set will switch automatically to Game or HDR Game mode when it sees an ALLM signal) and VRR (Variable Refresh Rate from 40p to 120p). HDMI 2.1 also offers eARC, which can pass higher-resolution, lossless audio from the TV out to your AVR. (Plain-vanilla ARC is limited to lossy audio formats such as ordinary Dolby Digital and DTS.)
Among the LG's host of available picture modes, the best choices (apart from Game) are Cinema, ISF Expert Bright Room, ISF Expert Dark Room, and Technicolor Expert for SDR. For HDR, the best options are Cinema and Technicolor Expert. There's also an HDR Effect Picture Mode that simulates HDR from SDR sources. It was fun to try, but I ultimately preferred to watch SDR material as the content producers intended.
All of the recommended picture modes provide 2-, 10-, and 22-point White Balance controls, plus a full Color Management System (CMS). An MPEG Noise Reduction control minimizes noise and also serves to reduce color banding (posterization). I never felt a need for the latter adjustment and left it off. Ditto for the separate Noise Reduction control.
TruMotion is LG's motion compensation feature and has three active settings: Smooth, Clear, and User. The latter offers separate control over Judder and Blur. Setting Judder to maximum and Blur to zero did reduce motion smearing a bit without adding an overdone soap-opera look, while Smooth took things into The Days of Our Lives territory. For me, Off was the best choice for TruMotion, at least with film-based programs.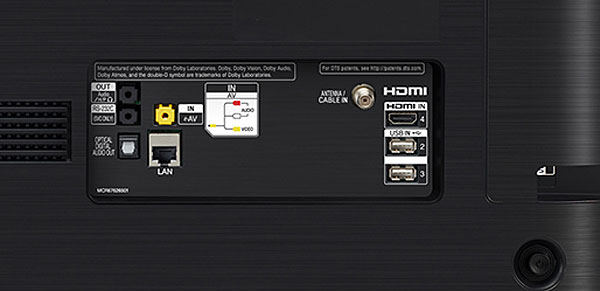 Gamma controls on TVs adjust the midrange brightness of a video image without altering the black (brightness) and white (contrast) levels. The 65E9 offers four gamma settings for SDR: 1.9, 2.2. 2.4, and BT.1886. (The PQ curve, which is gamma for HDR, is fixed by design.) BT.1886 is the standard gamma setting for most HD sources, but it can also make some programs look too dark. Changing to 2.2 can help the situation, but that move can make images appear a bit too light. I'd have liked a 2.3 option: a change from 2.4 to 2.3 instead of 2.2 might sound like a subtle adjustment, but for a fussy videophile it can be significant.
LG's auto-calibration feature, developed in cooperation with CalMAN by Spectracal (the industry's dominant video calibration software), has been improved on LG sets for 2019 through the addition of a built-in test pattern generator. (previously, an outboard hardware pattern generator was required.) This feature makes a professional calibration faster, less expensive, and more accurate. There are also home versions of the CalMAN software for various makes of TVs, including LG's, that are far less pricey than the pro versions. But the cost of entry still isn't cheap, since the software, a suitable color meter, and a compatible computer (a PC, not a Mac) are required. Nevertheless, LG's auto-cal feature could be a boon to the skilled amateur willing to make the now cheaper investment and will allow pro calibrators to operate more efficiently. For the record, all of the calibrations for this review were performed manually.
Last year, LG chose to call its AI development "LG ThinQ AI." It still goes by that name, but for this year it has been enhanced with what LG calls a Deep Learning Algorithm. When combined with a huge internal database showing what over one million image details should look like (the texture of a dog's nose, for example) it can correct perceived errors, making the resulting picture look more like "the real thing." It's unclear, however, how that database can distinguish between an image "error" and the image that the content producer intended for you to see. Of course, you can also turn off this feature, as I did for most of my viewing.
The 65E9 supports three of the current high dynamic range formats: HDR10, Dolby Vision, and HLG (Hybrid Log Gamma), the latter sometimes used for live-action programs where post-production mastering isn't possible. While the LG doesn't support HDR10+, it will play back such programs (currently very limited) as regular HDR10.
Most UHDTVs can't reach the full peak brightness mastered into some HDR sources. Without compensation, peaks occurring outside the set's capability would hard clip, resulting in flat-looking picture highlights. A process called tone mapping is used to avoid this. Metadata in the source material provides information that the set needs to properly tone map the image. For HDR10, this metadata is static: the tone mapping remains the same throughout the runtime, applying the maximum value to the entire program. Dolby Vision, on the other hand, uses dynamic metadata that varies from scene-to-scene. The subjective improvement offered by dynamic metadata is not yet well established and difficult to prove apart from a side-by-side comparison on otherwise identical sets. Nevertheless, many set makers, even those like LG who support Dolby Vision, have developed ways to convert HDR10's static metadata to dynamic metadata. LG does this through its latest Alpha 9 Gen2 processor. The 65E9 has a Dynamic Tone Mapping control that can be turned off, but I left it on (the default position) for all of my HDR calibrations and HDR viewing.