LG 55EA9800 3D OLED HDTV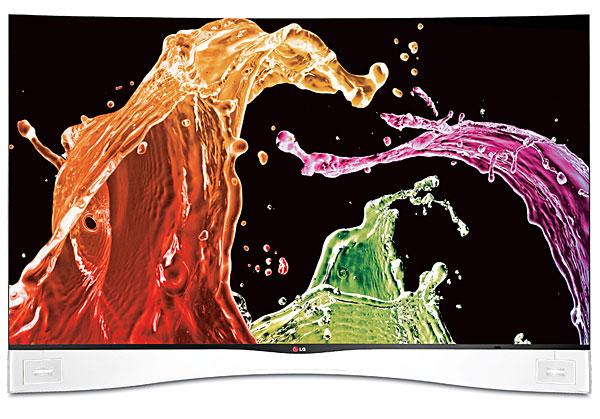 PRICE
$7,000
AT A GLANCE
Plus
Astonishing blacks
Crisp, clean detail
Exceptionally bright 3D
Minus
Poor dark-gray uniformity
Expensive for a 1080p set
THE VERDICT
It costs a bundle, has a relatively small screen, and isn't perfect. But buyers will be rewarded with a picture that, in the ways most important to enthusiasts, is unequaled by any other type of consumer display.
At the 2014 CES, it became clear that, for most HDTV manufacturers, OLED was on the back burner. LCD Ultra HDTV, or 4K, was the big story. But at least one manufacturer, LG, remains aggressive on the OLED front. The company has announced four new models for 2014 and, at the same time, drastically cut the price (as of March 2014) on the 55-inch model 55EA9800, launched late last year and reviewed here.
Conventional LEDs produce light when energized by an electrical bias. LEDs are used as back- or edge-lighting for so-called LED HDTVs, but the actual picture in such sets is produced when that light passes through LCD pixels. OLEDs (Organic Light Emitting Diodes) also produce light when energized. But OLEDs can be made small enough to comprise the individual pixels in a home-sized video display. OLEDs, in short, are the picture-producing elements in an OLED HDTV.
OLED offers a number of major advantages over LCD, and even plasma, for video. Because OLEDs can be more rapidly dimmed or even shut off completely at the individual pixel level, they can produce blacks that are effectively absolute, together with exceptional shadow detail. OLED sets also offer wide, off-angle viewing (equal to that of plasmas), are said to be less power hungry than LED-lit LCD sets, and are light and thin.
While OLED sets potentially can be even cheaper to make than LCD designs, their biggest downside to date has been low yield during production of the panels. At the time I'm writing this (mid-March), consumer OLED displays are therefore limited to 55 inches maximum and 1080p (no 4K so far, although prototypes have been displayed at trade shows). And while LG's price for the 55EA9800 has come down dramatically since its introduction, it remains one of the most expensive consumer HDTVs available at its size.
Description
For the record, when we first received the 55EA9800, our set was unresponsive and wouldn't move beyond the opening setup screen. LG sent us a second sample, which worked just fine.
The semi-transparent stand is a part of the 55EA9800's structure and is neither removable nor rotatable. The audio comes from both the front and the underside of the screen, the latter generating cavity resonances resulting in noticeable audio coloration. Adding a good external sound system (or at least a competent soundbar) might be a task that quickly moves up your to-do list if you buy this set.
While I always recommend a good setup disc to optimize any TV, LG's Picture Wizard II, with its onscreen test patterns, helps you adjust the basic picture controls to a reasonable accuracy—though short of the full color calibration a set of this sophistication deserves. The TV is THX certified, with fixed control settings in the dedicated THX modes. In the other modes, you'll find both two-point (high and low) and 20-point White Balance controls, plus a color management system. A gamma control offers three settings: 1.9, 2.2, and 2.4. But avoid the Dynamic Contrast control. It produced black-to-gray pumping in dark areas (even in its low setting), which was particularly annoying in the black bars on letterboxed films.
TruMotion is LG's motion compensation system, and it offers a User mode with separate De-Judder and De-Blur controls. I found that low settings on these controls were reasonably effective without adding the dreaded soap-opera look to movies, but I didn't feel the need to use this feature in 2D except to try it out. Low TruMotion settings did, however, prove marginally beneficial on some 3D material.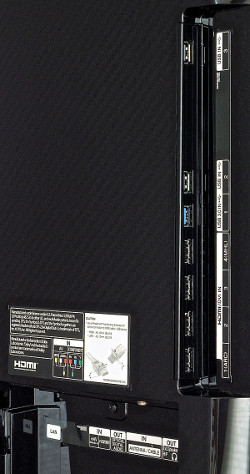 LG's wand-shaped Magic Remote has been a fixture with the company's sets for a couple of years. I'm not a fan; I find it frustrating, jittery, and erratic, but your mileage may vary.
Its operation is covered in the TV's otherwise rudimentary printed manual. An onscreen User Guide provides more information about the set's other features.
The 55EA9800, like other LG TVs, uses light and inexpensive passive 3D glasses. The set comes with four pair—two of them conventional, the other two clip-on (hooray!). The TV also offers 2D-to-3D conversion and a 2D Dual Play gaming feature. The latter allows two players, wearing special optional glasses (not the standard 3D variety), to view just their part of the action on the full screen.
LG's Smart TV platform lets you choose from the usual extensive range of Internet features, with a wired or wireless connection (the Wi-Fi receiver is built in). These include Netflix, YouTube, Vudu, Hulu Plus, and much more. The Smart TV feature defaults to the Standard Picture Mode when you make a selection from it, producing an overly bright picture, oversaturated color, and excessive TruMotion. If you try to correct this by selecting the Home menu while watching a Smart TV selection, the set drops off the Internet. You can dial in more appropriate settings and still stay connected by calling up the Quick Menu from the remote.
I watched a wide range of free online material, including highdefinition trailers from Vudu, over my wireless network, uninterrupted by buffering. And high-def downloads are definitely improving; some of the HD selections I watched looked very good, at least on the LG's 55-inch screen.
Setup and 2D Performance
The LG's THX mode produced a more than acceptable picture, though its measurements weren't particularly impressive. A full calibration made a worthwhile improvement to both the visible and the measured results. The two-point White Balance menu was more than adequate for this; I didn't need to fiddle with the 20-step option. But among the controls available in the color management system for each color, only Luminance had any appreciable effect. Fortunately, when I set the Color Gamut to BT709 and left all of the other color management controls on zero, I got a good result (see Test Bench).