Samsung KN55S9C 3D OLED HDTV
PRICE
$9,000
AT A GLANCE
Plus
Exceptional contrast
Bright, crosstalk-free 3D
Uniform picture at off-axis seats
Upgradeable One Connect box
Minus
Geometric distortion due to curved panel
Slight tinting from anti-reflective screen coating
THE VERDICT
While the curved screen prevents it from being our dream OLED, the exceptional performance of Samsung's set points the way toward TV's future.
Nothing elevates the pulse of an A/V enthusiast more readily than the prospect of new video display tech. I may be showing my age here, but I remember when the first plasma TVs made the rounds for review. Looked at next to today's models, those sets were bulky (4 or more inches deep) and had poor contrast compared with the tube TVs they replaced. Many were plagued by banding artifacts that made pictures look like a paint-by-number kit. And, unbeknownst to us at the time, some of those first models would be badly afflicted by permanent image retention that came to be known as burn-in and gave the technology an undeserved bad name. But they were flat! You could mount them on your wall! OLED displays, which can be manufactured with a panel depth of less than 0.5 inches and have significantly better picture quality potential than either plasma or LCD, have been tempting us at trade shows for years. But only now are they finally hitting stores in a home-theater-friendly screen size. (See Geoff Morrison's feature "The Future of Television" on page 32 for an in-depth look at OLED TV technology.) The first model offered up for review, the 55-inch KN55S9C, comes to us from Samsung. At $9,000, Samsung's set is pricey, though not nearly as much so as its lone competitor, the $15,000 LG 55EA9800. Does its performance justify the price tag, let alone the hype? Let's take a look.
Before I get too deep into describing the KN55S9C, I should first lay out the circumstances under which it was tested. With only limited review samples, Samsung invited myself, Sound & Vision editor-in-chief Rob Sabin, and contributing technical editor Geoffrey Morrison to its Quality Assurance lab in New Jersey. Samsung provided the TV, a dark room, and an assortment of test equipment. They let us bring in our own test equipment/discs and then left us unmolested to spend a few hours with the set. A key difference between this and other Sound & Vision (as well as Home Theater) test reports is that we normally spend days, even weeks, evaluating a product. So, although we had time to make a fairly full round of adjustments, this review should be considered as more of a "first look."
The product planners at Samsung apparently wanted the company's first OLED to stand out from other TVs on the market. To that end, the KN55S9C utilizes a curved panel mounted in what Samsung calls a Timeless Arena frame that gives the display a floating effect. At this point, you may be thinking, "Why curved?" That was my thought exactly when Samsung announced the KN55S9C, and while I can't say the set looks bad, the curved design does boost the total panel depth to a decidedly un-flat 5.3 inches. This basically means your only installation option for the set is to place it on a TV stand or table. The frame, which contains the speakers plus a camera for motion control and Skype chats, also has a curved design that accentuates the set's sinuous lines. In short, Samsung's OLED is a thoroughly curvilinear package.
One other curious thing about Samsung's OLED is its lack of built-in connections. Instead, it comes with a One Connection box that links to the TV via a proprietary cable and connector and contains four HDMI inputs along with analog audio/video and Ethernet jacks. A key feature of recent Samsung TVs has been the company's Smart Evolution module, which lets you upgrade your set to take advantage of any new Smart features that come along. With a One Connection box, however, the box itself is the module. And it also allows for yet another evolutionary step: an upgrade to HDMI 2.0 connectivity once that standard is implemented. You simply swap out your One Connection box for a new version, and the set will be ready to rock with HDMI 2.0.
Along with a conventional remote control, the KN55S9C comes with the same touchpad remote found on other recent Samsung Smart TVs. This features a central area that you swipe up, down, and across to navigate menus and other parts of the TV's GUI. To select an item, you press on the remote's surface, and it responds with a satisfying click. There's a smattering of control buttons located at top, including one to activate the set's voice control feature plus more on the bottom to do things like call up its Smart Hub interface. We didn't get an opportunity to dive into Smart Hub or any of the set's advanced control features for this review, though we plan to investigate both in depth in a future issue.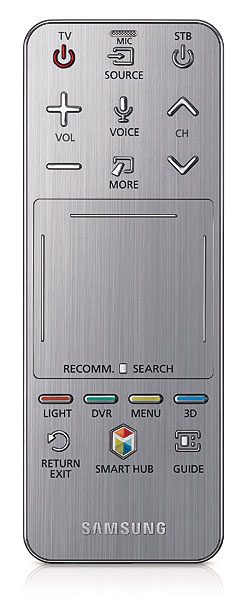 Setting Up
We may have been dealing with new display tech, but setup of the KN55S9C proceeded much as with any other TV. The picture adjustment menu even has the same Cell Light setting found on Samsung's plasma models. (Cell Light serves as a threshold adjustment to limit the display's peak brightness.) An Advanced Settings menu provides Color Space, White Balance (two- and 10-point), and Gamma adjustments, and you have the option to apply your calibrated picture mode to all source inputs.
After performing a cold picture-settings reset, we started our calibration in Movie mode. With our time ticking away furiously, we opted at first for a quick-and-dirty two-point White Balance adjustment. This effort corrected a blue deficiency and evened out the gray scale somewhat but also boosted black level to a point where we didn't see good definition between dark gray tones and black in movie images. Shadows instead looked crushed. Circling back to do a 10-point White Balance yielded much better results: The RGB balance was now even across the full gray scale range, and gamma closely tracked the 2.4 target for dark room viewing. (Samsung's windowless, high-ceilinged testing lab was literally cave-like.)
The Picture Options menu contains the TV's Auto Motion Plus setting. This offers several presets to reduce picture judder/blur, along with a Custom mode with independent Blur and Judder adjustment sliders. A separate option, Clear Motion, yielded the best motion resolution on test patterns when we tried it out, but the black frame insertion that it employs substantially reduced picture brightness, an effect that we found could be somewhat eradicated by OLED's characteristically bright light output for those who choose to use this feature. Like other Auto Motion Plus–type features, most settings added a soap opera effect to film-based images. Setting Blur Reduction to maximum and Judder Reduction to minimum in the Custom mode made movies look soap-free, however, so that's where we left things.
Peak Performance
Going into this test, our key expectation of OLED—one that stems from past experience gawking at sets at trade shows and other events—was that it would deliver out-of-this-world contrast. And it did. Borrowing Samsung's Konica/Minolta CS2000A spectroradiometer, we measured the KN55S9C's black level at 0.00007 foot-lamberts, a reading that exceeded that meter's specified measurement range. Post-calibration, with the set's light output tamed via the Cell Light slider for a non- retina-searing 32-ft-L maximum brightness, full-on/full-off contrast checked in at 457,142:1. If that number doesn't make your jaw drop, it should, since it's the best contrast ratio we've yet measured on any display, ever.