LG OLED65GXPUA OLED Ultra HDTV Review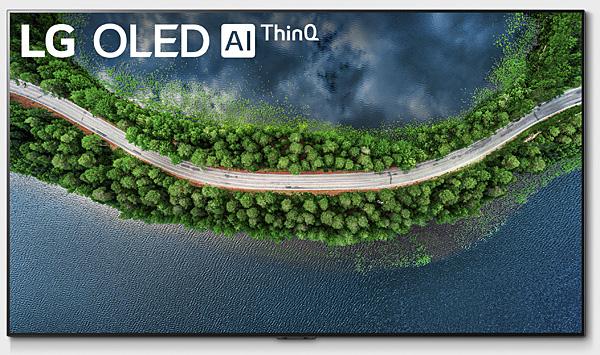 PRICE
$3,500
AT A GLANCE
Plus
Rich, accurate color
Wide viewing angle
Outstanding HDR performance
Minus
Remote control difficult to use
Table-mount legs an optional accessory
THE VERDICT
LG's design-savvy 65GXPUA OLED offers up a mix of features and performance that's guaranteed to grab your attention.
LG's GX series for 2020 sits in the middle of the company's OLED TV range, just above the CX series, and right below the WX (for Wallpaper—ultra thin and designed for, you guessed it, wall mounting). But at 20mm, GX series sets are also very thin, and while they come with a wall-mounting bracket, it doesn't include legs for a table-top mount, though that option is available at a modest extra cost. The GX series has built-in Google Assistant and Amazon Alexa voice control, and it also adds a Gallery feature that can display stationary artwork surrounded by a faux frame inside its otherwise nearly invisible bezel.
Each HDMI input (four in total) on the 65-inch 65GXPUA model that LG sent us to review is 2.1, a version that isn't yet needed for existing sources except perhaps for some games designed to operate at a native 120Hz refresh rate. The 65GX also has HDMI eARC, which can pass lossless higher-resolution audio from the TV back to your A/V receiver or processor and includes an ATSC 3.0 tuner to accommodate coming advances in over-the-air TV broadcasting such as 1080p, 4K, HDR, expanded color, and Dolby Atmos audio.
Gamers will appreciate that the GX series includes ALLM (Auto Low Latency Mode—switches automatically to Game or HDR Game mode when it sees an ALLM signal), VRR (Variable Refresh Rate—40Hz to 120Hz), and Nvidia G-Sync validation (a higher testing standard for VRR).
The 65GX provides several selectable features designed to minimize the risk of burn-in, though that's unlikely to happen in normal home use. The most useful of these may be the Logo Luminance Adjustment, which tones-down the brightness of stationary objects on otherwise moving images, such as the scoreboards on sports and video games.
The 65GX's onboard audio surprised me with its performance, considering how shallow the chassis is. No, it doesn't deliver real bass, and the bass it does provide can be distorted if you turn the volume up too high. But for non-critical viewing I found the sound listenable in my tabletop setup, though I also found that the set's Dolby Atmos feature offered no advantage (you can't produce a real Atmos effect without using external audio components).
LG's wand-like "Magic Remote" annoyed me, much as it has in the past. The on-screen pointer, while useful, drifts and has to be frequently re-centered by wagging it about while pointed in the general direction of the screen's center. Its button layout is crowded, and since the keypad isn't backlit, I found myself often hitting the wrong buttons in the dark.
The 65GX's WebOS features provide most of what you're likely to want from a smart TV, even if they also occasionally act smart-alecky. I lost track of the number of times the set's voice assistant perked up, seemingly on its own, though likely through an inadvertent brush with one of the controls, to offer unwanted content recommendations. LG has added some important new apps, including Disney+ and Apple TV, to its legacy offerings such as Netflix, Amazon, and YouTube. There are also some free-content apps on the home splash screen that were clunky to use, with programming of mostly poor-to-dismal quality, video and otherwise. Overall, I found the set's smart interface workable for what I needed, but less intuitive to navigate than my older LG E7 OLED. (As more app selections accumulate, clutter inevitably increases.)
I found that the set's Google Assistant voice control worked well on a limited basis, as long as I learned how to address it properly. For example, when I was viewing YouTube and asked the TV to switch to Input 1, it looked for an "Input 1" YouTube channel instead of switching to input 1!
Setup
While many users will wall-mount GX series TVs, if you do opt to install it on a table or stand, note that the legs sit at the far ends, spread apart by 53.5-inches on the 65-inch model under review here. For that reason, you'll need to make sure your table is wide enough, with space to spare to safely position the set.
A host of selectable picture modes are provided, including the new Filmmaker Mode developed by the UHD Alliance. This mode is said to produce images under dark viewing conditions that "exactly [preserve] the creative intent of the filmmaker." While my SDR and HDR calibrations were able to improve on the Filmmaker Mode's default settings, it looked good and measured reasonably well out of the box, though images were also a bit on the dim side.
The set can be configured to switch into Filmmaker mode automatically from a different selected mode in the Additional Settings menu. The success of this was dependent on the disc, however: it worked with two discs I tried, but didn't on two others. If you leave Filmmaker mode on all the time, however, you won't have a problem with the auto-switching, except in Dolby Vision, for which I recommend Cinema mode (Filmmaker Mode isn't available for Dolby Vision content).
Perhaps the most important benefit of Filmmaker Mode is that shuts off TruMotion, LG's motion compensation processing, together with other superfluous picture enhancement features. TruMotion provides three active settings: Smooth, Clear, and User, with the latter offering separate control over Judder and Blur. For me, Off was the best choice to avoid a soap-opera effect with film-based sources.
LG's autocalibration feature was developed in cooperation with CalMAN by Portrait Displays (the industry's dominant video calibration software) to make a professional calibration faster and more accurate. While that's likely a godsend for pro markets where displays must be frequently recalibrated, all of the calibrations for in this review were done manually. (Each of the LG's picture modes provide 2-, 10-, and 22-point White Balance controls, plus a full Color Management System.)
LG calls many of its upscale processing features "LG ThinQ AI," with AI meaning Auto Intelligence. This includes what LG calls a Deep Learning Algorithm that upscales sources to 4K and is said to correct for perceived picture errors to make the end result look more like "the real thing." ThinQ has been upgraded from a 4-step process in 2019 to a 6-step one in 2020 and is selectable in the General>AI Service>AI Picture Pro menu. But since the AI feature's onscreen menus prevented getting an on/off instantaneous look to see what it does (very little with a good source, as far as I could tell), I left it off for this review. I'm also unsure of how any such auto-correction can distinguish between a problem in the source itself (which in an evaluation process I want to see) or a problem in the chain between the source and the set.