LG OLED65E7P OLED Ultra HDTV Review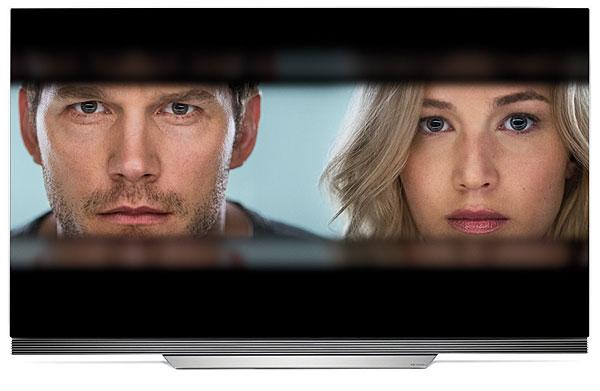 PRICE
$5,000
AT A GLANCE
Plus
It's all about the black
Wide viewing angle
Supports both HDR10 and Dolby Vision
Minus
Pricey
THE VERDICT
Last year's OLED sets from LG were so impressive that, apart from their peak white capabilities (an ongoing shortcoming relative to LCD designs), it was hard to see a road ahead for improvements. But LG has found that road, and while the upgrades might prove subtle to most viewers, videophiles will welcome them.
LG's 2017 OLED offerings fall into five model groups, with the OLED65E7P positioned roughly in the middle. At $5,000, it's hardly a Black Friday special, but it's significantly cheaper than the near-paper-thin 65-inch flagship
OLED65W7P
, which commands $8,000.
Unlike that model, which must be hung on a wall, this TV has the added option of mounting on a stand (included). According to LG, all of their OLED sets use the same panels and should offer the same video performance—though with only the OLED65E7P on hand, I had no way to confirm this. They do vary in size and features, but the differences in the latter appear to be small.

And flat is back! OK, it never actually went away—but this year, none of LG's new OLED sets is curved. In addition, as is the case with other major TV makers, LG has abandoned 3D.
Walk Around
I've spoken with more than a few folks who confuse OLED sets with the so-called LED TVs that dominate the market. There's no such thing as an LED TV. The pixels in such sets—the picture elements that produce the actual image—are liquid crystals. These pixels can be opened or shuttered at different rates of speed, but they produce no light. That's where the LEDs come in; they sit behind the LCD panel, or at the edges beyond the frame, and provide the required illumination.
OLEDs, however, need no separate backlight. They're selfilluminating; each pixel can go black or white or any level in between. This allows the picture to go from full white to totally black, either overall or in any area of the screen, as the source requires. LCDs can't do that unless assisted by sophisticated LED backlighting, usually some form of local dimming.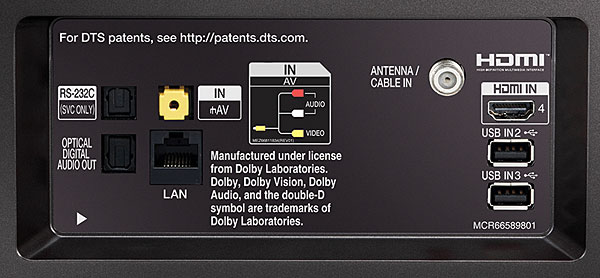 LG says that their 2017 OLED sets are brighter than last year's. But they're still considerably less bright than comparably priced LCD TVs. Fortunately, our eyes don't respond linearly to light level; if they did, sunlight (which is orders of magnitude brighter than the brightest TV) would blind us. In other words, to the human eye, a peak TV picture level of 1,500 nits (438 foot-lamberts) will certainly look brighter than 750 nits (219 ft-L), but nowhere near twice as bright.
That said, because OLEDs can shut down completely when the picture requires it, nothing can beat them when it comes to inky blacks. For 2017, LG has added a feature they call a Neutral Black Polarizer. It's designed to reduce the effect of ambient light on the screen. In addition, the transition from total black to dark gray is said to be improved, offering finer gradations.
All of LG's new Ultra HDTVs are fully compatible out of the box with the two major forms of high dynamic range: HDR10 and Dolby Vision. Upgrades are promised for two other HDR formats. HLG, or Hybrid Log-Gamma, is planned for future HDR broadcasting. And Advanced HDR by Technicolor is comparable to HLG, with similar potential applications.
LG refers to a feature called Active HDR in their literature but doesn't clearly spell out what this means. My original assumption was that it applied only to Dolby Vision, a form of HDR employing dynamic metadata that actively optimizes the HDR effect from scene to scene. When I asked LG, they explained that their 2017 OLEDs use proprietary signal processing that converts the static metadata on HDR formats such as HDR10 and HLG and adds dynamic metadata. I wasn't made aware of this until the review process was essentially complete; therefore, for all of my viewing and measurements, Active HDR was engaged. That's not necessarily a bad thing, as I experienced this feature (positively, as it turned out) without preconceptions.
(It's also engaged in the HDR10 default settings and is linked to the Dynamic Contrast control as follows. With Dynamic Contrast setting off, the Active HDR is off, Dynamic Contrast is off. Dynamic Contrast setting Low: Active HDR is on, Dynamic Contrast is off (default). Dynamic Contrast setting Medium: Active HDR is on, Dynamic Contrast is medium. Dynamic Contrast setting High: Active HDR is on, Dynamic Contrast is high.)
OLED sets, unlike most LCD/LED designs, retain their visual quality when viewed from off center, just as the now departed plasma TVs once did. This is even more significant now than it has been with 1080p. Viewing a 4K set, you might want to sit closer to the screen than before to better appreciate the added resolution—and the closer you sit to an LCD TV, the narrower its optimum viewing area becomes.
The OLED65E7P's audio system is above average for a flat-screen set, sometimes surprisingly so. Just don't expect it to sound both loud and clean when confronted with the mayhem of an action film. There's no deep bass, either; still, the set does a reasonable job of disguising that fact. The system is spec'd as 4.2-channel with Dolby Atmos sound (via Dolby Digital Plus for streamed content; a firmware update will provide support for Atmos via Dolby TrueHD on Blu-ray). But if you want to hear what Atmos was designed to do, expect to pony up for an outboard, Atmos-capable audio system. And if you're streaming an Atmos source from the set's internal apps, take comfort in the fact that the TV will pass the signal from its ARC (Audio Return Channel) to an external system.
The set can decode Ultra HD sources using either the HEVC (H.265) or the VP9 video compression codec. H.265 is universal (to my knowledge) on Ultra HD Blu-rays; VP9 is common from video streaming sites. All of the TV's HDMI inputs are HDMI 2.0a with HDCP 2.2.
While there's a wide assortment of standard dynamic range (SDR) picture modes, the two ISF Expert modes provide the most adjustability, including White Balance controls (2-step and 20-step) and a color management system (CMS). For 1080p SDR, I used ISF Expert (Dark Room). There's also a selection called HDR Effect, which simulates HDR on an SDR source, using proprietary technology similar to Active HDR to adjust the image on a sceneby-scene basis for a more convincing HDR-like effect.
For HDR, the set offers a shorter list of picture modes; I chose Cinema (User) for HDR10, which again provided the most adjustments. A Dolby Vision source brings up yet another selection of picture modes. Gamers should note that the LG has Game modes for both SDR and HDR, said to offer a latency of under 25 milliseconds. When the LG senses an HDR source, a small bug corresponding to the type of HDR appears onscreen.
LG's Magic Remote wirelessly controls an onscreen cursor that you position by moving the remote until the cursor is on the desired adjustment. The remote isn't backlit, and it operates much like LG's handsets from last year. But the important controls surrounding the navigation wheel are flush with the remote's surface and can't be readily identified by feel. It's easy to miss them in the dark, and I often did so when feeling for the menu button.
The remote offers LG's voice activation, but as with the company's earlier TVs, I had no luck getting it to provide any useful functions that couldn't be done more easily the old-fashioned way.
LG's webOS 3.5 smart TV suite offers a lineup of features that would take the rest of this report to cover in any depth. I found its full capabilities more than a little intimidating, something that's becoming increasingly common with too many TVs. You can check out the full details in the onscreen or online User Guide, if you have an afternoon to spare. But if all you want is to access the most popular movie and video services, or to play videos, music, and photos from your home network or directly from a USB stick, you can do so without difficulty.
For most of us, the ability to stream content will be paramount. Not unexpectedly, both the quality and the speed of streaming, checked on Amazon and Netflix, were highly dependent on the distance of the TV from my Wi-Fi router. At the longest distance in my house, about 35 feet with intervening walls, the TV produced images that were very soft and lacking in fine detail (particularly on 4K streams). When I instead used the WiFi streaming capabilities of a Samsung UBD-K8500 Ultra HD Blu-ray player, the set delivered acceptable if unspectacular HD (I don't expect spectacular quality from streamed video). But Wi-Fi situations vary widely with the setup and the available data rate, and at 20 feet or so from the router, with no walls in the way (or with hard-wired Ethernet to my router), the LG's picture improved dramatically. It was comparable to the picture from the Samsung player, and as good as I expect from my internet provider.