Sony XBR-65A1E OLED Ultra HDTV Review
PRICE
$5,500
AT A GLANCE
Plus
Excellent contrast
Superb color and resolution
Looks good from every angle
Unique panel-based sound system
Minus
No color management system
Some white clipping
THE VERDICT
While it might appear that OLED UHDTVs are popping up everywhere, the most visible supplier to date has been LG. But Sony, by acquiring OLED panels from LG and adding its own electronics, processing, styling, and unique features, has jumped into the fray, landing firmly on both feet with a solid performer.
Sony's new OLEDs (the 65-incher reviewed here plus its 55- and 77-inch siblings) haven't yet taken pride of place at the top of Sony's TV lineup. That honor belongs to the
Z9D
, now spruced up with the imminent addition (as I write) of Dolby Vision for 2017. But you might think of the OLEDs as stepping stones to Sony's future in self-emissive displays—the spectacular, commercially oriented, and wall-sized CLEDIS LED display Sony demonstrated at the 2017 CES comes to mind. But that's the future. Sony's OLEDs are now. As of today, Sony's OLED implementation uses a panel supplied by LG (but with Sony's own secret processing sauce). At its press-time street price of about $4,000 in the 65-inch version, it was roughly comparable, if not a touch less expensive, than LG's own like-sized C7P model.
Design and Features
In a typical tabletop install, the XBR65A1E sits directly on the table or other surface. No stand is visible from the front. A large angled support in the rear (which also includes most of the set's electronics and all of its connections) secures the set with a slightly backward, easel-like tilt. The display is stabilized by a 14-pound ballast on the rear support. The set can also be wall-mounted if desired, with the heavy rear ballast piece removed and the back support, with its inputs and other circuitry, folded flat. But while the screen itself is relatively thin, with that rear support folded (and it cannot be removed) the set will protrude at least 3.5 inches out from the wall, plus the depth of your wall bracket. A "wallpaper" TV, this is not.
The A1E's four HDMI inputs are all HDCP 2.2 compliant and will play back Ultra HD HDR signals. But only HDMI 2 and HDMI 3 can support the full bandwidth (18 Gbps) required to pass Ultra HD at 60 frames per second, while the other two are limited to 30 fps. That shouldn't be an issue given the dearth of 60-fps Ultra HD content, and in any event, you'll be covered with a couple of widebandwidth inputs for a UHD BD player and maybe a future cable box or game console (though not both).
The set also has three USB ports (one of them 3.0, the other two 2.0), plus two audio outputs: Toslink digital optical and analog on a mini-jack. The latter, usable for a subwoofer or headphones, is a welcome feature (most HDTVs don't have it). The Sony outputs core 5.1-channel Dolby Digital and DTS bitstreams from its optical output to effectively feed a multichannel soundbar, provided you first go into the Speakers menu and set the Audio System for "external." The set's capabilities center around Sony's latest 4K HDR Processor X1 Extreme. It does its tasks silently for the most part, but its most obvious is the superb upconversion of lower-resolution material to 4K. No upconversion can produce true 4K from lesser material, but the A1E comes as close to the look of 4K as I've yet seen—particularly with a good, native HD source.
The picture controls are similar to those in most of Sony's recent upscale sets. Sony recently got religion and now uses the more technically correct label "Black level" for what most set makers call Brightness. Unfortunately, Sony now uses the term Brightness for the backlight level in their LCD/LED local-dimming models, which will certainly confound the masses. For Sony's OLEDs, the Brightness control moves the overall luminance of the picture up or down. (LG, in its own OLED sets, calls this control "OLED Light," which is a bit less opaque.)
The Advanced Contrast Enhancer and X-tended Dynamic Range are two of Sony's controls that sound like the sort of features best avoided by the video purist. But I found that the default settings for these controls (Adv. contrast enhancer Off, X-tended Dynamic Range Low for SDR and Adv. contrast enhancer Medium, X-tended Dynamic Range High for HDR) worked well. I did fiddle a bit with the Gamma and Black level controls, which sometimes worked better in different settings for different sources—much as their counterparts often do for HD/SDR.
Both 2-point and 10-point Adv. color temperature (grayscale) controls are included. I achieved good results using only the 2-point settings. As with all Sony TVs, no CMS (color management system) is supplied to adjust color points, though as usual, the default settings were well within an acceptable range. Motionflow, Sony's motion compensation feature, offers settings of varying effectiveness, but I still dislike what such motion features do (that soap opera thingy) and left it off. OLEDs are no better at motion blur than LCDs, but it never bothered me.
The A1E will support HDR10, Dolby Vision, and Hybrid Log-Gamma (HLG), the three versions of high dynamic range (HDR) expected to see wide use. A firmware update has already added HLG support to the existing support for HDR10, the version of HDR found on all UHD Blu-ray Discs. Dolby Vision support may be available by the time you read this. (Dolby Vision sources employ an HDR10 base layer and will play on UHD players and sets that can't do Dolby Vision or haven't yet received a planned upgrade; they just play in HDR10.)
The A1E's X-tended Dynamic Range control produces a pseudo HDR effect; I wasn't aware of this until the A1E calibration was completed. The default setting of this control is Low in the Cinema pro mode that was used throughout the SDR tests and viewing. However, as long as the gamma control is simultaneously set to –2 or –3, the Low setting of this control produced a superb calibration and an excellent SDR image, without artificial-looking HDR enhancement.
The multi-function remote lacks backlighting and is easy to misplace in the dark. Its voice recognition appears useful only to access information on the web through the set's Google Android features. Unlike the Samsung Q9's remote, it can't be used to access and adjust the set's controls. For example, when I said "brightness control," it directed me to YouTube videos on brightness controls, but not to the Brightness control on the set. Much of the time, however, it didn't understand what I was asking for, or if it did, it was less than useful. When I said "Rome," instead of a string of internet features on Rome, now and past, all it called up was information on the HBO TV series Rome. Fine, but inadequate.
Sony has adopted Google's Android TV as its smart TV platform for input integration, internet content, and other features. I streamed a variety of material from Netflix and YouTube with good results, though this will vary with your download speed and the quality of your router and its distance from the set. The A1E can also play music, videos, and photos from your home network and can mirror the material on your tablet, mobile phone, or computer screen. One thing the Sony OLEDs do not offer, and it's an omission that appears to be nearly universal now among major TV makers, is 3D playback. Enough said.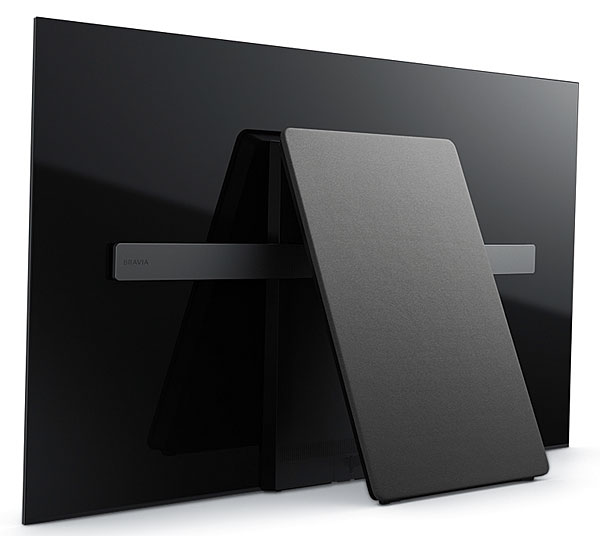 Sound
Sony makes much ado about the audio in the A1E. It's a unique design they call Acoustic Surface. Dual transducers attached to the back of the OLED screen for the left and right channels literally vibrate the screen to produce sound. This might appear bizarre, but it works, and the vibrations don't affect the picture in any visible way. This can only be done on a thin-screened OLED; an LCD/LED set's screen has too many layers. There's also a separate subwoofer in the rear support leg to help fill in the response that the tiny screen drivers can't reach, though calling a small driver in a tiny enclosure a subwoofer is a bit grandiose.
I didn't go head over heels over what I heard, but even as a cardcarrying audiophile, I did find the sound to be clean at relatively high levels, with good voice reproduction and a reasonably full-bodied sound. I wasn't surprised that deep bass passages I'm familiar with on a big audio system were totally missing, but their absence would be obvious only to those familiar with them on a big system. Soundtrack music was decent, and it wasn't seriously compromised. There wasn't much stereo separation, and off center the sound was down a bit in the highs, but not enough to bother the average viewer hearing it from off to the side. You, as overlord of the A/V castle, will obviously be seated dead center.
As Sony has demonstrated at its press and trade show events, having the sound come directly from the screen surface rather than a nearby speaker does create a modestly more realistic positioning of dialogue from a close distance—too bad there's no way to isolate this speaker to drive it with the dedicated center-channel information in a full-tilt surround sound setup. If you're using the internal audio, the A1E's audio combines any 5.1 source into 2.1, though it offers a surprisingly effective surround mode. From the center seat, I often heard things happening behind me that I wouldn't expect from normal two-channel playback. The effect disappeared when I deselected surround in the menu. The surround details were vague, and certainly far from what you'll hear from a discrete surround system, but they did add to the experience. I'll take my full 5.1 surround system any day, but most consumers familiar only with the sound from most flat-screen HDTVs should be impressed.
Full HD
The Sony passed all of our standard video tests except for 2:2 SD. Its failure there was barely visible and unlikely to affect normal viewing, but it was surpassed by the 2:2 HD upconversion of the Oppo UBD-203 Ultra HD player. Before a color calibration, I used a slightly modified version of the default settings in the Cinema pro mode (Contrast on 95, Gamma at 0, X-tended Dynamic Range in Low). A subsequent color calibration (see Test Bench) made little visible change. The A1E performed exceptionally well with all the standard HD material I threw at it. As I alluded to earlier, its upconversion to the 4K panel resolution was as good as any I've yet seen, offering crisp but not over-sharpened details.