Samsung S95B Quantum Dot OLED 4K TV Review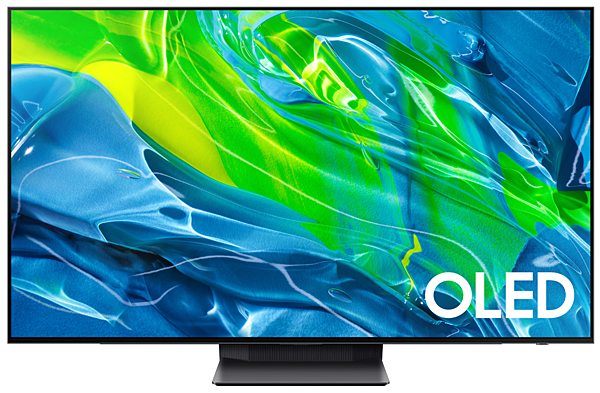 PRICE
$1900
AT A GLANCE
Plus
Superb HDR
Outstanding contrast
Wide viewing angle
Minus
No Dolby Vision
Frustrating menus
THE VERDICT
An appealing price for what is essentially a new and ground-breaking application of OLED is almost as much of a surprise as how much Samsung has upped the ante on what we can expect from an OLED HDTV.
We've become so accustomed to what an OLED TV can do that we risk reciting its benefits in our sleep. Great black levels, check. Viewable with little picture change from as far off center as you might want to sit, double check. Bright enough for modestly lit to very dark rooms (but not a sun porch!), check. High prices? That too. But in the past few years, nothing dramatic has muscled its way into the OLED world, though prices have slowly become less intimidating—until now. Samsung, which for years resisted joining the OLED TV parade, has developed a relatively radical way to build an OLED display with Quantum Dot Technology.
QD What?
Until now, the most common and commercially successful way to design an OLED TV involved using white OLEDs together with filters to separate the white light into the red, green, and blue colors needed to create color images. All of today's pre-QD OLED designs use this technique. But it does have a downside. In order to achieve high peak brightness, white-light-enhanced OLED displays—which insiders sometimes call WRGBs—add a white pixel to the RGB pixels. This can result in reduced color saturation in very bright scenes, or on picture highlights. This is rarely obvious in normal viewing, but it's still a technical issue that's associated with the higher peak brightness levels and wide color gamut found in HDR source material.
Samsung's new way to build an OLED display is to use blue OLEDs combined with microscopic quantum dots to produce the full RGB color spectrum, without the need for color filters. Quantum dots efficiently absorb and convert light, changing it from one color to another. The color of the emitted light depends on the size of the quantum dot. In a QD-OLED design, the blue light comes from the OLEDs while red and green come from the quantum dots energized by the photons of the blue OLED light. This technique can produce a brighter OLED image than most conventional OLEDs, combined with richer saturation of bright colors. For now, this technology is licensed by Samsung Display to one other set maker, Sony, and is available only in 55- and 65-inch sizes. However, both larger and smaller sizes are expected sometime in 2023.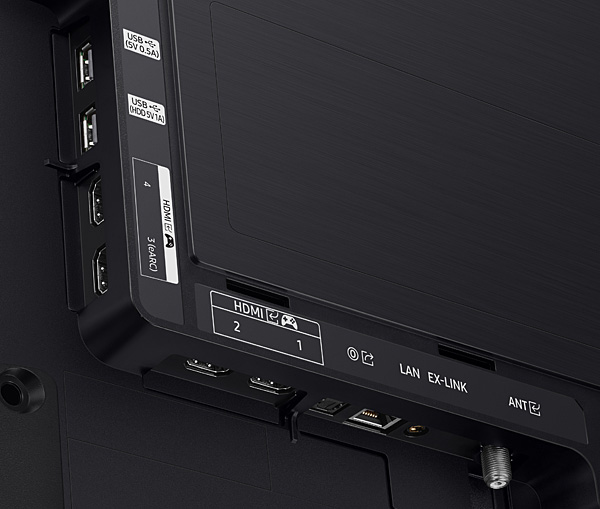 Features
The Samsung QN65S95B (hereafter referred to as the S95B) offers all the features expected of a top-tier UHD TV. There are four HDMI 2.1 inputs plus the other usual rear panel connections (see Specs). The set includes eARC for routing lossless audio—including Dolby Atmos—between the TV and your AVR, which worked well for me. There's also Dolby Atmos audio, apparently a competitive necessity these days. The S95B's built-in sound was respectable but it lacks real bass, an issue common to most TVs. It was never harsh, grating, or distorted unless pushed too hard. For Atmos mixes, you'll want to add a soundbar or AVR-based system because no TV can offer fully realized Dolby Atmos immersion with only the speakers found inside the set.
For HDR, the S95B supports HDR10, HDR10+, and HLG but not Dolby Vision. With a Dolby Vision source, the S95B does not process the dynamic metadata. Instead, it plays it back as HDR10 content (HDR10 serves as Dolby Vision's base layer). HDR10+, which is more common on streamed HDR content than on HDR discs, also includes dynamic metadata that triggers dynamic tone mapping. But all other HDR sources on the S95B rely exclusively on static tone mapping, which is unchanged throughout the source. However, tone mapping is only needed when the source material exceeds a TV's available peak brightness. With the S95B's peak output of just over 1000 nits, for most HDR sources, the lack of dynamic tone mapping is far less likely to be an issue versus less capable sets.
There's also a feature called Depth Enhancement. It can't be turned off, so without this option, it's hard to precisely judge its effectiveness. But in familiar scenes, it did sometimes offer a subtle benefit without being distracting or gimmicky.
Support for Alexa, Google Assistant, and Bixby is included. Bixby is Samsung's in-house, "peel me a grape" voice assistant. The set is also compatible with Google Assistant. Voice commands can be routed to the set through a microphone on the set's remote control, but to use this you must sign up for the service, which some users—including me—might not care to do.

The S95B also has a built-in, over-the-air HD tuner for those who can make use of it, as well as NextGen TV (aka ATSC 3.0), which is interactive 4K broadcast TV that's rapidly rolling out in more and more cities across the US. There's also a wide range of Apps and the ability to download others onto Samsung's Smart TV Hub. And there's the Ambient mode, useful for loading and playing artwork and other "calming content." You can also cast material to the TV from other devices such as mobile phones and computers, load multiple images onto the screen (Multi View), and automatically set the controls to adapt the picture to the room lighting, a feature the video purist will avoid!
For gamers, Samsung includes an elaborate Gaming Hub that lets you stream games and is also compatible with popular gaming consoles. It is a one-stop shop for verifying game-related settings, but you still must go into the regular menu to actually change the settings.
Setup
With standard sources (as opposed to gaming consoles or a PC) there are four available Picture Modes: Filmmaker, Movie, Standard, and Dynamic. I used Filmmaker for my testing and viewing.
In the Picture: Expert > Settings menu, both 2-point and 20-point white balance (grayscale) controls are provided. Within that menu, you'll find Color Space, which is Samsung's name for its color management system (CMS). Motion compensation is also available under Picture Clarity, with separate Blur and Judder settings plus Clear Motion. The latter offers black frame insertion, which can smooth motion blur somewhat without triggering the infamous soap opera effect (which can make film sources look like cheap video). Black frame insertion does reduce brightness, but the S95B offers enough control range to overcome this limitation. Apart from testing, I left the Picture Clarity controls off for my serious viewing.
A control located just below the Gamma setting can adjust the set Gamma over a range of seven steps (+/-3). It doesn't have a name of its own, so I'll call it Gamma Trim. I never used it for SDR but did find it useful for HDR. (See the viewing discussions below.)
Samsung's Home Screen, its Smart TV Hub, was a dizzying maze. When you turn on the set the last source you watched hovers in a large window in the lower left-hand corner. Above and to the right are content selections from a variety of services, some free, some free with strings attached (such as registration), some for rental, and some for purchase. Considering all the paid services available today, with dozens (hundreds?) of available selections scattered around multiple sites, some users might find this consolidation convenient, but I found it distracting and cluttered. As usual, your battery life may vary: One person's ergonomic mess is often another's genius.