LG OLED65E9PUA OLED Ultra HDTV Review Page 2
The 65E9 also has a four position (including Off) Dynamic Contrast control. I left this off for all of my serious viewing, though some might find it helpful in the Low position, which has the most subtle effect. I found it a bit more intrusive when set to Medium and overly aggressive on High.
Image retention can occasionally occur on an OLED display, though permanent image burn-in appears to be rare. Nevertheless, the 65E9 provides several features designed to reduce any burn-in risk. The most unique of these is Logo Luminance Adjustment, which will tone down the brightness of stationary objects on otherwise moving images, such as scoreboards on sports and videogames.

For a table mount setup, the bottom of the LG's screen will be too close to the table's surface (a hair over 2 inches) to accommodate most sound bars without partially blocking the screen. That could create concern for some buyers, because the 65E9's onboard audio is no show-stopper. While adequate for casual use, it won't go particularly loud, offers little bass, and is prone to setting off an annoying buzzing in the TV's chassis. The onboard Dolby Atmos feature's major contribution is a change in volume—overhead effects from the set's self-contained speakers were inaudible in my room, though, to be fair, my ceiling isn't flat.
I had the same issues with LG's "Magic Remote" here as I've had with past TVs I've reviewed from the company. I've gradually come to appreciate its on-screen pointer, which is particularly useful when performing a search or registering for a site with a password. But the keypad layout is crowded and isn't backlit, which led me to often hit the wrong buttons in the dark. Magic Remote offers voice control over the set through the built-in Google Assistant, but this proved erratic. It would respond to some commands ("Go to Netflix," for example) but not to others ("Exit Netflix"). It would also regularly announce "temporary technical difficulties and I should try again later." But my Wi-Fi was functioning perfectly, suggesting that the problem lies with Google Central. (Amazon Alexa was recently added to the onboard feature set and can be installed via a firmware update.)
LG's WebOS Smart TV suite is similar to what was offered with last year's sets, but now features a row of suggested options that pop up if you hover the remote's pointer over a given app like Netflix. It's also now easier to organize the menus more to your taste, though I've found LG's WebOS menus to be perfectly adequate for several years going.
HD and Standard Dynamic Range Performance
The 65E9 passed all of our standard video tests apart from 3:2 pulldown with standard-definition sources, where it failed only because it couldn't match the SD-to-HD upscaling on my reference Oppo UDP-203 Ultra HD disc player. Only 2.1-channel Dolby Digital and DTS, not full surround sound, could be passed from the TV's optical digital audio output.
The LG's out-of-box image, while highly watchable, was a little too warm-looking even with the most accurate (Warm2) Color Temperature setting selected. Post-calibration, the set's image quality was superb.
To begin my viewing, I pulled out A Knight's Tale, an old semi-favorite Blu-ray that is also an excellent transfer and ended up watching it nearly all the way through. The movie includes plenty of action, but none of it so extreme as to make evaluation of the 65E9's motion compensation processing difficult. (Ultimately, I confirmed that leaving TruMotion off was my best option.) Fine details were beyond criticism. A Knight's Tale offers accurate skin tones and natural-looking green foliage, and the calibrated 65E9 rendered both flawlessly. While the colors in this film tend toward the natural and subdued, with dominant browns and tans appropriate to its medieval setting, the occasional bright colors, particularly reds and crimsons in the period costumes, stood out dramatically.
Peter Jackson's remarkable WWI documentary They Shall Not Grow Old might not be the most color-filled Blu-ray disc I own, but the sepia tones of its restored, 100-year-old footage still looked compelling on the LG. It's an amazing disc, and the colorized and restored sections almost look like they were shot yesterday, with none of the rapid judder you expect from films of that era. I thought this might be a situation where filmed material would profit from the video-like look that TruMotion imparts at its most aggressive setting (Smooth). But while adding the LG's motion compensation did transform the image in a way that had some appeal, I also felt that it somehow made the footage look less real, if that makes sense.
To evaluate the LG's SDR blacks, I cranked up my cable box/DVR and re-watched The Battle of Winterfell from the recently concluded final season of "Game of Thrones." This episode elicited a flood of "We can't see what's going on" criticism online for its depiction of a night battle photographed mostly using available light. It took only one change from my normal HD/SDR settings for the 65E9 to put things right: adjusting the gamma from BT.1886 to 2.2 lightened the image just enough to keep the episode realistically dark but also totally viewable. I expect this episode to look even better on Blu-ray disc when it comes out (and even better on the Ultra HD Blu-ray) but the 65E9 still did the broadcast version complete justice.
Ultra HD and High Dynamic Range Performance
Out of the box, HDR10 material viewed with the LG's default Technicolor Expert HDR picture mode active was a pleasure to watch, though still a bit too warm-looking. Post-calibration, the color was spot-on.
HDR formats are specific about the peak white levels that are required to properly display source material. At worst, the LG fell 10 percent short of that level at 30 percent of peak white (see Test Bench). As a result, the 65E9's picture in HDR mode could occasionally look just a little dark on scenes that lacked bright highlights to impress the eye, but this was subtle and never a significant concern.
It came as no surprise given my past experience with LG's OLED sets that the 65E9's blacks looked inky. The entire third act of Harry Potter and the Deathly Hallows Part 2 on Ultra HD Blu-ray is a black level and shadow detail torture test. Whether it was the death eaters hovering in the darkness around Hogwarts or Voldemort and his minions gathered on a hillside overlooking the school, every scene looked right on the LG.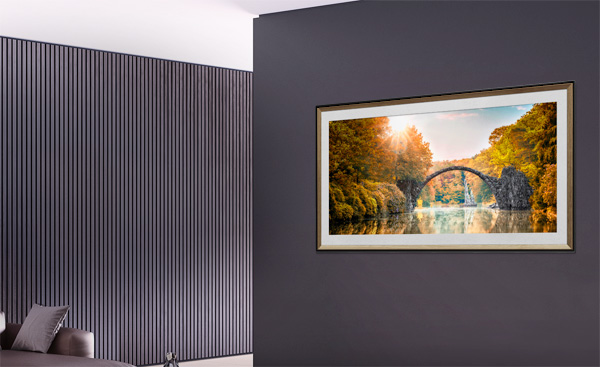 What did surprise me was that, while the letterbox bars on widescreen films looked black as coal, the image area retained the barest hint of gray when a scene faded to black. This was visible only when viewing HDR in a fully darkened room (and not at all with HD/SDR material) and might well be have originated in the source. Another possibility is that the 65E9 was designed that way to prevent it from pulling the darkest grays down to total black. The latter tendency has been criticized before in flat-panel sets with otherwise superb-looking blacks. (Getting that last few percent of dark gray to stay gray rather than plunging into black is a tricky engineering challenge.)
The 65E9 comes as close to full coverage of P3, the color gamut used for mastering of movies for digital cinema presentation, as any set I've yet measured. Thor Ragnarok and The Great Wall are both films with intensely colorful images, and they looked eye-popping on the LG. The scenes of Thor's time imprisoned in Sakaar, in particular, were awash with brilliant hues and shadings, along with bright but not artificially overdone highlights. The flashy colors in the dramatically scattershot The Lego Movie: The Second Part also jumped off the screen.
I didn't perform a Dolby Vision calibration of the 65E9 for this review but did view a good sampling of Dolby Vision sources on Netflix, including The Umbrella Factory (brilliant use of HDR), and Altered Carbon (nearly as good, HDR-wise). I can't say they looked better than they might have in HDR10, with the latter upgraded in the set via dynamic metadata, but both came across as stunning on the LG.
Conclusion
It's hard to imagine where TV technology will go next, but 8K, like it or not, appears to be inevitable and should eventually encourage production of the larger screen sizes that make most sense for higher-resolution video. Other advances will certainly come as well, though these are often hard to anticipate. The sole limitation of OLED vs. LCD designs at present is peak light output, and that situation isn't likely to change much. But if superb black levels, outstanding color and detail, plus almost unlimited off-center viewing is what you're after, LG's excellent OLED65E9PUA ticks all of those boxes and then some.