LG's Disappearing 4K OLED TV Is Finally Here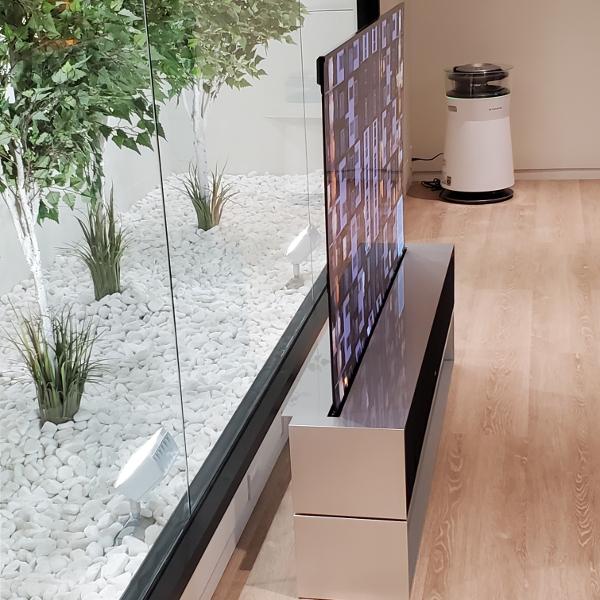 It's been a long time coming but the futuristic roll-up OLED TV LG previewed at CES two-and-a-half years is finally here — with a catch. You can't just go out to your local Best Buy and pick it up. Nope, you have to order it online and then wait for it to be hand-built in South Korea. Oh, and you'll also need a solid line of credit or ready access to a pile of cash 'cause this baby costs a cool hundred grand.
The TV industry's standard bearer of OLED TV invited members of the press to its new North American headquarters today for the official unveiling of the LG Signature OLED R (a.k.a. OLED65R1PUA, R for "rollable"). The gleaming metal-and-glass structure, situated on a bluff in Englewood Cliffs, NJ with views of the New York skyline, provided a fitting ultramodern backdrop to an eyes-on look at the only TV on the planet that rolls up and disappears into a low-profile cabinet when it's not in use. To watch the 65-inch screen appear from nowhere on command is even more impressive. Grab the voice-enabled Magic Remote and press a button (or say the magic word) and the screen rises majestically as it unfurls from within the 63-inch-wide enclosure.
It took LG's engineering team three years to perfect the technology that makes it possible to "reliably and repeatedly" roll and unroll a flexible 4K panel with 8.3 million self-lit pixels made from a single sheet of glass less than 3/16ths of an inch thick. The result is a screen built to last 22 years with up to a dozen rolls a day.
And it's not an all or nothing screen proposition with the 65R1. Between its screen-up "full view" and where'd-the-screen-go "zero view" positions is what LG calls the "line view" position that exposes a third of the screen. When the screen is minimized, you can select various ambient mood lighting and sound modes, create a slideshow from pictures stored on your phone, or stream music to enjoy the TV's built-in 100-watt, 4.2-channel speaker system, which supports virtualized Dolby Atmos surround sound. The collapsed line view also has a clock and provides access to LG's ThinQ dashboard for controlling compatible smart appliances.
For times when you don't want to watch TV but want to display a pleasant background scene, the TV has a Gallery mode offering a selection of artwork that can be displayed in a virtual picture frame that looks quite convincing.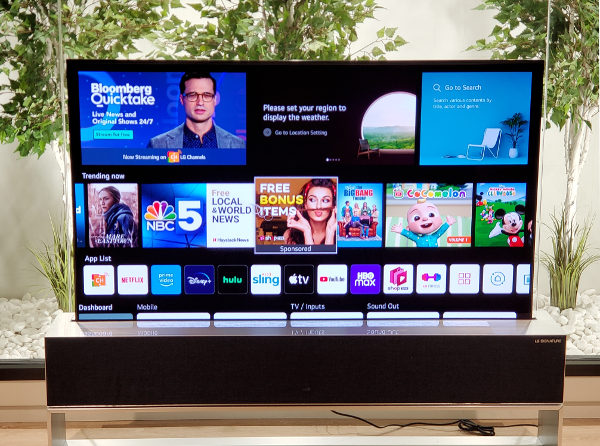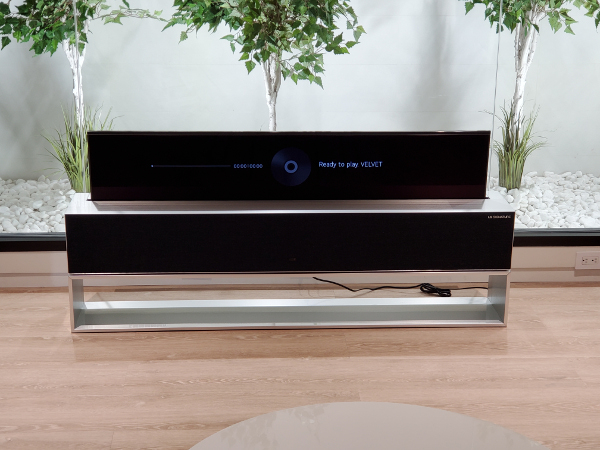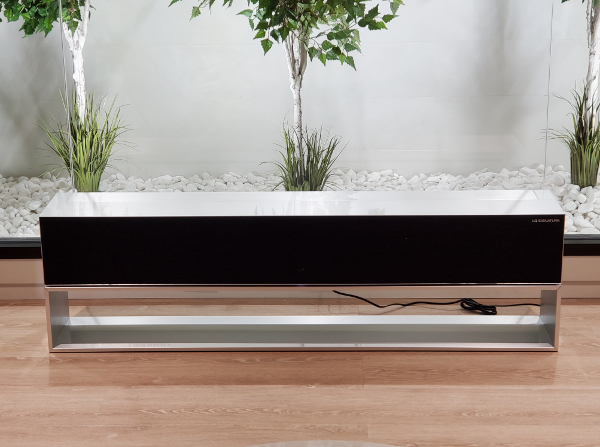 At the heart of the 65R1 is LG's fourth-generation Alpha 9 picture processor, which draws on deep-learning algorithms to reduce motion blur and optimize image quality based on what's happening on screen. The set supports several flavors of high dynamic range (HDR), including Dolby Vision and incorporates Dolby Vision IQ technology, which uses HDR metadata and feedback from sensors in the TV to optimize images based on the content and changing light conditions in the room. The TV is also equipped with Filmmaker Mode, which is intended to preserve the intentions of directors.
The 65R1 also employs the latest version of LG's webOS smart TV platform, which incorporates ThinQ AI (artificial intelligence) technology and displays a multitude of streaming options in a colorful, full-screen presentation instead presenting them in a row across the bottom of the screen as with the previous OS.
"The whole idea is to try to create a more personalized viewing experience and give you easy access to everything at once," explained Tim Alessi, LG's senior director of product marketing. "We've been getting some good feedback on it. A lot of people like the ability to see more at once without having to scroll back and forth."
Onscreen apps provide immediate access to Disney+, Apple TV, Paramount+, Peacock, YouTube, Netflix, Amazon Prime video, and Hulu, to name a few of the choices, and can be reordered on the screen to suit personal preferences. Over time, the TV learns what you like to watch and recommends new programs to consider when you hover over an app. The TV is also compatible with Google Assistant and Amazon Alexa for voice control and hands-free web searches and has a home dashboard that shows recently viewed channels and devices connected to the TV.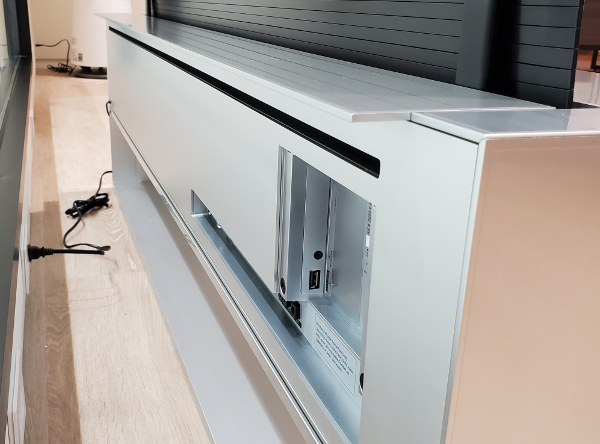 The back of the cabinet provides a generous selection of connections, including two USB ports and four HDMI inputs, all of which support HDCP 2.2 and 4K/120Hz passthrough and one with an enhanced audio return channel (eARC).
In keeping with its "ultimate aspirational product" status, LG provides white-glove delivery and installation service to ensure a seamless set-up experience and access to the LG Signature Concierge Service, which addresses customer inquiries through real-time web chat, phone, and email. The service also aims to keep buyers apprised of the TV's status from order placement to delivery.
LG has no specific plans as of yet to bring the rollable technology to larger (and even more expensive) screen sizes but, as Alessi put it, "Obviously ultra large screen sizes are where a lot of growth is so we certainly see that there would be a need for bigger screens [in this form factor]."
Visit lg.com for more information on LG's Signature OLED R TV.